Now that Animal Crossing: New Leaf is finally out worldwide and most folks have probably unlocked the QR reader function by now, I'd say it's high time for another QR Code Extravaganza post! As always, this is by no means an exhaustive list, but rather me highlighting some of the designs that have caught my eye recently. And let me tell you, there are plenty…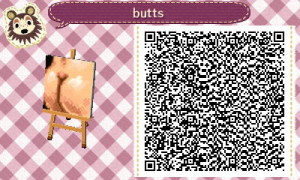 Let me tell you, that is one fine tush! I'm glad Tumblr user bhakri filled this gaping hole in Animal Crossing: New Leaf QR codes. Now, to decide where to put the booty…
Here's a great set of QR codes for all the Revolutionary Girl Utena fans out there. I love how it comes with a dress version of Utena's jacket and two different shirt variations. And Anthy's dress is gorgeous! Click the source in the caption for the full QR codes!
I have a few Japanese QR code blogs that I check regularly, and the Hiyoko's My Design Blog is definitely one of my favorites. The above yukatas are part of her summer collection, and I just think they're adorable! I can't wait to have my character wear one during to a festival this summer.
Hiyoko has also written a few My Design tutorials, which I highly recommend checking out if you're having a hard time making your own designs. I particularly like this menu sign one… I might even try my hand at it, myself! Don't be intimidated by the fact that it's in Japanese – the diagrams make it easy to follow along.
I recently stumbled upon Pixiv illustrator Meyu's work, and not only am I completely enamored with her illustration work, but her QR codes, as well! She mostly does patterns, and though I don't normally use wall/furniture patterns, I think I'll have to go out of my way to find a use for these. They're just too cute!
And here's her second batch of equally-adorable patterns. I think they would look great in a café-themed room!
Madam Luna's leather harness is a fun "shirt" design for the slightly more adventurous! I'd love too see a screenshot of someone wearing this outfit in a room plastered with the "butts" design I shared above. Maybe I should take it upon myself…
After seeing this, I realized that I haven't found very many matching outfit sets, but I think it's great idea! I'd love to see more outfit sets with different themes in the future.
And finally, it wouldn't be a Chic Pixel QR code roundup without a video game QR code, now would it? I'm so glad someone made the shirt the wanderer wears in the The Shadow of the Colossus!
For more Animal Crossing: New Leaf QR codes, be sure to check out parts one, two, and three of thia series!