If the search terms leading to my blog and my Twitter feed are any indication, people are excited for Animal Crossing: New Leaf. I'm certainly not complaining – it's wonderful to finally be able to have my American, Australian, and European pals visit my town and gush about the game together!
The release of a game in new territories is always exciting for the new fan art and products it inspires, too. And it just so happens that the fine folks at Culty are celebrating Animal Crossing: New Leaf's NA release… with a new addition to their store: an Animal Crossing-themed "Hit the Tracks" tote bag!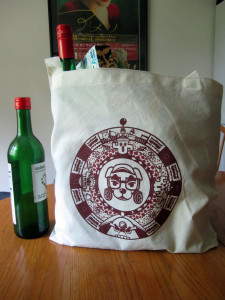 Looks like they're also celebrating with some wine!
I absolutely adore the "earthy" feel of this design and how so many different aspects of Animal Crossing have been incorperated in subtle ways! The fact that the illustration is reminiscent of an Aztec calendar both evokes the fact that the game works in real time and the way the map itself is rounded, too! I also particularly like the little train cars along the edge and Mr. Resetti's angry mug at the bottom.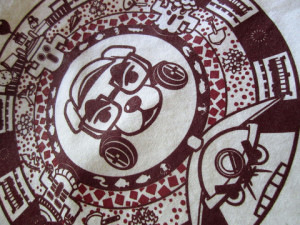 Look at all that detail! Though K.K Slider's DJ garb is specific to his appearance in New Leaf, the rest of the design encorporates familiar Animal Crossing icons such as the various tools and collectables in the game such as fish and everyone's favorite gyroids.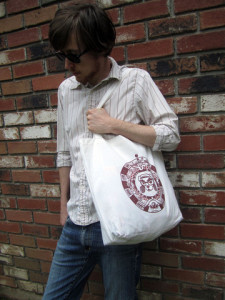 Now that's a tote bag! Any tote fan knows that having multiple bags in multiple sizes (including favorites such as "lunch bag" tote to "single book and maybe small laptop" tote) is a must. Wait, I'm the only person who does that? Moving on…
Seriously, though, the large size makes this tote perfect for shopping or the busy student! And the design is subtle enough that it would compliment a wide variety of outfits, if you're the kind of person who likes to cordinate your tote bag with your outfit like me! (I'm the only one who does that, too? Oh…)
But Culty aren't the only ones celebrating Animal Crossing: New Leaf with sweet new merchandise. Fangamer also has an amazing tshirt up for sale, and I'm sure there are many other great new products popping up for us rabit Animal Crossing fans to throw our wallets at. Is there any new merch that's currently tickling your fancy?