My pervious Animal Crossing: New Leaf QR Code Extravaganza post proved to be quite popular, and since I'm still knee-deep in sprucing up my village and downloading new designs, I figure it's high time for an update! There are a limitless number of Animal Crossing: New Leaf QR codes on the internet, but here are a few of my current favorites:
Did you know you can make hats in Animal Crossing: New Leaf? I didn't even start playing around with them until recently. It definitely seems like they're the least popular of the my design templates, which I'd chalk up to the limited options of the bald cap-like hat and difficulty of designing a spherical item. Still, I'm surprised I haven't seen more designs like this Oshawott hat!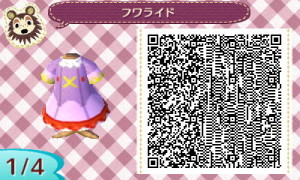 This Drifblim dress is to die for! I love it when creatives take Pokémon and translate their designs into clothing. Head over to the original post to access all four QR codes and a version of the dress with Drifblim's shiny coloration.
There are also plenty of Monster Hunter designs around, which has made this new huntress very happy indeed! I love this sailor garb – too cute!
Now this is impressive! The design above is based off the Azuros armor set from Monster Hunter, and I'm not only totally enamored with the cute illustration the creator made, but the attention to detail they put into the actual My Design and the fact that they made a hat to go with it, as well. In fact, I love it so much that I'm going to try this very look out on my character ASAP!
Am I the only one who feels like they're going to get a cavity from looking at these designs? Forgive another sailor-esque set, but the Donald Duck coordinate above is just too adorable not to share. Did you know the shorts aren't actually a separate piece, but part of the "one piece" dress design option? I'm constantly impressed by the ingenuity of these QR code designers! The duck bill, striped socks, sailor hat, and yellow shoes (all in-game items) really makes this outfit shine.
I wouldn't ever want anyone to accuse me of being too partial to cute things (who am I kidding, I am partial to cute things), so I'm going to include the creepy shirt design above. Also, it serves as a reminder that villagers will start wearing the items you put up in the Able Sister's shop. And, by golly, does that design put Chrissy's facial expression in a whole new light!
For the record, every single one of the designs I've featured so far were found via the amazing Animal Crossing: New Leaf QR-Code Collection website. Not only can you spend ages clicking through pages of QR codes starting from the most recently added pieces, but there are dozens of tags for various anime and game series, with the most popular titles listed across the top for easy browsing. They certainly haven't catalogued everything, but I'd highly suggest bookmarking it for when Animal Crossing: New Leaf finally comes out in English in June!
If you follow me on Twitter, you may have noticed that I was quite distraught when I found out my favorite QR code designer shut down her blog and deleted all her QR codes earlier in the week. Since I hadn't been saving her QR codes, I thought her wonderful pieces were lost forever! Luckily, she's actually made a permanent site for all her work, though she's no longer updating her My Design blog with new pieces. You can find all her amazing dress sets and other patterns at the source link above. I highly suggest poking around her site – the image above really doesn't do her outfits justice!
Finally, I'll leave you with this: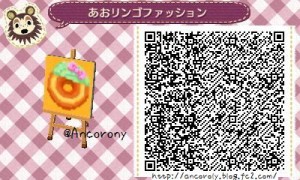 Are those what I think they are? Why yes, they're designs based off the Hello Kitty donuts I blogged about last month! I'm ecstatic that there's someone out there who is just as enamored with those donuts as I am (if not more so, since they took the time to meticulously design these lovely QR codes). Expect future screenshots of my town to be covered in donuts.
Speaking of which, I'll end this by reassuring everyone that "Memos from Mamemura" is very much alive and well. I've just been busy sorting through piles of screenshots from the past two weeks or so. I'll definitely be posting a new entry very soon, so please keep an eye out for it!