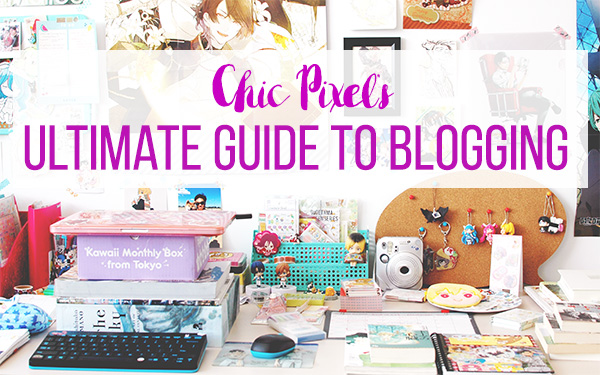 Recently I had a discussion on Twitter about how important niche blogging is, and it dawned on me that I've never really written anything about blogging! When I asked everyone if a post on blogging tips was something they'd like to see, the response was overwhelmingly positive, so I knew what I had to do. It turns out I have a lot of things I want to say, though, so instead of limiting myself to one post, I've decided to do four! Check back every Tuesday (Monday for folks in North America) throughout the month of February for a new roundup of my top blogging tips, from how to start a blog to handling social media and maintaining a schedule.
I've been running Chic Pixel for 6 years now, and while it sometimes (okay, often) feels like little more than a fun way to pass the time and share my nerdy interests with others, I strongly believe that blogging can be a great way to establish your credentials and build connections with others, both professional and personal. Especially blogging in a niche like anime or video games, sometimes you can be one of the only people writing about a certain topic, it's not only a rewarding feeling but a helpful resource for others.
Now, more than ever, I feel we need more diverse voices in nerdy fields, so I hope this series will help inspire you to start your own blog, or help you take your existing blog to the next level! See you in a couple of days!
Part 1: Getting Started
Part 2: Nuts and Bolts
Part 3: Growing Your Audience
Part 4: Money Matters