I've decided that as long as I find cute QR codes for Animal Crossing: New Leaf, I might as well keep posting them! Luckily it's been confirmed that QR codes will work cross-region, so international players can rest assured that these codes will all work with the game when it comes out in June. So, without further ado, here's what I've been swooning over lately…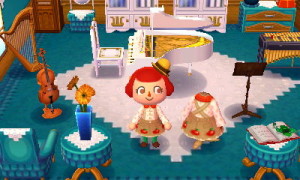 Head here for the full QR codes
I think I've worn the above outfit more than anything over the past few weeks! It's beyond adorable, and goes quite well with the turquoise harvest furniture set pictured above, don't you think?
I don't think I've mentioned it before, but the designer for the two pieces above is one of my favorite QR code creators. I definitely recommend perusing her blog if you're looking for some feminine additions to your wardrobe or cute tiles and signs for your village. The gardening outfit above is her most recent piece. I almost like the room decor as much as the outfit!
I really love when creators make a whole matching set with a hat to go along with it! This steampunk getup, complete with goggles, really takes the cake.

QR codes and alternate
styles here
I know I usually only post dresses, but that doesn't mean there aren't some great QR codes out there for those who have a male avatar or prefer to wear something other than dresses all the time, as well! Admittedly they're a little less common, but I'll make a point of getting more "male" garb in the future.
Anyway, I've never really understood the appeal of wearing a fanny pack over your shoulder, but I can't deny its appeal in the ensamble above. Be sure to check out the link to see other shirt variations! Unfortunately, there aren't QR codes for pants, so you'll just have to match it with something from the game.
You can also do umbrellas, as well, which is perfect for lolita ensembles such as the one above.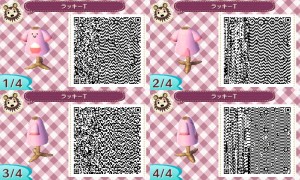 source (other Pokémon tshirts available at that link, as well)
Now it wouldn't be a Chic Pixel Animal Crossing: New Leaf QR code roundup without some nerdy designs as well, right? The above Chansey tshirt may be rather simplistic, but it's certainly iconic!
It's Kiki from Kiki's Delivery Service! I love how they added her pouch, and Jiji, her cat, is peaking out of it! This is definitely going to be my next outfit. I found the above piece via this link, and I highly suggest heading over there if you like Studio Ghibli films – you might find another QR code or two that's up your alley!
Thanks for reading, and if you have any requests for types of QR codes you'd like to see in the future, let me know in the comments and I'll see what I can do! If you'd like to see what QR codes I've shared in the past, click on the links to head to parts one and two of this series!
Note: I decided to change the title of this series from "My Design Extravaganza" to "QR Code Extravaganza," as I think that will be easier for people to recognize. Also, whenever possible I do not post full QR codes, as many Japanese bloggers do not wish their work reposted on other sites.