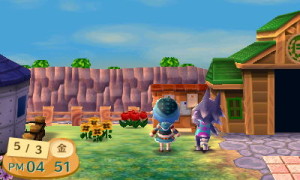 Afternoon bulletin board viewing with Lobo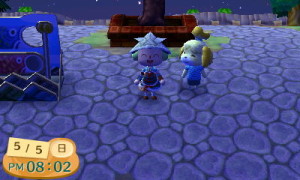 Donning the Children's Day paper samurai hat (Boy's Day in the western version)
Believe it or not, this was my first time making a custom item! This is a music box, which is made using one of K.K Slider's songs and a white scallop shell.
This is, without a doubt, my biggest achievement for the month of May in Mamemura – Brewster's café! Don't mind the random fruit on the ground… I had to cut down a few trees to make room for it!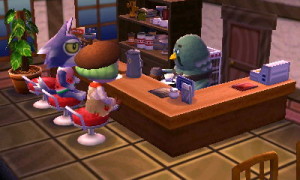 Sitting down for a cuppa with Lobo
You may have noticed her in the café inauguration screenshot, but Britney (Pancetti in English, she's new to New Leaf) here is one of two new villages to move to Mamemura this month. For some reason I'm not a big fan of animals that look like they have human-like hair on their heads, but I've never had a pig villager before, so the more the merrier, I say!
Rebecca the squirrel (Pecan in English) was the second villager to move in this month. She's actually my 10th villager, making this the first time I've had the maximum 10 villagers at one time, I believe! Nine is the max that can move in "normally," but if you have the campsite or visit other towns you can entice a 10th resident to move in.
As an aside, don't you think it's funny that both of the villagers I got this month have western names in the Japanese version, but names based off food in the English version? Too funny!
Here I am visiting @LachyStar, who was kind enough to hold on to a silver slingshot for me after I lost the only one I've ever found in my town due to forgetting to save (and I never forget to save!). Look at this awesome room! Cakes, coffee… I'm in heaven!
He also has this lovely snow-themed room. Check out that custom Kirby stained glass design!
But I didn't just visit other towns… I also got a few special vistors who have early copies of the game. Here I am relaxing with none other than my Nichiest Podcast Ever co-host shidoshi!
Jenni also stopped by to give me some of her custom-made clothing designs in exchange for some of my fruit! Aren't they great? I love the Yuna dress I'm wearing in the above screenshot, and the Boo t-shirt just to the left of my speech bubble is equally amazing. Of course, the rest are great, too! Hopefully she starts sharing her QR codes soon.
You can read all about her adventures in the English version of Animal Crossing: New Leaf over at Siliconera. I highly recommend you go check it out, especially since yours truly makes an appearance in the latest update!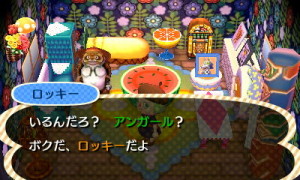 "Are you in there? It's me, Rocky!" (bonus: my messy house)
I also had another visitor… One of my own villagers! That may not sound all that exciting, but I've never had a villager come to my door when I was in my house before.
Well look at that, Rocky just invited himself in! It's amazing how, after months of play, I'm still surprised by the occasional new event in Animal Crossing: New Leaf.
Finally, can you guess what dream village I visited? Why, it's the Game Center CX town!
Unfortunately, there's not a whole lot in the town itself that evokes the Game Center CX television show, but there are a few quirky references here and there. The real highlight, however, is inside…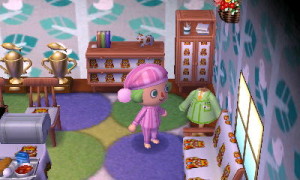 Arino's jacket! I want one! Unfortunately they weren't sharing the design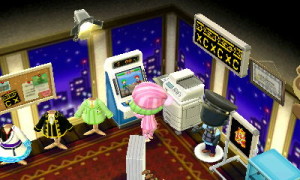 Check out the scrolling banner!
And there you have it, my five minutes of Game Center CX hosting fame. It may not look like much, but the trained eye will recognize that this setup is a reproduction of Arino's gaming room in the actual show! It's definitely worth a visit for any fan of the series.
Well, by the next time I post a Mamemura update, the rest of the world will have their hands on the game! I'm so excited to finally be able to share Mamemura with all of you! If anyone who is planning on getting the game wants to swap friend codes, feel free to let me know in the comments. I look forward to seeing you in Animal Crossing: New Leaf!