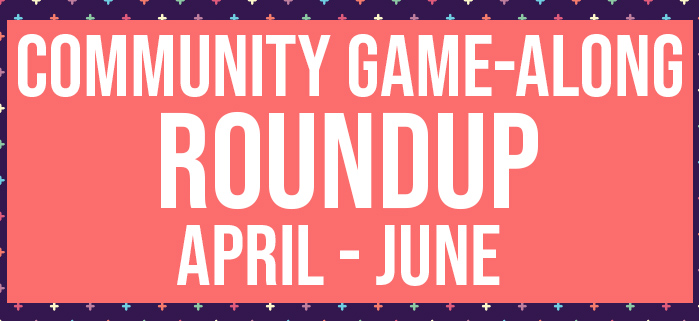 Usually for the Chic Pixel Community Game-Alongs I try to dedicate one post to each event's roundup, but due to a couple months being a little light on the participation sprinkled with a little of my own personal negligence, I'm combining three for this post in order to catch up before the massive JRPGJuly roundup in a couple of weeks! Today I'll be sharing some highlights from everyone who participated in the following themes: musou games, Manami Matsumae, and rhythm games.
Since the rhythm game Community Game-Along is the most fresh in everyone's minds thanks to it taking place in June, I'll be starting with that! It also, unsurprisingly, had the most participants of the three…
Wrapping up #RhythmGameMonth with my absolute favourite 3DS import: Theatrhythm Dragon Quest! 🌸✨ pic.twitter.com/NYcVrA2t8j

— Morgan Sleeper (@zipmon) June 29, 2018
Capsulejay from Tales of the Backlog returned with yet another lovely review, this time of Crypt of the Necrodancer. Meanwhile, JRPG.moe provided some awesome coverage of the Theatrhythm: Final Fantasy arcade game that you can only play in Japan! I have a lot of fun playing this whenever I go to Japan. If you've never had a chance to experience it yourself, I highly recommend the JRPG.moe post!
Meanwhile, Morgan Sleeper reviewed the new rhythm game for Nintendo Switch, MUSYNX, over at Nintendo Life, and Westraid on Twitter got the platinum trophy in her import copy of Persona 3 Dancing Moon Night. Congratulations!
Joining #RhythmGameMonth with the recently released Persona 3 Dancing Moon Night!
♪ *⁽⁽ ◝(●´∀`●)◟ ₎₎·* ♫ pic.twitter.com/yMkTpS0aK5

— 如意 🍉✨ (@Westraid) June 2, 2018
M Disk Playlist continued the M Disk Gauntlet Community Game-Along tie-in series with a four-part video series on Audiosurf. He set specific goals for himself, which is a great idea since rhythm games can be so open-ended!
Some other games played for the rhythm game Community Game-Along included Hatsune Miku: Project Diva X, Idolish7, Superbeat Xonic, and Hatsune Miku: Project Diva Future Tone (I played this one, too!). So much rhythm game goodness!
Next up is the Manami Matsumae Community Game-Along, which took place in May.
#MatsumaeMay pic.twitter.com/u2q36qf4cc

— M Disk Playlist (@mdiskplaylist) May 2, 2018
For this month, we had two participants: the M Disk Playlist with Magic Sword (check out his post for both commentary and non-commentary playthrough videos!), and Capsulejay with Rainblocks.
April was the musou game Community Game-Along, full of hacking and slashing! M Disk Playlist faced his first crushing Gauntlet defeat with Dynasty Warriors: Strikeforce, while Capsulejay reviewed Fire Emblem Warriors on the Switch.
Westraid worked her way through some grueling achievements in Dynasty Warriors 8 and made both a Twitter Moment and this amazing image to summarize the experience:
And that's how #MusouMonth ended for me.
Even though I mostly did the same thing over and over, I still had fun.

Dynasty Warriors games may not be flawless, but they're always really enjoyable for me ( ღ'ᴗ'ღ )
Here's a scientifically accurate summary of my experience! pic.twitter.com/sNlxChAuoD

— 如意 🍉✨ (@Westraid) April 30, 2018
Can I make a special request for more visual aids in future Community Game-Along events? That is amazing!
And with that, we're caught up on all Community Game-Along roundup posts! Thanks to everyone who participated in April, May, and June's events, and apologies for the delay in getting this post up! Rest assured that the JRPGJuly roundup will come in a much more timely manner. Happy gaming!