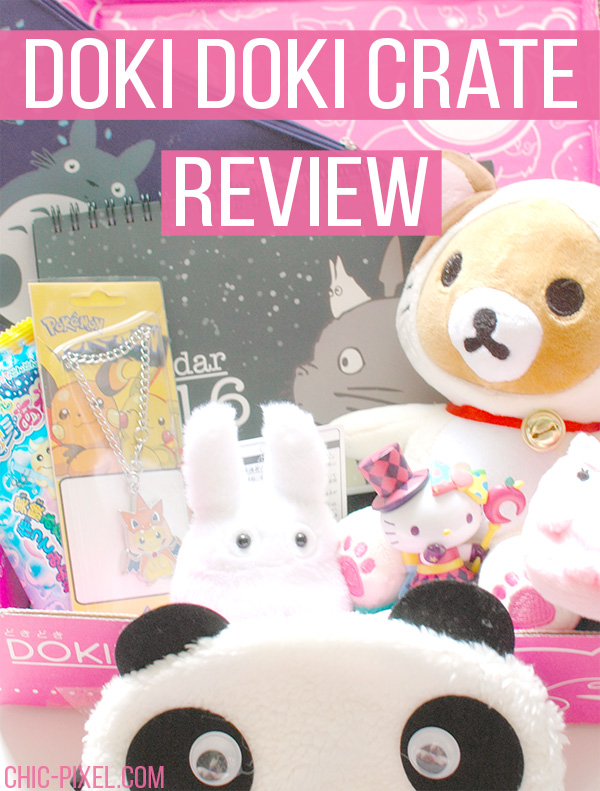 Japan Crate was kind enough to send me their very first Doki Doki Crate, a new subscription service for fans of all things cute! I was extremely impressed with their Japanese candy subscription box when I reviewed it back in September, so I was very excited to see how this kawaii box compared. Let's take a look!
As you can see, the Doki Doki Crate is chock full of all kinds of cute items. The December box arrived just before Christmas, too, which made it all the more sweet. It's too bad the box got beat up in the post, but it had a long way to travel from the US to Australia during a busy time of year. Luckily Japan Crate packs their boxes very nicely, so all of the items inside arrived in one piece.
Here's a closer look at exactly what's inside: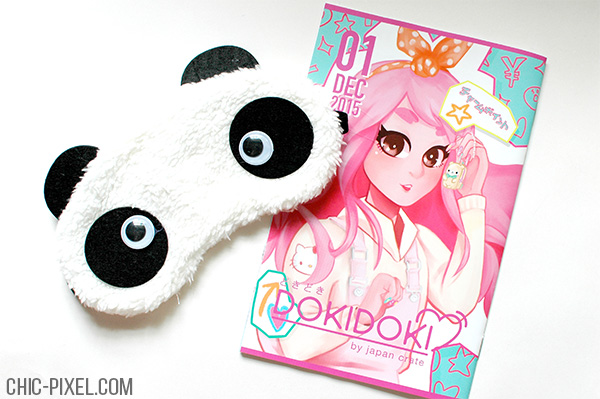 Each Doki Doki Crate comes with an adorable full-color booklet with information on that month's box. The illustrations are a ton of fun, and I was blown away with the amount of effort that went into putting it together! The panda eye mask, however, was covered in leftover glue and so thin it doesn't block out any light, so I probably won't be using that…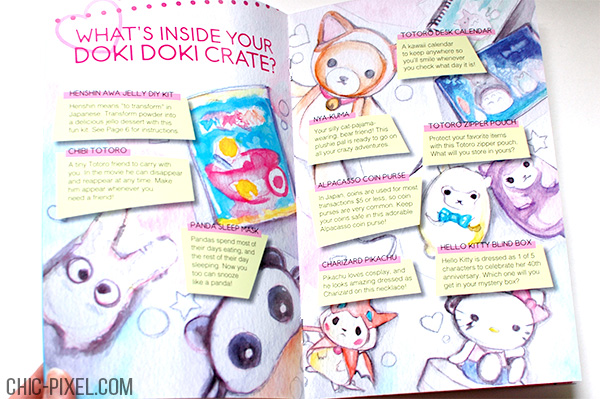 Here's a sample from the booklet, which also serves as an introduction to the December Doki Doki Crate. It also contains a super cute comic and illustrated instructions on how to make this month's DIY kit! The amount of effort that went into this booklet alone is really impressive, and I don't think I'll be throwing it away soon.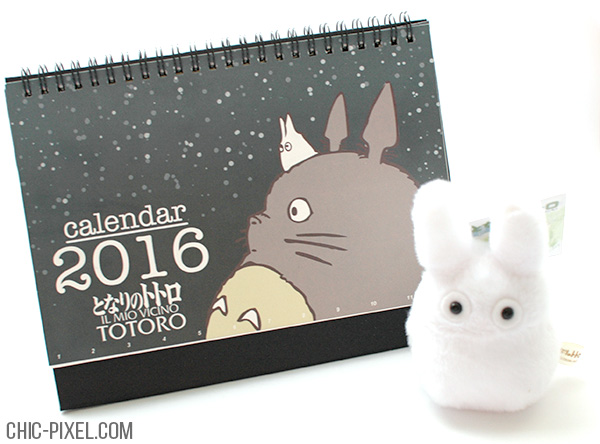 The December Doki Doki Crate came with a 2016 Totoro calendar, which was perfect since I hadn't bought a calendar yet. It was nice to see so many Totoro items in this box, too. I especially like the white Totoro plush!
I debated whether or not I should mention this in my review, but in the interest of giving my full opinion, I want to note that I'm pretty sure this isn't an official Japanese Studio Ghibli brand calendar. "Il Mio Vicino Totoro" is the Italian title of the film, and some of the illustrations look a little, er, off to me: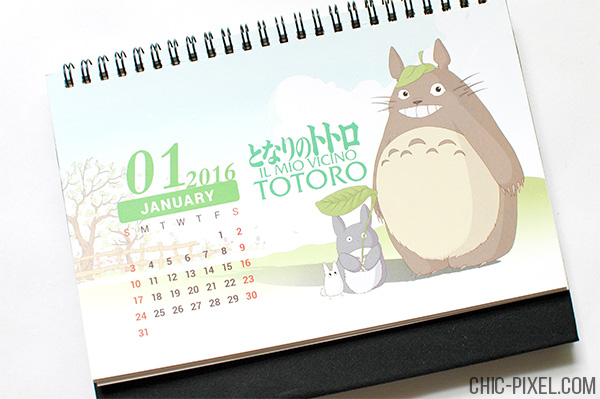 It's still cute, but something tells me it wasn't sourced from Japan…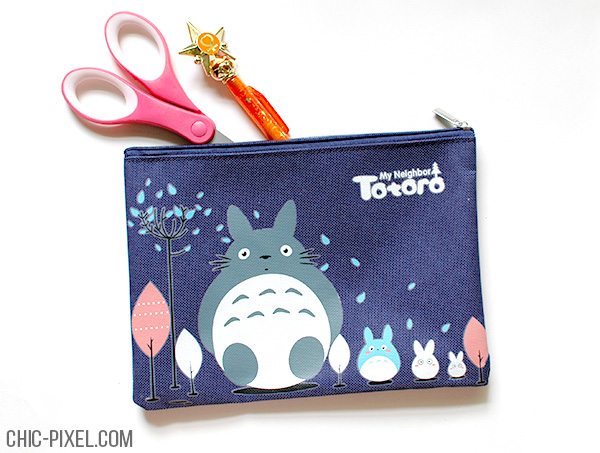 Surprisingly, there were even more Totoro-themed items in this month's box! This blue Totoro zipper pouch is quite spacious, and I can see it coming in handy for a variety of things (scissors and pen are mine, not from the box).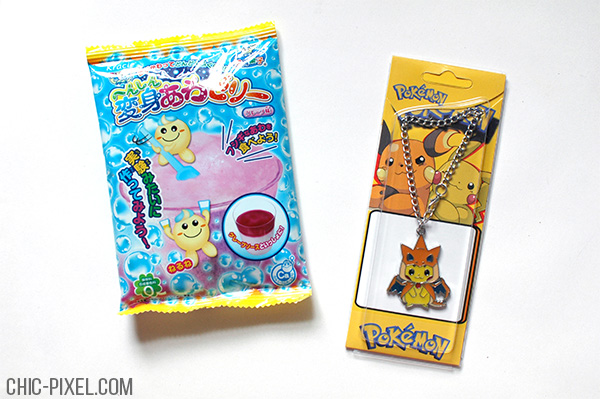 The December Doki Doki Crate also included a fun DIY jelly dessert, along with a Pikachu necklace. I'm a huge fan of the Charizard hoodie Pikachu design that has been sold on a variety of merchandise at Pokémon Centers in Japan, but again, I'm not sure how authentic this item is considering I've never seen this line sold outside of Japan, and the branding on the packaging is written in English.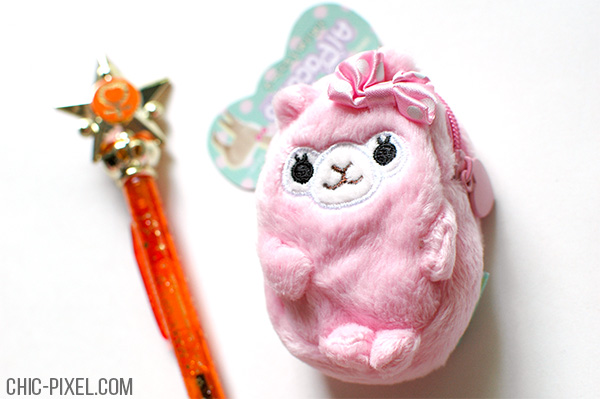 I was pleasantly surprised to find this adorable Alpacasso coin purse in the box, as well (pen for size). It's so tiny I'm don't know what to use it for since I already have a coin purse, but it's adorable enough that I don't really mind! Maybe it would be good for storing micro SD cards…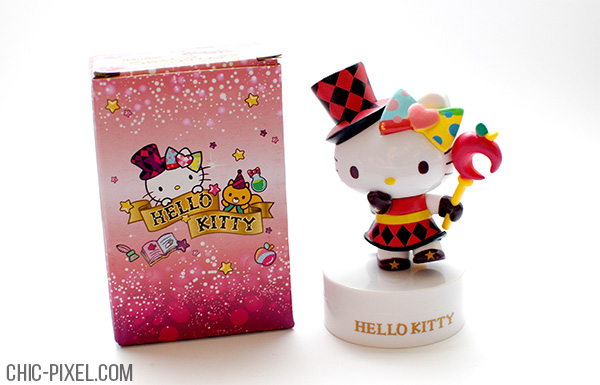 This Hello Kitty 40th anniversary blind box figure came in a variety of designs, but I'm really happy with the one I got! She has a real Kyary Pamyu Pamyu vibe, don't you think?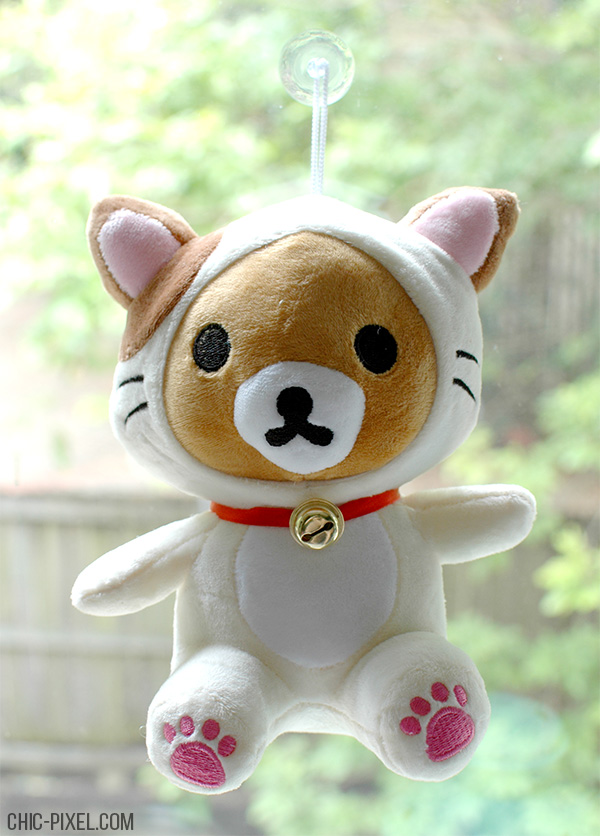 The final item in the December Doki Doki Crate was this large "Nya Kuma" plush that comes with a suction cup attached so you can stick it to a window if you so desire. Due to the design, I initially thought this was from the adorable Rilakkuma cat series, but unfortunately it didn't come with any tags. However, upon inspection it seems pretty clear that this isn't an official San-x product, as the head and body are very misshapen in places. While it's cute, I really would have preferred an official Rilakkuma item!
At $30 with free shipping in the United States, the Doki Doki Crate is a great treat for fans of kawaii. However, I personally would not subscribe to this service due to the large amount of off brand items the first box contained, combined with the additional shipping cost to Australia. I would much prefer more smaller items, such as stationery and gachapon, as long as they were sourced directly from Japan! Hopefully this is something Japan Crate can fix for future Doki Doki boxes.
Note: A product sample was provided for the purpose of this review.