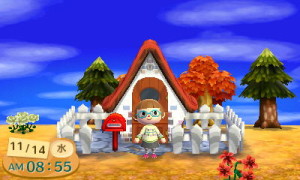 I've certainly
written
enough
about the limited edition
Animal Crossing: New Leaf
that came in the mail the other day, but what about the game itself? I'm happy to report that I've been playing it for the majority of the week, and it does not disappoint! It's far too early to give my final verdict, and I have yet to unlock a lot of the game's content (I still can't go to the island, for example), hence why I've called this "early impressions." Oh, be warned, there are going to be lots of screenshots of my game (Which you can conveniently take whenever you want by pressing L and R! Nifty!), so if you don't want to see what townspeople are in the game or be otherwise spoiled, I suggest you avert your eyes!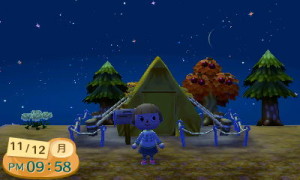 You certainly don't start with that cute little house at the top of the page! No, instead you're stuck in a tent until you can pay off your first loan. You can't start working as mayor until you get a house, as well, so it's pretty imperative to pay off that loan straight away. Luckily it doesn't take very long at all to do so. It's pretty quaint under the stars, though, don't you think?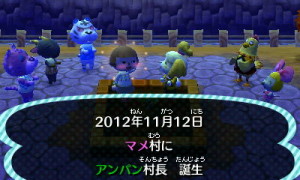 Here's my first act as mayor – planting a tree! I love how you can see all the townspeople gathered around. Funny that I started out with not one, but two, tigers, though!
A glimpse inside Shimoyake (Egbert in English)'s house. He's certainly into all things astronautical!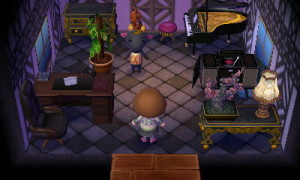 Sumi (Nan)'s house, on the other hand, has a more classic feel, and she's got quite the collection of musical instruments. The other day I suggested she buy a chest of drawers from the local recycle shop (just for kicks, since it's a new feature in this game) and she replaced that fancy turntable with it! It looked so much better before…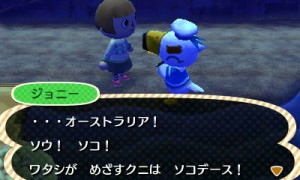 Here's Johnny (Gulliver)! He appeared on my beach the first night, but I'm not sure if that's random or not. Admittedly, I like to play through the game and be surprised by things as they happen, so I haven't really read any guides or anything like that. I couldn't help but take a screenshot when he asked me to name the place he was thinking of that was home to koalas and kangaroos! Well, he's talking about Australia, of course! What a funny coincidence. The next day I received a letter from him from Australia and a special
Ayers Rock
present for my house, which I then promptly gave to Shimoyake because he asked for it. Now I kind of regret giving it away!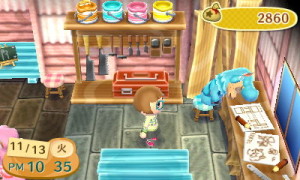 The blue llama is perpetually sleeping until a certain point in the game (sorry, not sure what his name is). When he wakes up, he'll modify your furniture for you!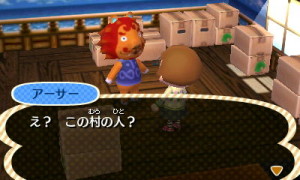 New townspeople started moving in on the second day. Arthur here is pretty cute, don't you think? I love his mustache! Apparently he's one of the new additions to New Leaf.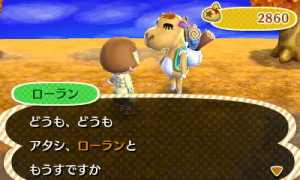 Hey, it's Rolan (Sahara)! I got her to make over my house for me, which gave me a new floor and wallpaper.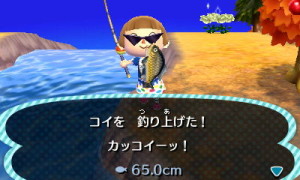 And to finish the tour, here's a token fishing shot. I absolutely love the puns throughout the game, and if Wild World was any indication, I'm sure the English version will do a great job capturing the atmosphere and humor of the game.
Well, if you've got this far, congratulations! I think it's very obvious that I'm throughly enjoying my time with Animal Crossing: New Leaf. Though it's definitely bigger than any previous Animal Crossing game, the first few days are very similar to what I remember from Wild World, but the online features and island, in particular, are really great new additions (that I haven't been able to spend much time with yet, unfortunately).
I'd like to take the opportunity to announce a new column I'm planning, as well! I'd like to do a weekly (or so) feature that chronicles my adventures in the world of Animal Crossing: New Leaf. I haven't nailed down a name yet, but I'm tossing up some things like "My Week in Animal Crossing: New Leaf" or "Greetings from Animal Crossing: New Leaf." If you have any suggestions for a name, I'd love if you left your ideas in the comments!
Oh, here's a bonus image of me visiting Punipen of
Dudelde Studio
's town! Don't miss his adorable flag design: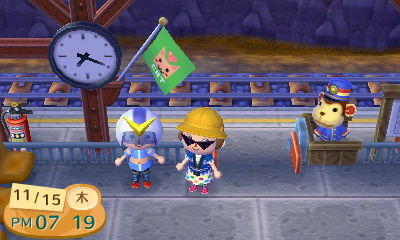 If you have any questions about the game, leave them in the comments and I'll do my best to answer.