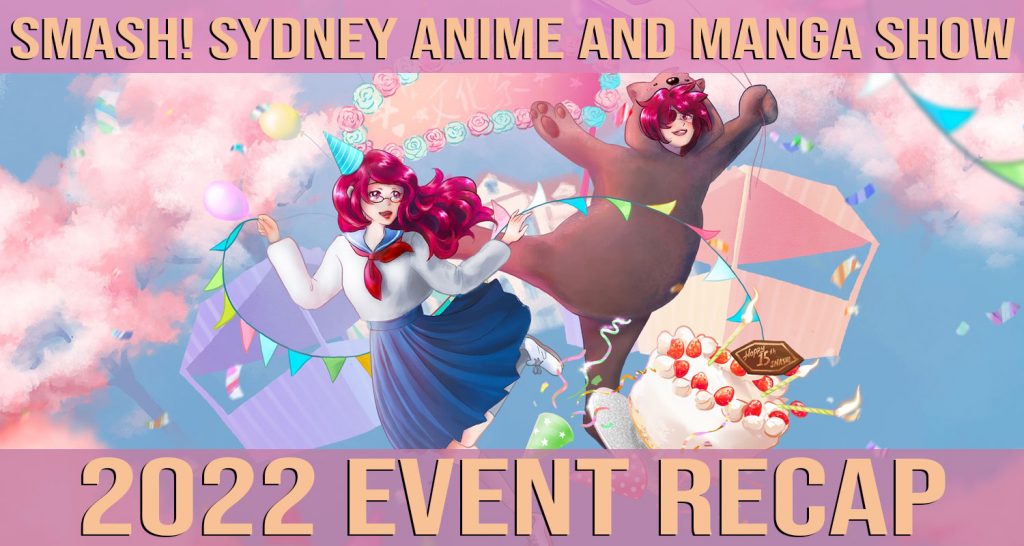 After two years of cancellations due to COVID-19, SMASH! Sydney Manga and Anime Show was finally held once again this past July – just in time for its 15th anniversary!
SMASH! is a non-profit, volunteer-run endeavor, and after my first time attending in 2019 after moving to Sydney, I am continually impressed by the quality of the con.
This year, despite not having government-mandated capacity restrictions, the SMASH! team opted to cap attendee numbers in order to avoid overcrowding, which resulted in the whole weekend being sold out. While unfortunate for those who wanted to attend but weren't able, Saturday at the con was crowded enough to make me feel that they made the right call to reduce attendee numbers.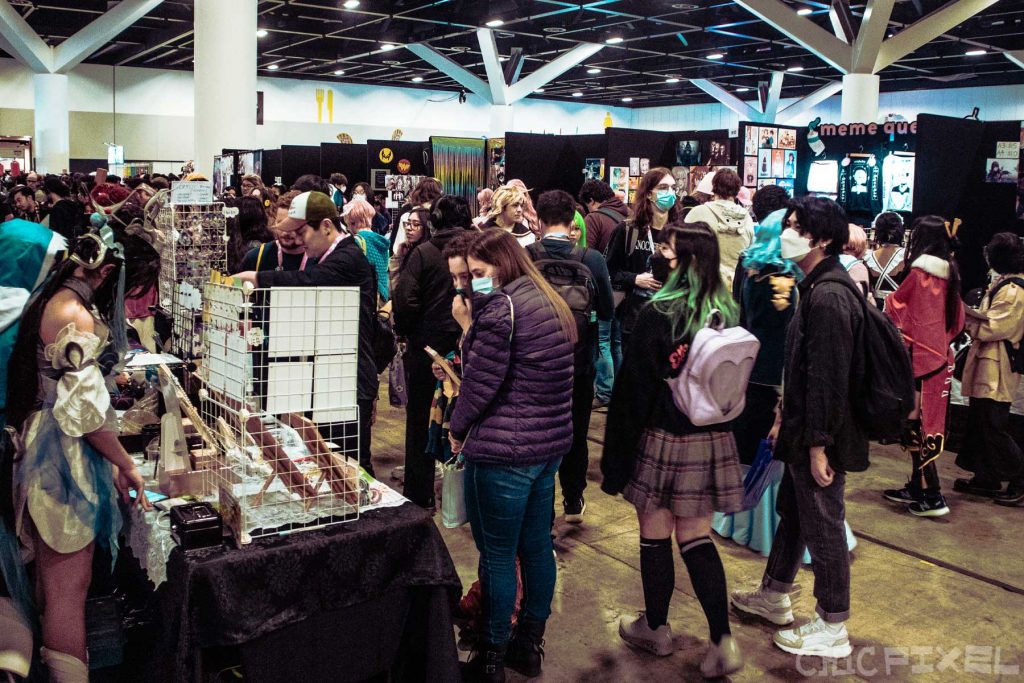 Having reverted to nearly full hermit over the past two years, I figured I would only have enough energy to attend one day of the con, so I opted to go on Saturday. SMASH! 2022 took place at ICC Sydney, a convention center located in Darling Harbour, a vibrant, albeit slightly touristy area of Sydney.
To pick up my media badge, I arrived well before the convention opened at 10am, though my media pass allowed me to enter the convention early. After grabbing a coffee at a nearby Japanese-style coffee shop, I made my way in about 15 minutes before opening to join the other members of the media and staff to see the first fans entering the con at 10am. You could feel the energy and excitement in the air, and it was really lovely to have the opportunity to view the start of the con from the other side of the doors!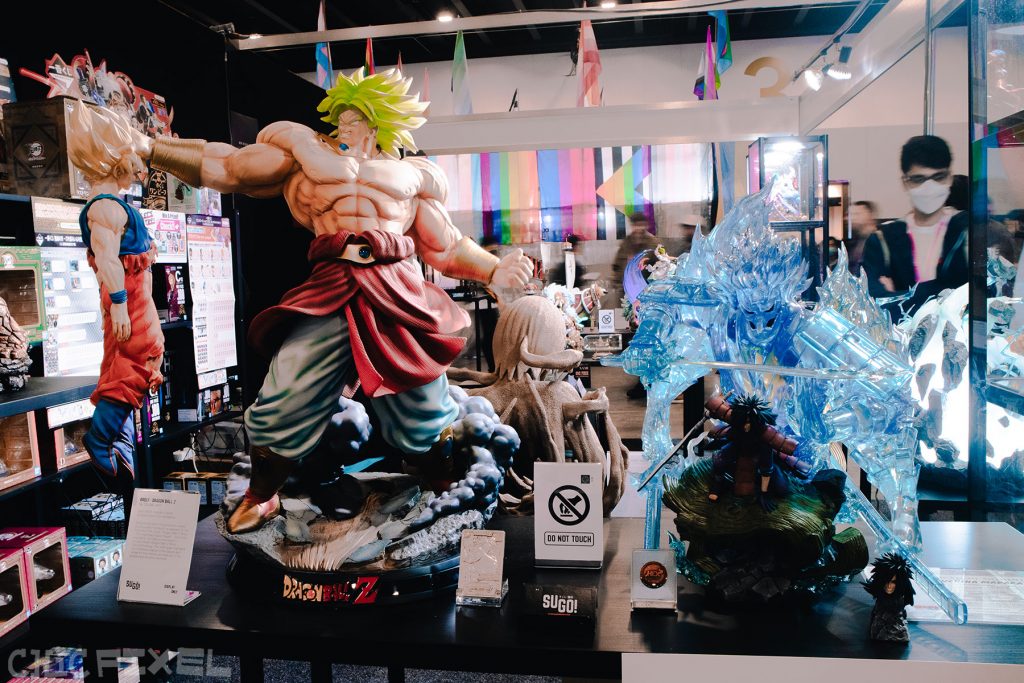 For me, a big highlight of any convention is seeing all of the fans in cosplay and getting inspired in the artist alley. Of course, a major draw for many are the guests, and I would've loved to see some Japanese talent at SMASH! 2022, particularly voice actors. Unfortunately, there weren't any this year (I imagine likely due to COVID-19), and the guest list skewed heavily to VTubers and YouTube personalities. The most exciting guest on the lineup for me was Kevin Penkin, a Melbourne-based composer who has contributed to anime and games such as Made in Abyss and Florence!
Aside from guests, there were plenty of events to keep fans busy throughout the weekend, including the World Cosplay Summit Preliminaries and an exclusive screening of Fruits Basket -Prelude-.
Honestly, I kept myself plenty busy without attending any of the special events! I made my way through the main convention hall from the start of the con at 10am until about 4pm when I finally had to call it a day (with a break for lunch, of course). Aside from stores selling everything from imported merchandise to cosplay accessories, there was also a large Bandai booth where attendees could go to gunpla workshops, and even a gaming area with a wide array of games – including my personal favorite, Pop'n Music! I was also pleasantly surprised to stumble into a humble Devil Summoner: Soul Hackers 2 booth where they were giving out free pins to promote the upcoming game.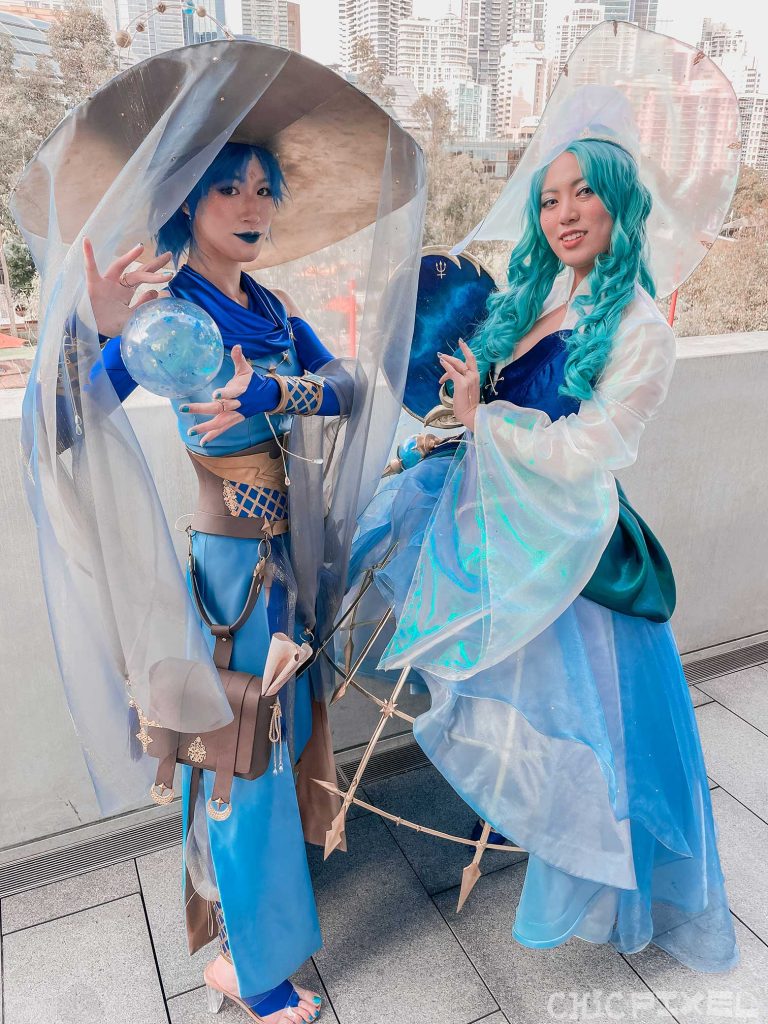 SPY X FAMILY was all the rage at the con, and Crunchyroll came prepared with a booth modeled after the Forger's home for attendees to take photos in (see my silly attempt to join the family above).
Speaking of cosplay, the amazing duo pictured above were the Best in Show winners at the Cosplay Masquerade on Saturday! Cinohrui (left) is dressed in a fan witch Sailor Mercury design, and Cryptidcorvo (right) is a fan witch Sailor Neptune design, both by Kutty Sark. I've been watching Cinohrui's cosplay come to life over the past few weeks on Instagram, and it was even more amazing to see in person!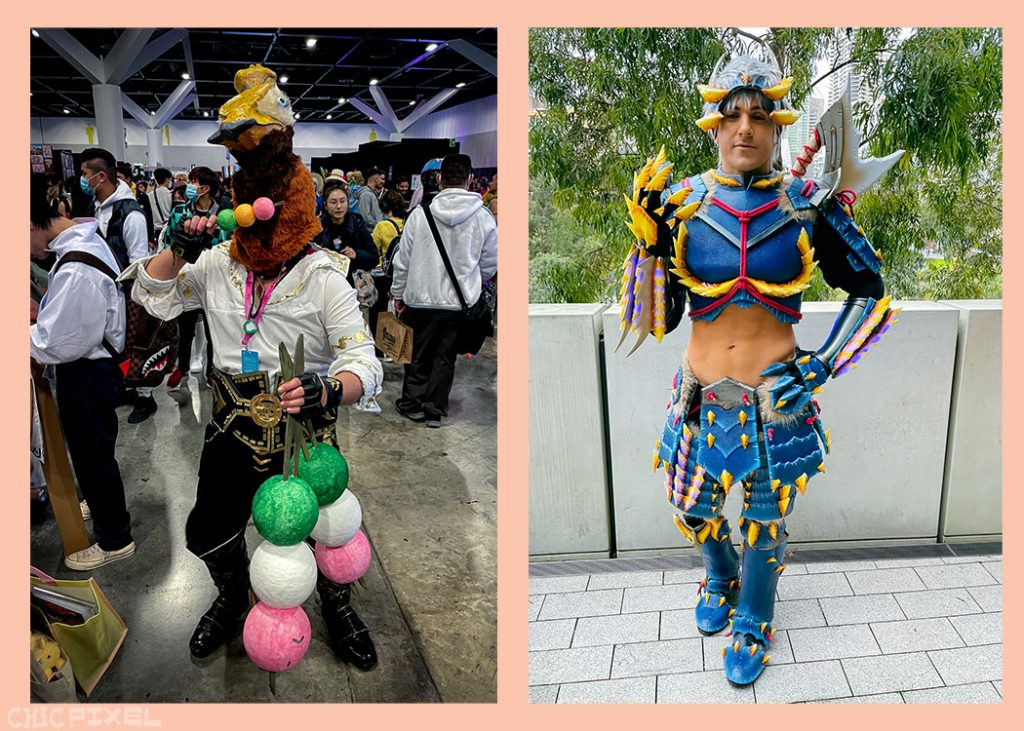 As a huge Monster Hunter fan, I was very excited to see these two cosplayers! The cosplayer on the left sported a hilarious costume from Monster Hunter Rise, but unfortunately I didn't get their name. On the right is Chris Tucker, aka roxas_wind_cosplay, dressed in a handmade (and glowing!) Zinogre armor set. Only after asking for a photo did I realize that I interrupted him on his way to the Cosplay Masquerade… Sorry, Chris!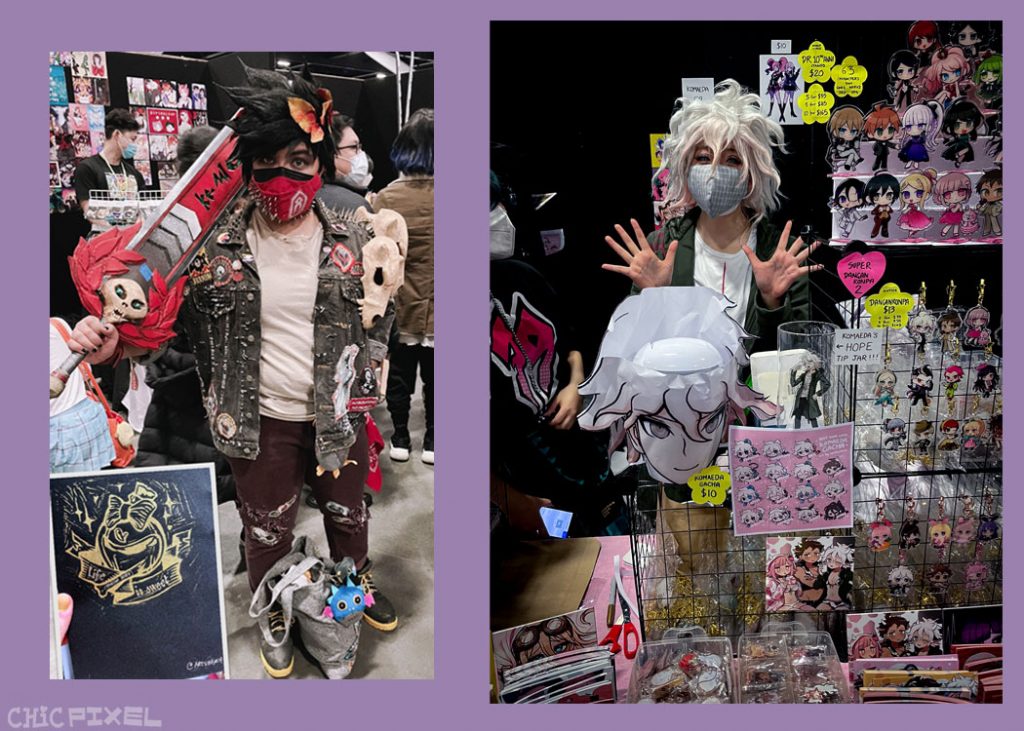 I also wanted to highlight the cosplayer artvinsky (left), who not only sported an awesome punk Zagreus (Hades) cosplay they designed, but when I asked if I could take a photo, they offered me a free woodblock print inspired by the game! It was such a sweet gesture and one of my best memories of the day…
…Followed closely by the Nagito (Danganronpa 2) cosplayer on the right, aka cactuskhee, an artist who was doing a Nagito keychain gacha that had you pulling a keychain out of Nagito's noggin. It was hilarious and extra-exciting for me as a huge Nagito fan!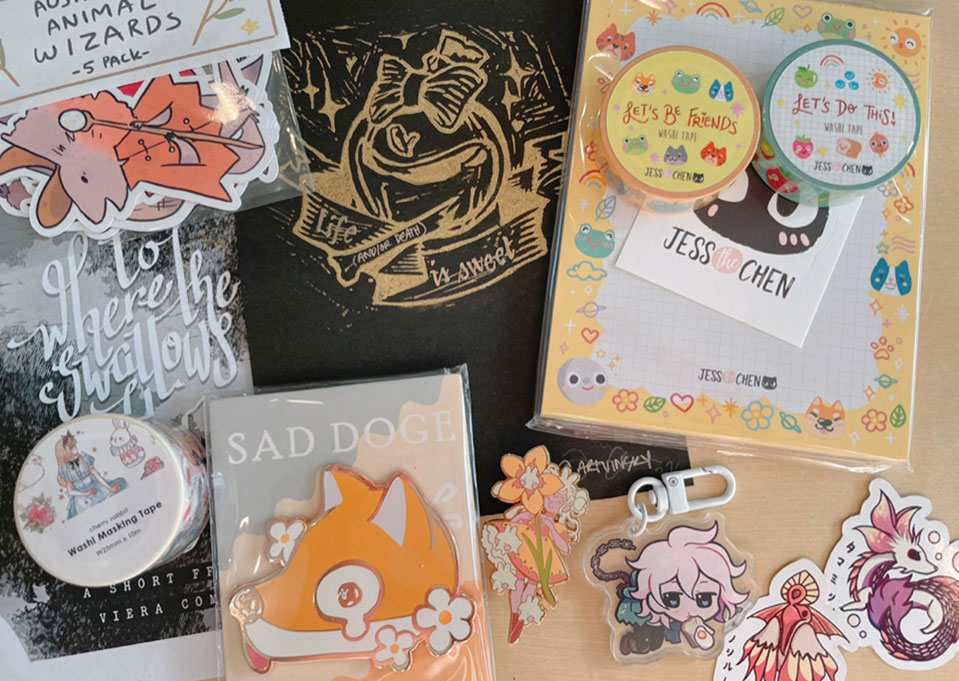 Of course, it wouldn't be a con recap without a haul! As expected, I did most of my shopping in the artist alley, and I picked up a whole pile of business cards for artists I want to purchase from in the future. From top left to right going clockwise, the item details are as follows:
Aussie animal wizard stickers by Jess Rose – Hades print by artvinsky – washi tape x2 and notepad by Jess the Chen, Monster Hunter stickers by alis_kun – Nagito keychain by cactuskhee – flower girl pin by Lana Jay – sad doge pin by HideawayMelon – Alice washi tape by Cherry Rabbit – free FFXIV Viera comic by saintamand_
After not having been to such a large public event in so long, I was apprehensive of how SMASH! 2022 would go. Not only that, but COVID-19 is still very much a presence in our lives. While I was hopeful that the convention would be run in a safe manner, I was still concerned about COVID precautions and how courteous attendees would be of others.
Though there was not a mask requirement for attendees (which is currently standard procedure in Australia), I would say at least half of the people I saw were wearing masks, and those that weren't were still respectful of social distancing and others' choice to wear a mask.
Aside from not having any guests I was particularly excited to see, I was very happy with the SMASH! 2022 experience overall. It's hard to come back after COVID-19 setbacks, and I'm sure even more so for a non-profit fan-run event, but the team should be proud of what they accomplished for this year's convention. I will definitely be looking forward to SMASH! 2023!