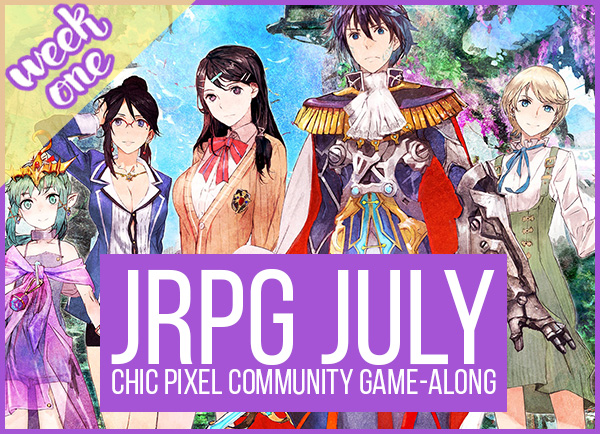 I can't believe how many participants there've been in JRPG July so far this year! As such, I thought it would be the perfect time to bring back my weekly roundup posts to highlight some of the games people have been playing, as well as the various podcast/let's play/blog post contributions we've had. It's still early in the month, so if you'd still like to join in the fun, head over to my original announcement post to get all the details!
First, the awesome folks at RPGamer are joining in JRPG July once again this year, with members of their staff pledging to play a range of interesting titles from Okage: Shadow King to Wild Arms 5. In addition to weekly check-ins, they also posted a JRPG July-themed podcast! Be sure to check it out!
On Twitter, @KirbySonicFan has been posting their progress in Xenoblade Chronicles X, while @The_Adrift is streaming their playthrough of Persona 2: Eternal Punishment, and @InstaTrent returned to Final Fantasy XIV: A Realm Reborn to knock off the base game's content before moving on to Heavensward. Some folks, like @Joesff, have already finished their first games!

Finished Adventures of Mana #JRPGJuly pic.twitter.com/HbQaAaYbrA

— Joe (@Joesff) July 11, 2016
In the video department, GrandLethal16 has posted their full JRPG July streaming schedule, which includes Suikoden, Chrono Cross, and Eternal Sonata, among others. Meanwhile, Dallas Strimple is working through playthroughs of two more recent games, Tokyo Mirage Sessions #FE and Star Ocean V on YouTube.
The first week of JRPG July has also seen some reviews! Karin over at Otome Tantei reviewed Odin Sphere Leifthrasir, and Morgan Sleeper posted a review of the exciting new 3DS JRPG 7th Dragon III Code: VFD over at Nintendo Life.
Because when you gotta go, you gotta go, even in space. #JRPGJuly @VGAdvisor pic.twitter.com/sI278GEf1v

— 如意 (@Westraid) July 6, 2016
Meanwhile, I've been busy gushing over the packing of the first print edition of Nōra and the Time Studio: The Witch and the Misty Forest instead of actually playing it! But I'm not the only person sharing some of JRPG collection – JRPG.moe posted their Nintendo DS JRPG collection on Twitter, as well! I'd love to see more folks sharing their collections, so let's fill #JRPGJuly with some gorgeous JRPG box art!
What an eventful first week of JRPG July! Unfortunately there's no way I could cover all the awesome tweets we've had, so be sure to check out #JRPGJuly on Twitter to see what else everyone is up to! If you posted a blog post, let's play, or other JRPG July-related content during the first week of July that you'd like to make sure I mention in the next roundup, please let me know in the comments! See you again in a week, and happy gaming!