First Impressions is a brand new series where I share my preliminary thoughts on any video game, anime, or manga titles I've been consuming! When I asked you all what you'd like to see more of on Chic Pixel in my September reader survey, I got a lot of responses interested in reviews and impressions pieces. Since I don't always finish things fast enough to review them in a timely manner, First Impressions will enable me to share my thoughts with you that much quicker! Most items featured in First Impressions will receive full reviews at a later date. Be sure to leave me a comment to let me know what you think of this new format!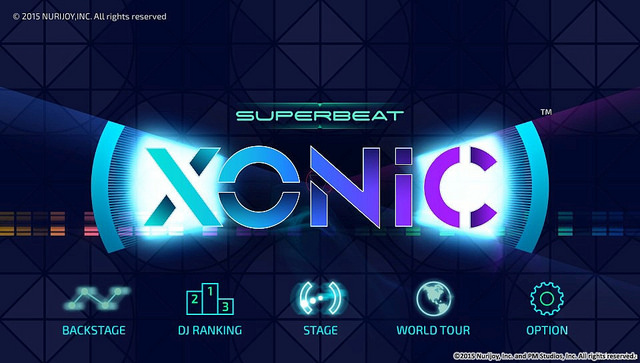 Superbeat: Xonic (pronounced "sonic") is one game I've excitedly had my eye on ever since it was announced for PS Vita earlier this year. Though I'm not particularly good at rhythm games, it's actually one of my favorite genres, and after DJMax: Technicka Tune I'd been craving more pulsating rhythm action on my Vita. Superbeat: Xonic may not be a an official DJMax game, but it retains a lot of the elements that make that series so appealing, so suffice it to say, I'm already hooked!
I've put in handful of hours to the Sage and World Tour modes so far, mostly using touch controls. For those who would rather use buttons, you can actually switch back and forth between analog controls at any time, even in the middle of a song! Generally I've found the touch controls to be very intuitive, but I have a really difficult time executing the directional swipes… I'll have to put a little more time into the game before I can say whether that's user error or the touch input not being as responsive as it should be.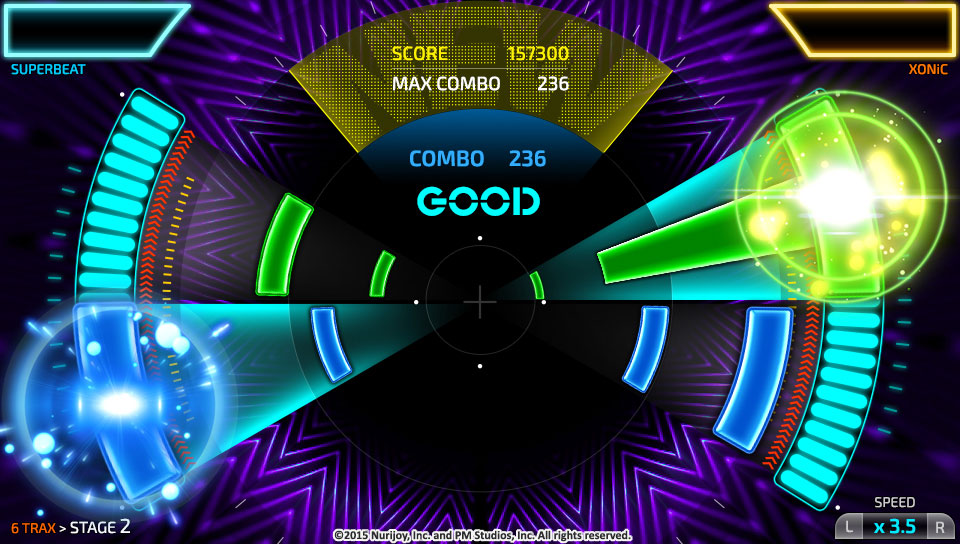 I always have a hard time describing exactly how gameplay works in particular rhythm titles, but I'll give it a shot: in Superbeat: Xonic, icons emerge from the center of the screen and move outward, requiring you to time your button presses or taps with when the notes line up with two parenthesis-like half circles on the screen. There are basic single hit notes as well as the swipe notes I previously mentioned, along with holds and icons that require you to trace a line up and down on the screen or use the analog stick to follow the note's trail. It should be easy to pick up for anyone who has basic familiarity with rhythm games, but I still find myself having difficulty with the swipe and drag notes.
In Stage mode, you can select individual songs to play or sets of varying difficulty to unlock new songs and other items. The World Tour, on the other hand, gives you a set of songs with a specific goal that you're required to complete to unlock the next stage. DJ Ranking is, as the name suggests, online leaderboards, and while it's a nice inclusion for those that care about scores I don't think I'll spend much time checking to see where I currently fall (it will most certainly be very, very low).
Of course, music is the real magic of a rhythm game, and if you love the kind of dance tracks featured in the likes of DJMax and Dance Dance Revolution, you're pretty much guaranteed to enjoy Superbeat: Xonic's selection. I haven't found any songs that particularly stand out to me yet, but I'm sure more than one favorite will emerge as I put in more time in the upcoming weeks!
Superbeat: Xonic releases for PS Vita in stores and digitally on November 10th in North America and Europe, and December 17th in Japan (sorry Japan!). These first impressions are based on a North American PSN code provided by the publisher.