DJMax Technika Tune is, in my humble opinion, one of the most overlooked PlayStation Vita games out there. After the game was released to little fanfare for the Vita in September 2012, the future of the long-running rhythm game franchise has looked increasingly bleak… But SUPERBEAT: XONiC, developed by PM Studios with the help of Nurijoy, looks to be a spiritual sucessor to the all-but-dead handheld DJMax games. Both teams have had previous experience working on the DJ Max series, and SUPERBEAT's 45 track lineup sounds like it is shaping up to be as groovy as ever.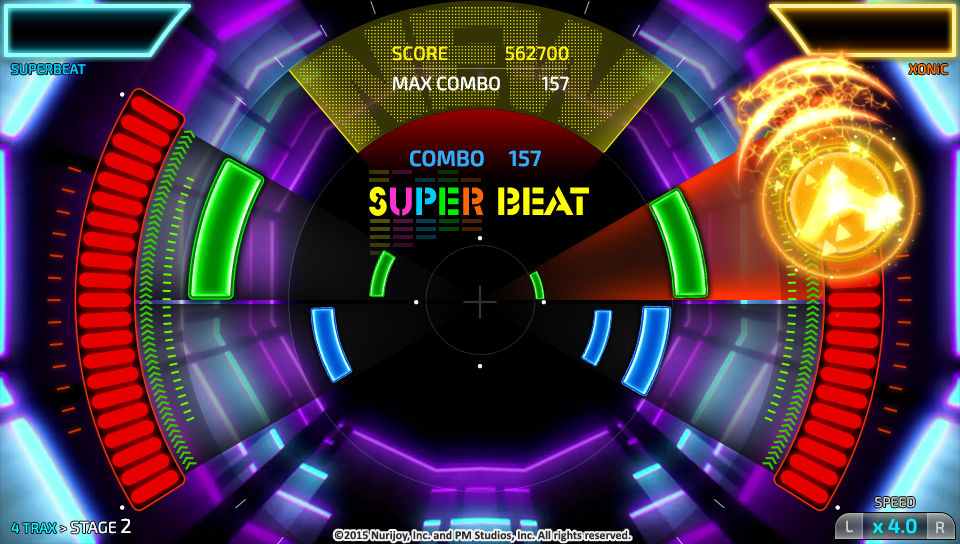 I'm not exactly sure what I'm looking at, but sign me up! acttil, the company in charge of handling SUPERBEAT's English press releases, says they are working on an upcoming gameplay trailer, and I can't wait to see how it plays. From the screenshot above, it looks like the blue and green lines move outward from the center and need to be tapped on the left and right sides of the screen.
Hectic rhythm gameplay + bright and catchy music cover art = the DJMax influence I know and love!
SUPERBEAT: XONiC will launch both physically and digitally in North America this fall. While there's not much more information to go on at present, you can get a taste of the game's music at the official website.