I don't do a whole lot of translations on this blog, but with my mounting Animal Crossing: New Leaf excitement leaving me checking my FedEx package status every five minutes (more on that in a future post), I figured I could use something to take my mind off things. Plus, this isn't just any translation, but a translation of the most recent post at Lucinda's Blog, the official blog for the Japanese version of Style Savvy: Trendsetters (known as Wagamama Fashion: Girl's Mode in Japan). And this isn't any post, but a post all about the new Animal Crossing: New Leaf crossover! They've gone about promoting it in a pretty interesting way, so I definitely suggest giving it a read through if you're into either of those games. So, without further ado, I present to you the full blog post in its translation:
Shop Manager Asks
11/7/12
Have you heard?
The Animal Crossing brand will be coming to our town tomorrow.
In honor of the Animal Crossing brand's launch, I thought I'd talk to Gracie, the gifted designer from Animal Crossing: New Leaf, who designed the items.
I guess you could call it "Shop Manager Asks"!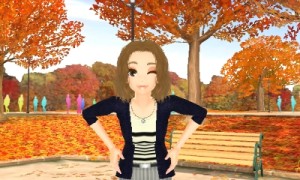 Miki
Gracie! Thanks for coming today. I look forward to talking with you♪
Gracie
And I you.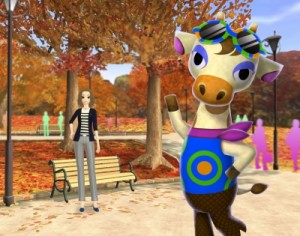 Miki
Let's get right to it. Your brand in Animal Crossing is called GracieGrace. What is its concept?
Gracie
GracieGrace is all about providing a high-end lifestyle! You can't have refined fashion without a refined lifestyle. That's why my brand covers everything from clothing and accessories to interior design.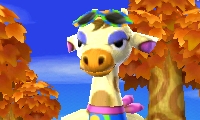 Miki
That's wonderful! So, what made you decide to design fashion items for our town?
Gracie
I'm a designer who travels all over the world. It doesn't matter whether it's a forest or a town, as long as there's someone there to love my products, I'm happy.
Miki
I see. Well the people of this town certainly know all about fashion! I'm sure they'll love GracieGrace~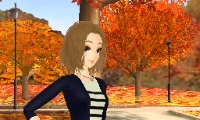 Gracie
Recently I heard that your town was gaining recognition for trending in fashion. Seeing the town for myself today, I realized the rumors were true. I'm confident everyone will wear GracieGrace brilliantly!
Miki
Thank you very much♪ I also tried on your samples. I really feel like it's such a charming brand, and it totally gives new options for coordinates! Now if you don't mind, let's get straight to introducing your new items♪
Gracie
Of course. Take a look at this!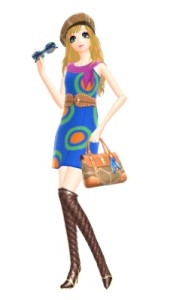 Miki
There are items in here that reflect your own fashion, aren't there, Gracie?
Gracie
That's right. Since this is the debut of GracieGrace, I wanted to design a new line that could be regarded as a flagship of the brand. The sunglasses and dress may look psychedelic at a glance, but they'd be outstanding in both a high-class or more cool coordinate. There's no doubt they'd be sure to make a statement as an accent, as well! The bag and hat can also be pared with more effeminate coordinates.
Miki
So you can enjoy them as a complete outfit, or pair the individual items with different coordinates for a wide variety of impressions! The boots are also lovely.
Gracie
Oh, my… You have fine taste! The boots are the part of this lineup I have the most confidence in. They're lovingly crafted, right down to the charms on the back. I kept everything both high-class and easy to use, so I hope everyone will try them with different outfits.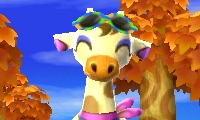 Miki
After talking with you, I feel like I want to try all kinds of different things♪ Do you have any final words for our village?

Gracie
I'm not usually one to give praise, but I was touched by the abundance of fashion brands, items, and fashionable people in this town. I'd love if everyone of the town could enjoy high-class fashion with GracieGrace.
Miki
Thanks for your time, Gracie♪