With the Japanese release of Animal Crossing: New Leaf rapidly approaching, I'm finding my head full of cute, colorful animals and visions of collecting everything from fish to furniture. In honor of its impending release, I decided to round up some of my favorite Animal Crossing: New Leaf merchandise… plus a bonus Style Savvy: Trendsetters crossover! Keep in mind this isn't an exhaustive list, as there are a ton of newly-added Animal Crossing: New Leaf items on Amazon Japan, so click that link and browse yourself if you can't get enough from my picks below.
These 3DS LL covers are drop dead adorable, if you ask me! Unfortunately they won't go on sale until December 31st, but they may be worth holding out for if you've recently picked up (or are planning on getting) a new 3DS XL/LL! There are a couple of other designs available, but the above two are definitely my favorites.
And of course, you'll also need a pouch to carry that 3DS LL in, right? Once again, Nintendo's got you covered! I'm not sure I'm completely sold on the bright yellow, as it doesn't quite go with the more muted colors of the other accessories, but I do like the pattern on this one.
Might as well get the whole set, right? You'll be needing a card case to keep those games in! This one holds 12 3DS cartridges. I really like the rainbow and balloon backdrop!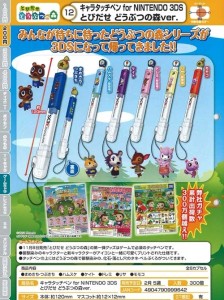 Finally, Animal Crossing: New Leaf styluses! I wish I had a source for this image, but I believe it's a scan from an issue of Famitsu? Someone more knowledgeable please correct me if I'm wrong. Anyway, I'm a huge fan of the new alpaca duo, so I'd probably pick that one, or perhaps the stylus with one of the Able Sisters on it. They're too adorable, but perhaps they'd be a bit clunky to use?
Well, that may be it for physical merchandise, but there's one more Animal Crossing: New Leaf-related thing I'd like to mention… The Style Savvy: Trendsetters crossover clothing! That's right, owners of the Japanese version of Style Savvy: Trendsetters will be privy to a KK Slider-themed t-shirt (for free), along with a whole outfit coordinate designed after Gracie from Animal Crossing:


I'm such a sucker for these kinds of things! I love the Gracie outfit, in particular. Would you think I was crazy if I told you I was considering buying a Japanese copy of Style Savvy: Trendsetters just for these exclusives? Okay, you're right, that is totally crazy. Don't worry –– I have a feeling I'll be getting a copy of the English version in the near future, and I'm not so bad as to buy a second copy just for two in-game outfits. Promise!
Only two more days!