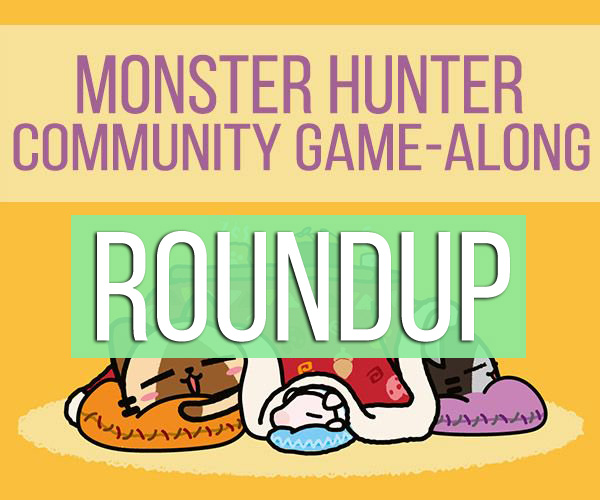 March's Community Game-Along saw the return of the annual Monster Hunter theme, just in time for the free Deviljho update to Monster Hunter World! I was initially worried that people were all Monster Hunter'd out after World's release at the end of January, but #MonMonth had a lot of participants, many of whom were still having lots of fun with Monster Hunter World!
It was great to see folks like @driftglass share their first Monster Hunter game, while others like @mdiskplaylist jumped into the series for the first time.
Here in the last hour of #MonMonth, I'm running about, killing monsters, fighting in the arena, not finishing the story, lol.
The hashtag may go away but April will be another Monster Hunter month for me. 😈🍖#MHWorld #MonsterHunterWorld #MonsterHunter #XboxOneX pic.twitter.com/BjvA2zczQu

— Hayley Winter✨ (@driftglass) April 1, 2018
While many people played Monster Hunter World, @pucechan went for some classic Monster Hunter with Monster Hunter G, and @mdiskplaylist picked up Monster Hunter Freedom Unite. Be sure to check out the two part Monster Hunter Freedom Unite M Disc Gauntlet to hear his full impressions as a newcomer to the Monster Hunter series!
It was awesome to see so many people playing Monster Hunter World, and I was even able to schedule two multiplayer sessions during #MonMonth to play with other participants! Special congrats to @charassic, who started Monster Hunter World at the beginning of #MonMonth and saw the credits roll by the end! Way to go!
Happy #MonMonth~ #MHW #MHWorld #MonsterHunter pic.twitter.com/Vx9vfxGhC1

— Alcina (@kaitou_al) March 22, 2018
Other folks who played Monster Hunter World included @driftglass, @hansuramu, @PokeKellz, and @kaitou_al. @patricklous posted a full review of Monster Hunter World over at JRPG.moe, and I didn't publish my Monster Hunter World review until just a couple days ago, but I'm going to count it anyway! (it's still #MonMonth in spirit)
Thanks again to everyone who participated, and be sure to join in April's #MusouMonth! There may only be one week left, but that's still plenty of time to try out a Musou game!
If you enjoy the Community Game-Alongs and Chic Pixel, please consider becoming a member of my Patreon! For as little as $1/month, you get access to behind-the-scenes updates, and your money goes directly towards supporting the site!