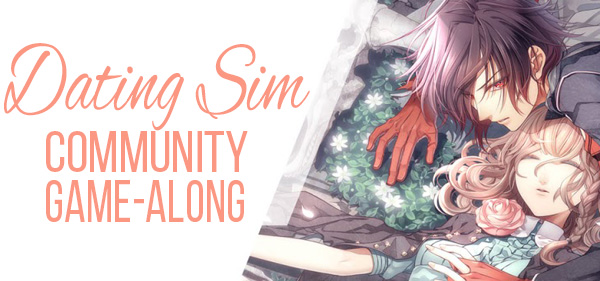 Happy New Year! I'm planning on doing a Chic Pixel-style year in review post in the next week or so highlighting some of my favorite media from 2016, but since this is my first official post of 2017, I just want to say thank you to everyone who has read, commented on, and/or shared my posts over the past year! Your support means the world to me!
If you follow me on Twitter, you'll know that the Community Game-Along is back for another year full of themed gaming months, starting with the return of #DatingSiMonth for the month of January. Since I've done the dating sim Community Game-Along twice now, I'll refer you to my previous posts for ideas on what titles to play. But if this is your first time participating in a Game-Along event, read on for details on how to join in the fun!
The goal of the Community Game-Along is to encourage people to play games collecting dust in their backlogs or try something new they wouldn't normally play. All you need to do is play a game that fits the monthly theme to participate! To share your experiences, titles you think others should play, and connect with other participants, use #DatingSiMonth on social media. This month, any game with romance as a central theme, from otome games such as Hakuouki: Demon of the Fleeting Blossom to simulation games with a relationship aspect like in the Harvest Moon series, counts! If you're still stumped with what to play, try my suggestion posts from 2014 and 2016.
This month I'll be working on the Code: Realize fan disc, which was released in Japan at the end of November (Aksys Games is bringing it out in English, too!). What dating sim games are on your list? Share your picks in the comments!