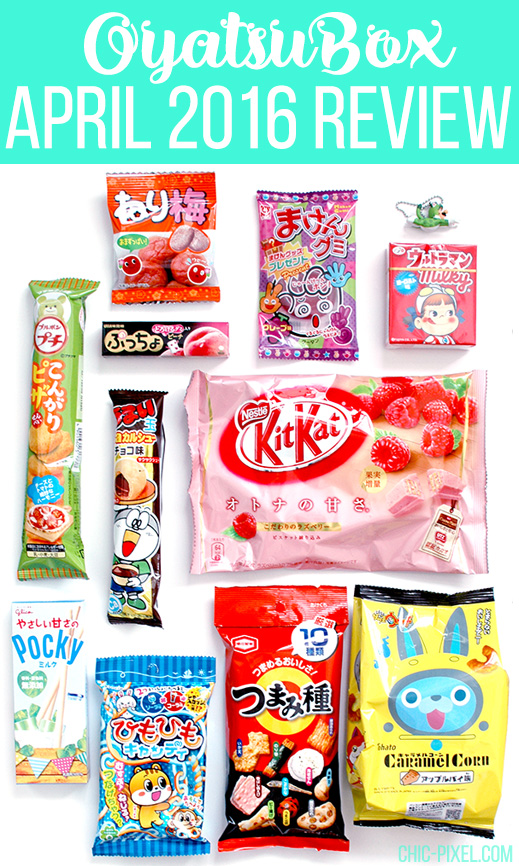 This April OyatsuBox celebrated its 2 year anniversary, and they made sure to do so in style! As always, I received a Premium box priced at $30 including shipping, which comes with 10-14 snacks. When I first reviewed OyatsuBox back in March 2014, which may have even been their first shipment, and I can wholeheartedly say that two years later they are still one of the best Japanese snack subscription boxes around. Watch my unboxing video to see exactly what was in the anniversary shipment, and read on for more detailed photos and thoughts!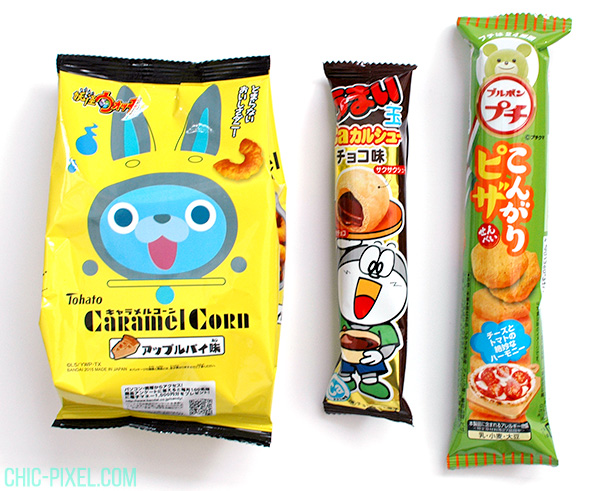 These were the three things I ate first out of the box, so it only makes sense that I feature them first. From left to right we have Tohato Caramel Corn in apple pie flavor, a chocolate cream Umaibo, and pizza-flavored Puchi chips. Out of the three, the Puchi pizza chips were by far my favorite, as they had a really great cheese and pizza sauce flavor! I'd never had sweet Umaibo before, and I expected them to be crunchy like the savory versions, but they're actually more like chocolate cream puffs.
The Tohato Caramel Corn definitely wins the best packaging award for featuring an adorable Yokai Watch character on the bag! The apple pie flavor was nice without being too sweet.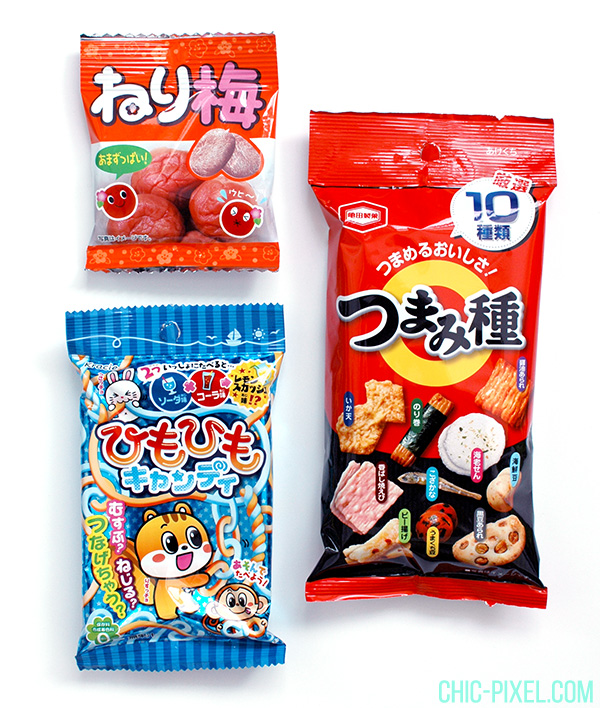 I'll get the Neri Plum candy out of the way first – namely, I've had them before and I already knew I didn't like them, so I passed them on to a Japanese friend. I'm just not really a fan of plum-flavored things! But this sour candy is a classic dagashi, so despite not being my favorite, it's always fun to see "retro" snacks in the mix along with the more modern goodies.
I have yet to try the Himo Himo candy, which is the Premium box's DIY item of the month, but I love the cute animals on the package! I did, however, immediately devour the Kameda variety pack, which included 10 different kinds of classic Japanese snacks. I'm partial to senbei, so those were definitely my favorite, but even the dried fish were tasty!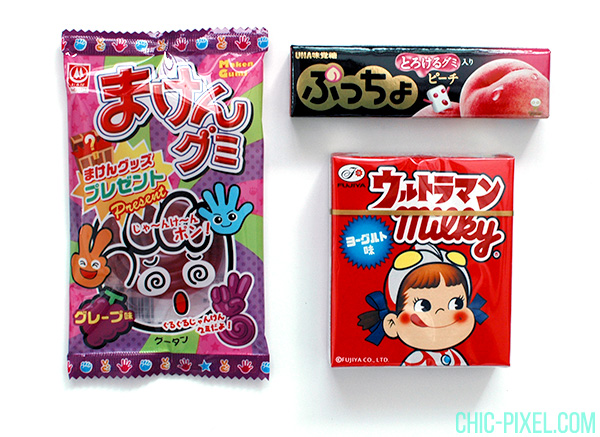 Out of the three packages shown here, the Ultraman Milky was definitely the first to catch my eye. I love that OyatsuBox included a limited edition candy like this! Apparently there are even different box designs, but I'm completely smitten with the one I got (to the point that I'm going to save it even once the candies are gone). I've never been a big Milky fan, but it's hard to go wrong with yogurt-flavored chewy candies.
Above the Milky are peach Puccho, a tangy candy similar to Starbursts with small round balls inside to add another dimension to the texture and flavor. The grape rock-paper-scissors gummy to the left supposedly comes shaped in either a rock, paper, or scissor move like the game, but I gobbled up mine so fast I don't even remember which one I got!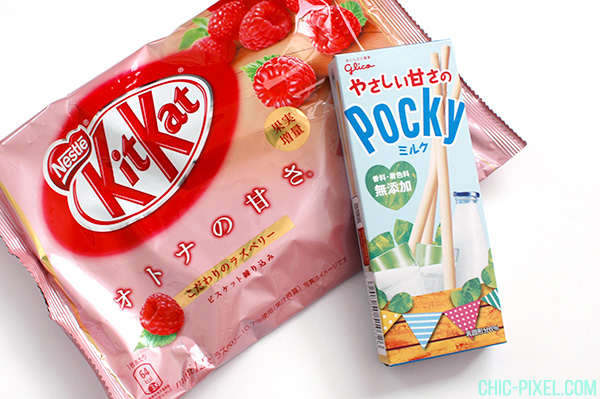 Now, without a doubt, these were the two most exciting items in this month's box for me. A whole bag of Kit Kats?! My heart be still! These are the new raspberry Otona no Amasa flavor, and I have to say, they may be my new favorite. They have just the right balance of sweet and sour raspberry flavor… Delicious! If you're sad you missed out, never fear, Oyatsu Café has individual bags in stock to purchase!
As for the milk Pocky, despite the packaging being downright adorable, the sticks themselves were a little unimpressive when compared with the flavor explosion that was the raspberry Kit Kats. Don't get me wrong, though, they were still tasty! I could definitely see myself having a pack with a nice cup of tea.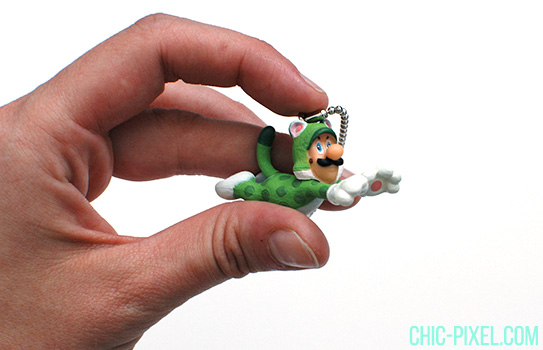 Finally, April's gachapon was Mario-themed, and I got this adorable cat Luigi keychain. I'll admit it doesn't excite me as much as last month's Pokemon cookie keychain, but that set a high bar!
Congratulations again on 2 amazing years, OyatsuBox! With monthly boxes like these, I can't wait to see what year 3 brings. June's box will include OyatsuBox's first ever drink (Rainbow Boss coffee, no less!), so be sure to sign up before the end of May if you want to try it out!