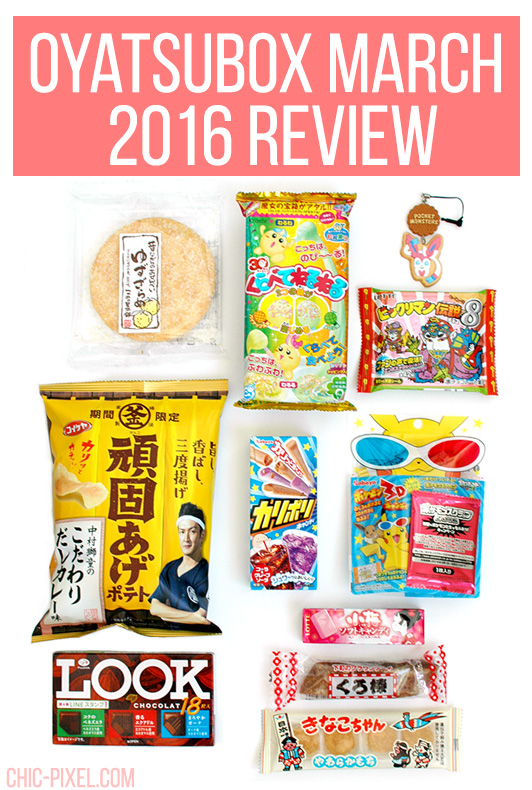 March is nearing an end, so that means it's time for a OyatsuBox Premium review! Without giving too much away, let me just say that my initial impressions were extremely positive – this may be the best OyatsuBox I've received to date!
https://youtu.be/dh3vZo9DZyA
If this is your first time reading one of my OyatsuBox reviews, you can find my full impressions of their service in my original review. OyatsuBox offers three different Japanese snack subscription boxes to fit every budget, each containing a wide variety of unique snacks in their boxes compared to other similar services on the market. Suffice it to say, I'm a big fan! But let's take a closer look at what's in the March 2016 box…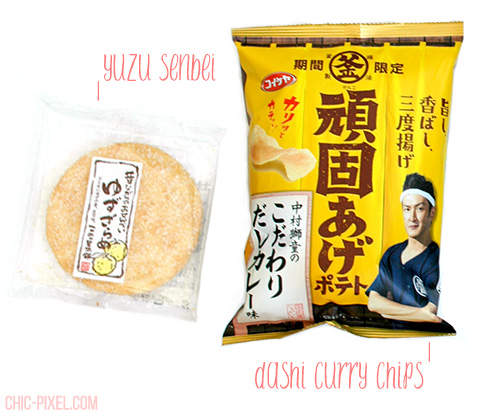 The yuzu senbei on the left is an independently-made snack from Rice Village Honpo! How cool is that? I haven't had a chance to try it yet, but I did try the dashi curry chips, and they had a very lovely curry flavor. The chips themselves were a surprisingly thick texture, but I didn't dislike it!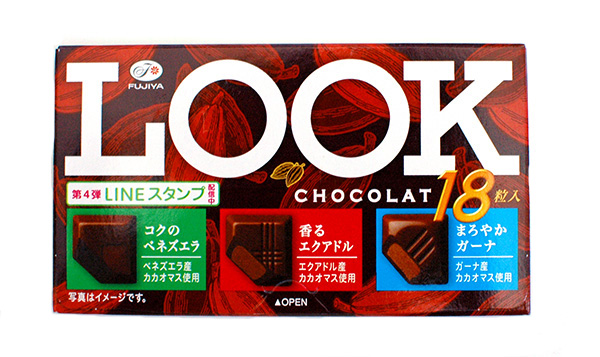 This Look chocolate bar features segments made from chocolate beans from Venezuela, Equador, and Ghana. It will be interesting to see how they compare! Unfortunately I think the LINE stickers advertised on the package are exclusive to Japan (unless you fancy trying an IP address workaround).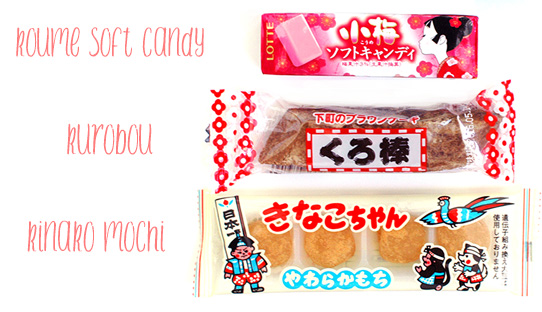 One of my favorite things about OyatsuBox is the mix of classic snacks and sweets with more modern delights. Both the Kurobou and Kinako-chan soft mochi fall into the "classic" category, while Koume is definitely more "modern." Apparently Kurobou is a regional snack from Kyushu made out of brown sugar and dough, and it has been produced the same way for over 100 years. I can't wait to give it a try!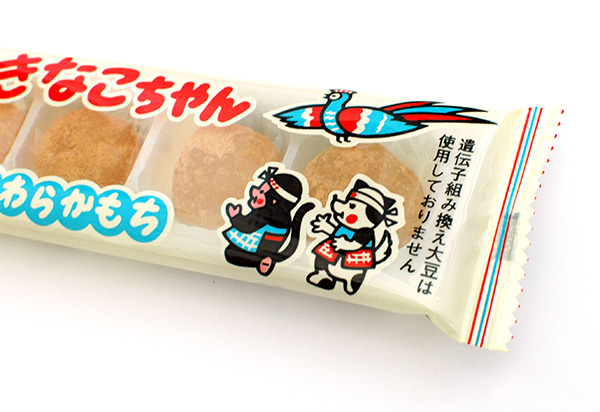 I couldn't resist taking a close-up of these cuties on the Kinako-chan soft mochi package!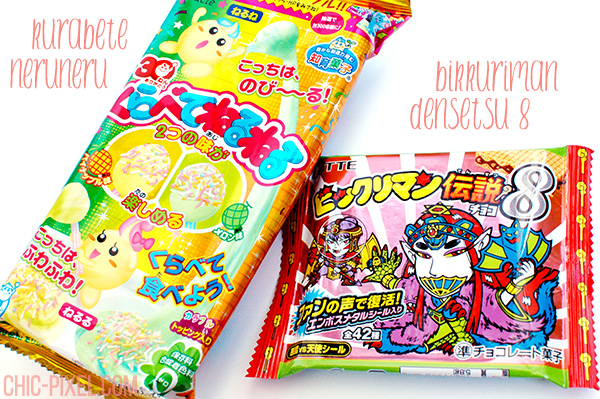 On the left is this month's DIY candy kit, which comes with every Premium OyatsuBox. It features two flavors of candy – pineapple and melon, which you can eat separately or together. I'm actually a big fan of pineapple-flavored candy, but I don't think I've ever mixed pineapple and melon!
Funnily enough, I've never actually had an original Bikkuriman, as I usually stick to purchasing ones with designs featuring other properties such as Monster Hunter. But isn't the character on the package wild?! The chocolate wafer is nothing particularly special (not to say it's bad!), but it's always exciting to see what sticker's inside.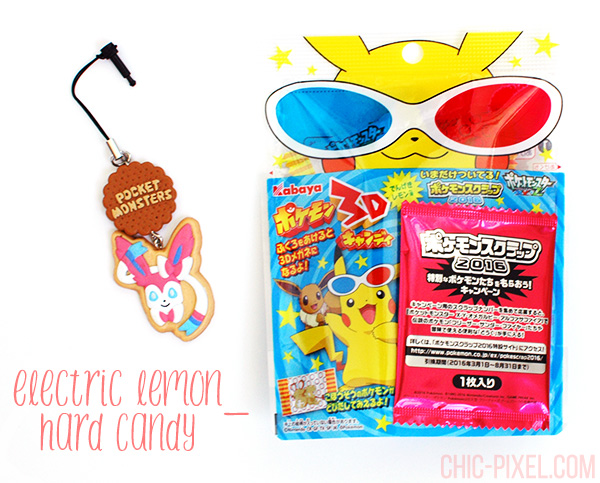 If you've watched the unboxing video at the top of the post then you already know I was absolutely thrilled to find two Pokémon items in this month's box The cookie gatchapon is so adorable, and I was pretty darn lucky to score one of my favorite Pokémon, Sylveon!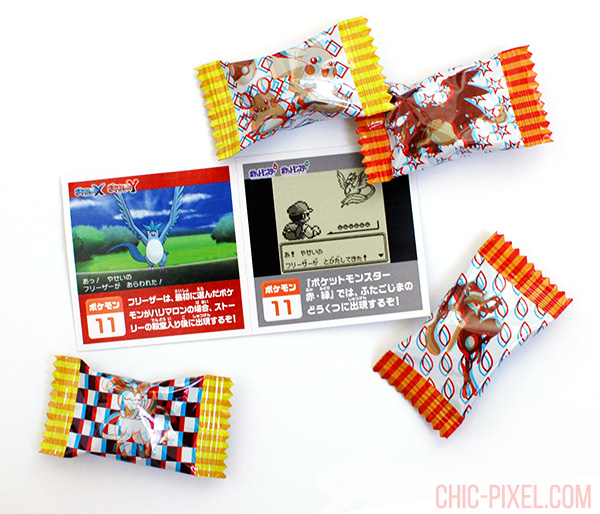 I gave the 3D glasses a go, and to be honest the 3D effect on the packaging is pretty minimal… But the lemon candy is slightly sour and has a great flavor, so I'm happy! The bag also came with a code to redeem Articuno in the games, and the slip it was written on doubles as two cute stickers! 
Update: I realized after publishing that I forgot to take a picture featuring the Kari Poli cola and grape sticks! You can see them in the center of the very first photo as well as my unboxing video. I'm not a big fan of soda-flavored candy, but I didn't mean to completely ignore it!
The March OyatsuBox really stepped up the game with some amazing Pokémon items and great mixture of classic and modern candies. I'm not sure how April could be any better, but you can bet I'm excited to find out! You can sign up for your own Premium OyatsuBox any time for just $30/month, but if you do so in the next two days, you'll be guaranteed a bag of Kit Kats in the April box!
Chic Pixel is a monthly OyatsuBox reviewer. All opinions are based on my authentic impressions at the time of review.