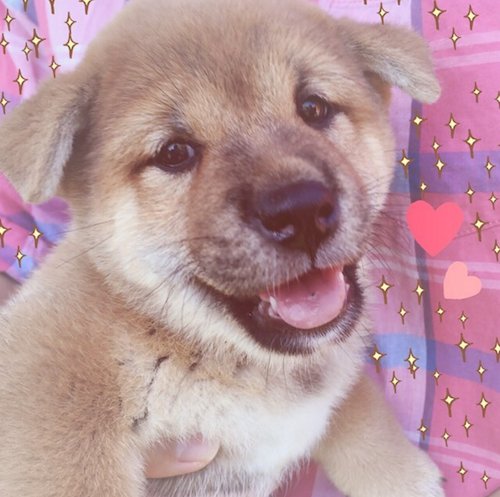 I finally let the dog out of the proverbial bag this past weekend on social media, but if you missed it: we're getting a shiba inu puppy! We've named her Pai Pai, and she'll be coming home with us after she turns eight weeks old in a week.
In the many months I've been pining away for a puppy of our own, I've looked at my fair share of shiba inu photos on Instagram. If you think these dogs are as adorable as I do, then allow me to recommend some of my favorite accounts for getting your daily shiba fix! And don't worry, once Pai Pai comes home, you will definitely be able to add my account to the list…
Maru (marutaro) – Maru is by far the most famous shiba inu on social media, but it's not without good reason. His adorable round mug is extremely photogenic, scoring him many impressive photo ops and millions of adoring fans. He also has his own blog, with additional photos that don't get posted to Instagram. The text is all in Japanese, but it would make a great study tool for those learning Japanese! Or you could always just enjoy the photos, since cuteness transcends all language barriers.
Sakura (oliveeeeeee) – One of my favorite aspects of Sakura the shiba inu's Instagram is that her owner posts photos from when she was a puppy, despite the fact that she's all grown up now! While it can be a little confusing for new followers, it's so fun to see flashbacks to her puppy days mixed in with current photos. The photos of her with her family show what a great bond they have, as well.
Hoku (hellohoku) – In terms of visually impressive photographs, Hoku's account takes the cake. His family has a penchant for hiking, so if photos of a shiba in gorgeous scenic settings sound up your alley, head over to Hoku's account this instant! I also love how his owner frames the shots in a variety of ways and utilizes bright, airy colors.
Ume (nao_ume42013) – In contrast to the blues and whites of Hoku's feed, Ume's feed generally features a warm, yellow tinge. Perfect for snuggling! If shiba inus are just one of many of your Japan-related interests, you'll be happy to see images of Japanese food and interiors in addition to Ume's adorable face. Like Maru, Ume has a blog as well, so check it out!
Ron (ronvenisuke) – Ron is yet another handsome male shiba, but he stands out for the  "welcome home" videos his owner posts nearly every day. It's so funny to see how his mood changes from day to day! I have a similar hallway at the entry to my apartment, so I wonder how Pai Pai will greet me when I come home…
Do you have any favorite animals on Instagram, shiba inu or otherwise? Share them in the comments!