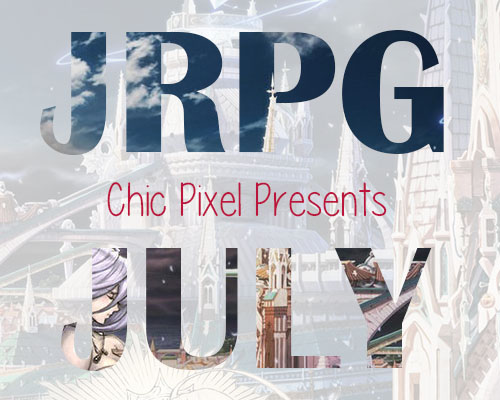 If you've been following Chic Pixel for a while, you might remember that I did a JRPG-themed Community Game-Along last July. It turns out that was by far my most successful Game-Along of the year! Tons of people used the hashtag on Twitter to talk about the games they were playing, and there were even a few long form submissions, too. Since it was such a big hit, it only makes sense to do it again this year!
As always, all you need to do to participate is play a JRPG during the month of July. If you're so inclined, use #JRPGJuly to talk about your experiences or share game recommendations with others on your social media platform of choice. Livestreams, blog posts, podcasts, or any other form of media where you play/discuss JRPGs is highly encouraged, as well! And if you're looking for a way to stand out, it's always great to see some lesser-known titles get some love.
I'm sure you're all wondering what I'm going to be playing… Well, I'm excited to announce that Nier was the winner of my recent Twitter poll to decide the JRPG I'll tackle this month! Earthbound was a close second, with poor Fire Emblem Awakening taking up the rear. To keep myself accountable, I will be posting weekly updates on my progress every Sunday for the month of July, so keep an eye out for that!
Though I usually end with a list of game suggestions that fit the month's theme, I'm sure there will be no shortages of JRPGs at your disposal. However, I'll leave you with a question: If there is one overlooked/under-appreciated JRPG you would like to see someone play this month, what would it be? Maybe someone will take on your request!