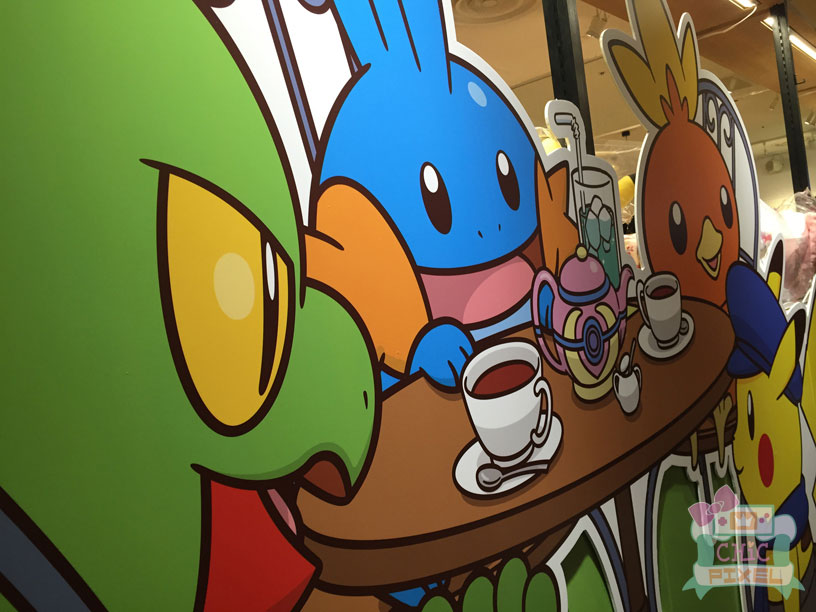 Waiting in line at the Pokémon Café
Greetings, Chic Pixel readers! This is Sarah (@everydayfoxlife), one of Anne's newest correspondents in Japan. Recently Roy (@kotowari) and I had the opportunity to visit the Pokémon Omega Ruby and Alpha Sapphire Café Anne wrote about recently in our neighboring city of Shibuya. Was it worth the 7 hour wait? Let's see…

Getting into the Café
First, we had to wait in line to get tickets in order to make reservations. The process went like this:
Line up for the entrance of the café. We arrived a half hour after it had opened, and the line went down several flights of stairs. It was maybe a 45 minute wait in total, which wasn't bad.
While you wait, staff members come along and ask how many people you have in your party so that they can create tickets ahead of time.

Once you reach the café entrance, a staff member gives you an assigned ticket with a QR code that you scan with your mobile device, and proceed to actually make the reservation. We hit a snag with this because our QR reader couldn't open the URL, and we realized that there was a

specific app

that the café requests you use to read the QR code (geez!). We just got a new Japanese phone plan, which was a life saver because without it we wouldn't have been able to make reservations. We scanned the QR code and sent off an automated email, which confirmed that they would email us when it's near time to for us to be able to get into the café.

We once again lined up with the rest of the group who were called around the same time. This wait felt pretty long because it depended on people being done – a lot of times people will hang out and talk for a while after their meal. While we waited, staff members came by and let us review the menu and order ahead of time.

Finally, time to eat!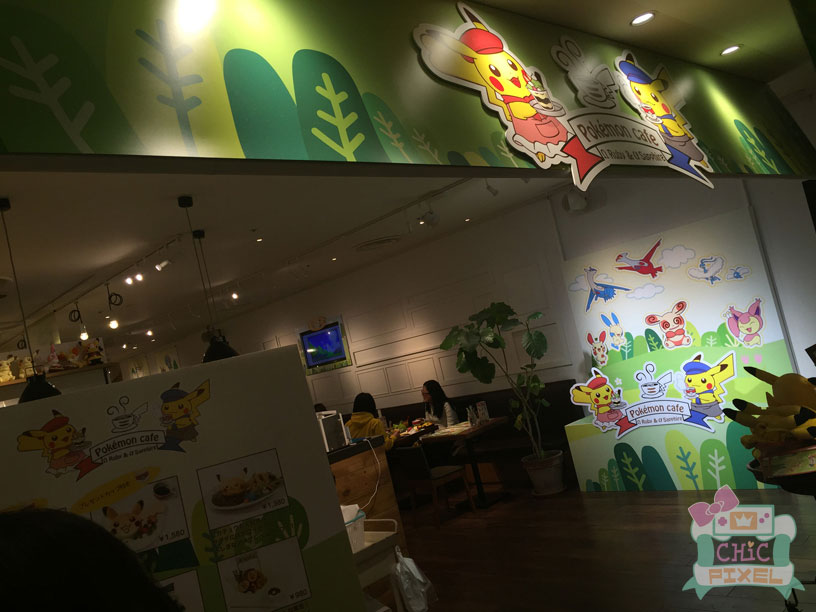 Our view waiting in line. There was a little photo set where a staff member would take your picture. You could use whatever props you wanted, which were just Pikachu dolls and ears.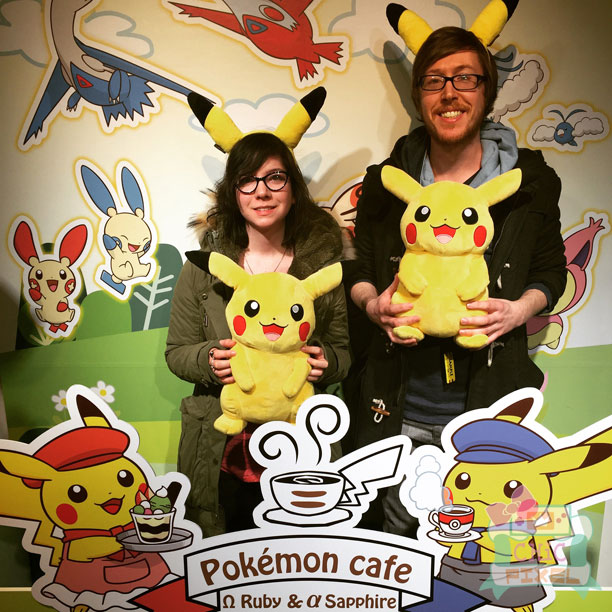 Ta da!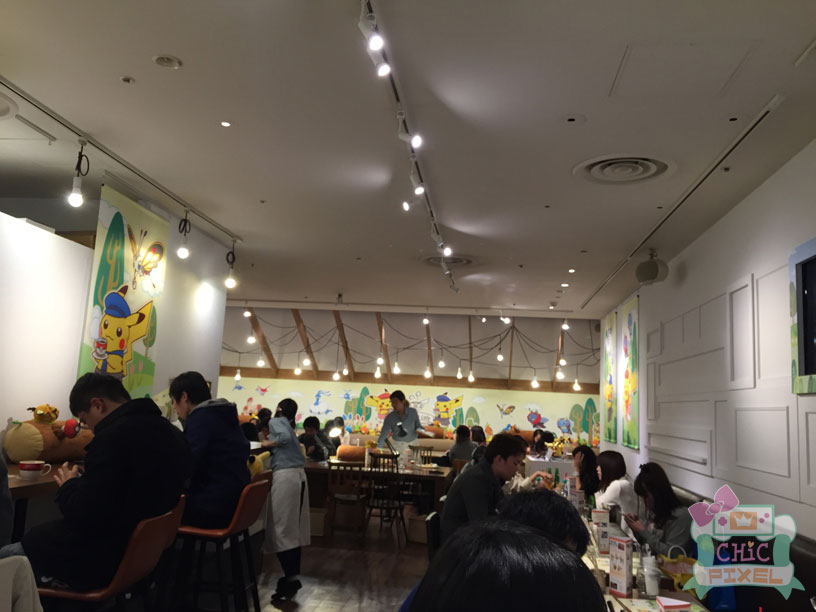 View of the café interior. Background music from the game was playing over the speakers.
Dining Experience
Roy and I both unabashedly love food, so we were extra excited to try out the menu items themed after the game. We decided to each try out one entreé dish and one drink.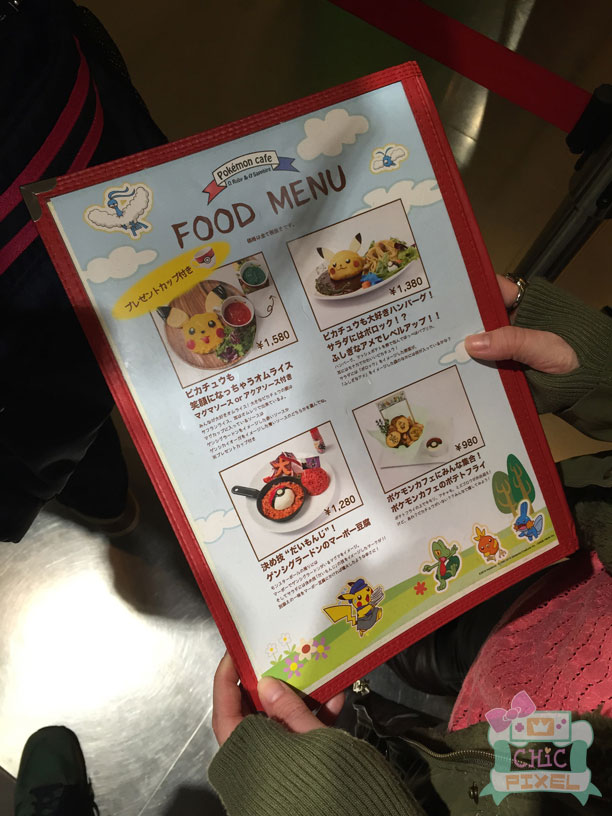 Reviewing the menu while waiting in line.
First came the drinks. I ordered the "Voltekka Soda," which had a Pikachu-shaped mango sorbet on top of crushed ice with some rosemary and lime. It came with ginger ale and pop rocks, which you mix to make an especially fizzy drink. The ginger ale, despite being called Wilkinson, is actually a product of Asahi, and has a surprisingly strong ginger flavor – the menu actually goes as far as to have a small warning for younger children.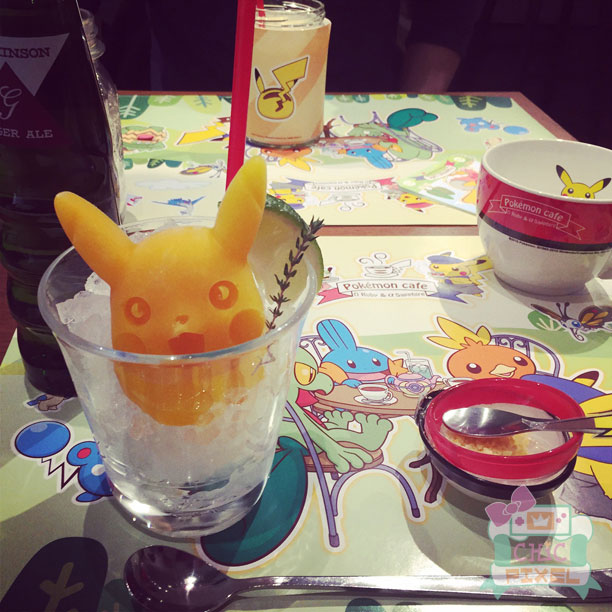 The pop rocks came in a tiny plastic bowl which had the pokéball button taped to it.
A laminated Pikachu tail was taped to the spoon handle.
The drink itself didn't taste like anything special (which doesn't mean it was bad – the ginger ale is becoming a new favorite for me), but being able to add the pop rocks to it was a lot of fun and I am easily amused. The sorbet was kind of hard to eat, so I let it melt a bit, but then became a goopy mess inside a ton of ice. Guess I should've made more of an effort to eat him.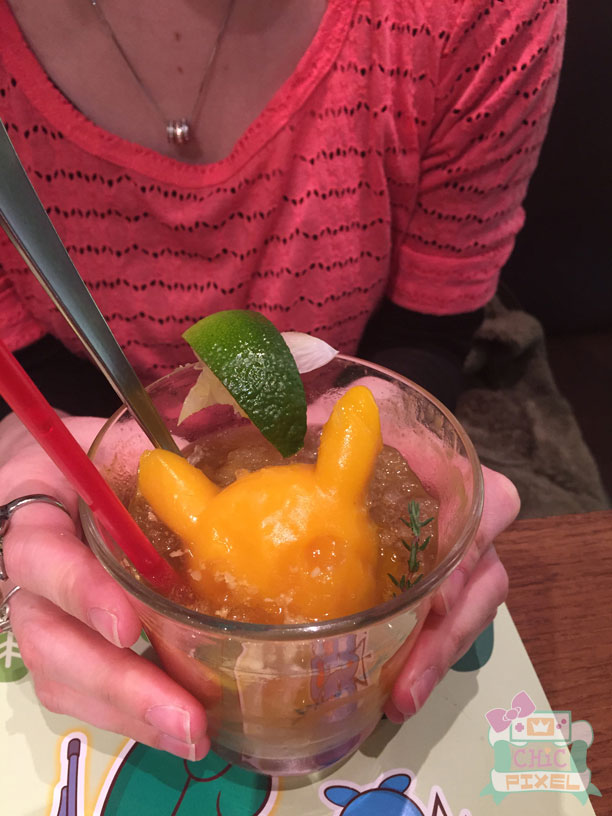 Melting Pikachu
Roy ordered the mix au lait, which is modeled after an in-game item. The presentation was less than thrilling as it was merely a piece of paper taped to a jar.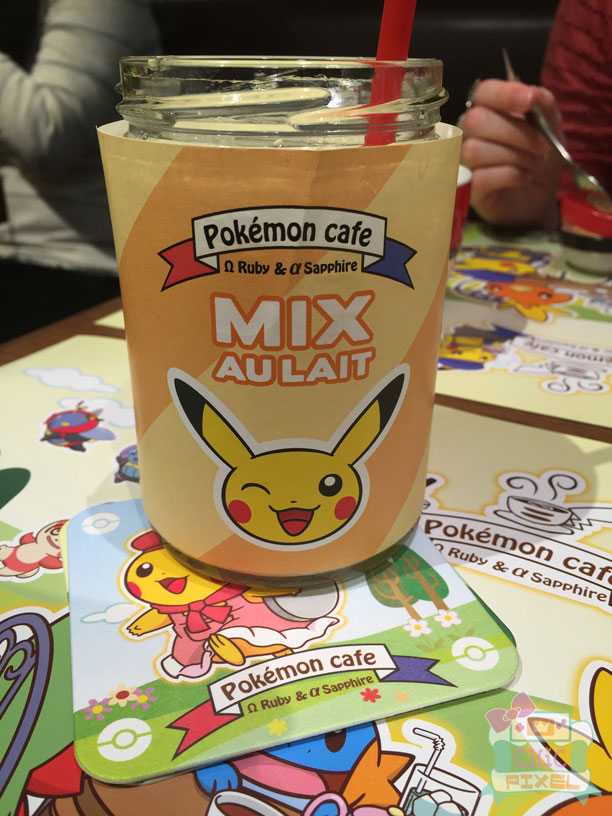 Um. Ok.
Roy said the drink tasted similar to a lassi – fruity and creamy – but with too much crushed ice. Maybe the café was anticipating little kids to take their time with the drinks, and not a grown man drinking it down like the world is ending. Who knows.
After hanging around a bit and enjoying the drinks, our food finally arrived.
Roy ordered a mabo tofu dish, which is a spicy tofu and ground meat mixture served alongside rice. The café decided to reinterpret the dish after Groudon.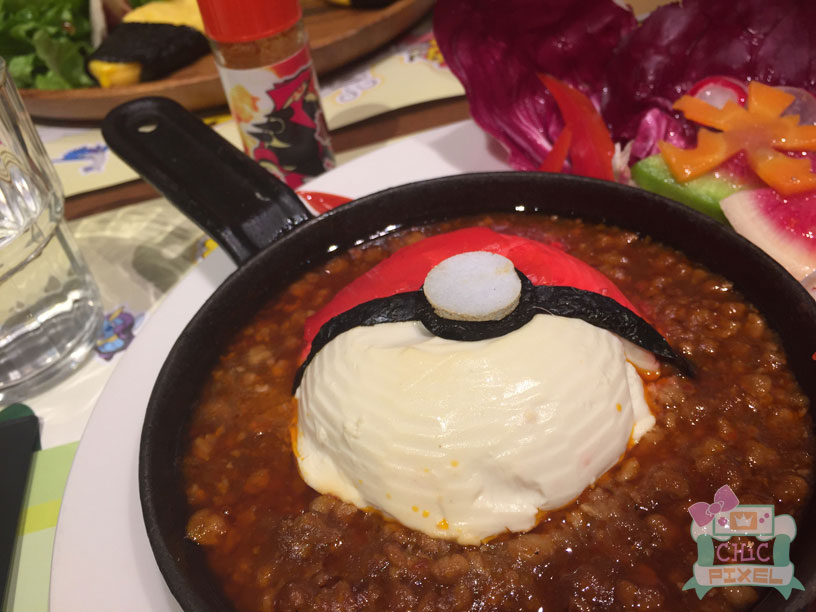 The Pokéball-shaped tofu sitting a ground meat mixture next to the red rice.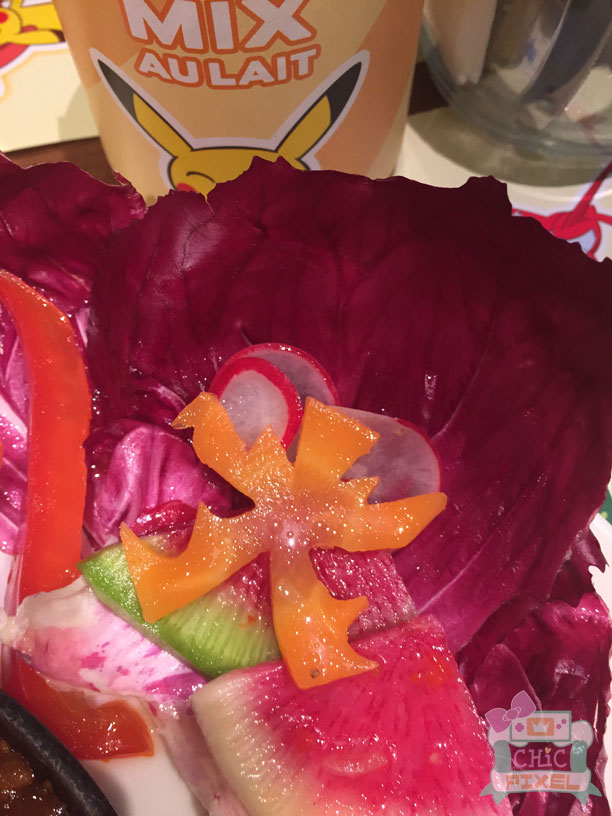 The salad had a "dai" character cut out of a carrot, which resembled the bonfires that are lit on the mountainside in Kyoto during summer.
Roy initially thought the dish was too sweet, but it became clear that he was supposed to dump copious amounts of spice onto it to increase the heat. After that the dish was pretty good (although he found eating bright red tofu a little unnerving).
I ended up getting the Pikachu omurice (folded omelette with flavored rice) and "aqua" sauce. It came with a complimentary cup designed to look like a Pokéball.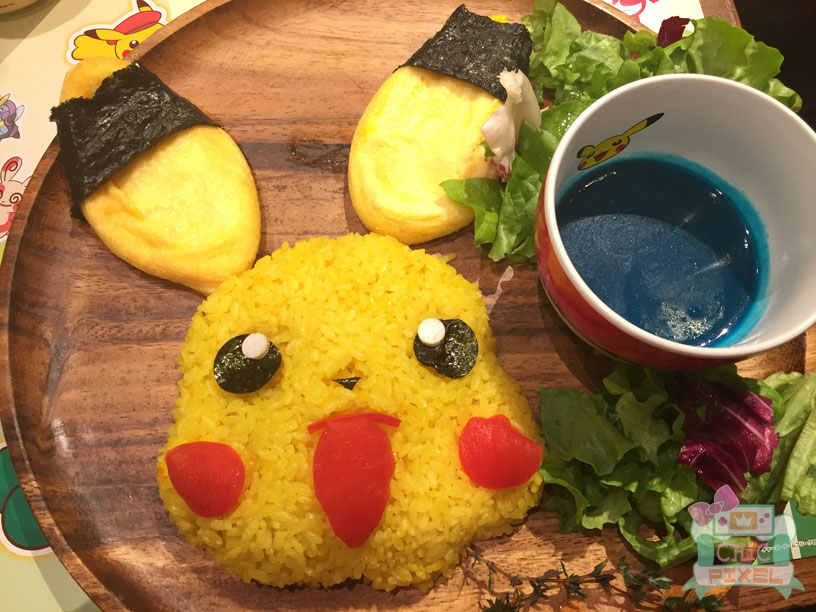 The black parts of Pikachu's face were made with dried seaweed sheets, and the rest were cut out of radishes. His ears were the omelettes, and the blue sauce tasted like curry.
The rice part was a little disappointing because it was room temperature, but as was the case with Roy's dish, everything became increasingly tastier when mixed together. The omelettes were nice and melty on the inside, and pouring the sauce over everything made it addicting. The salad was refreshing and had a simple vinaigrette, which makes me think the café put some thought into the adults that would be dining in.
I was anticipating the portions to be a lot smaller since the menu is presumably aimed towards kids, but I left the café feeling really stuffed – which was nice after such a long wait.
Goods Shop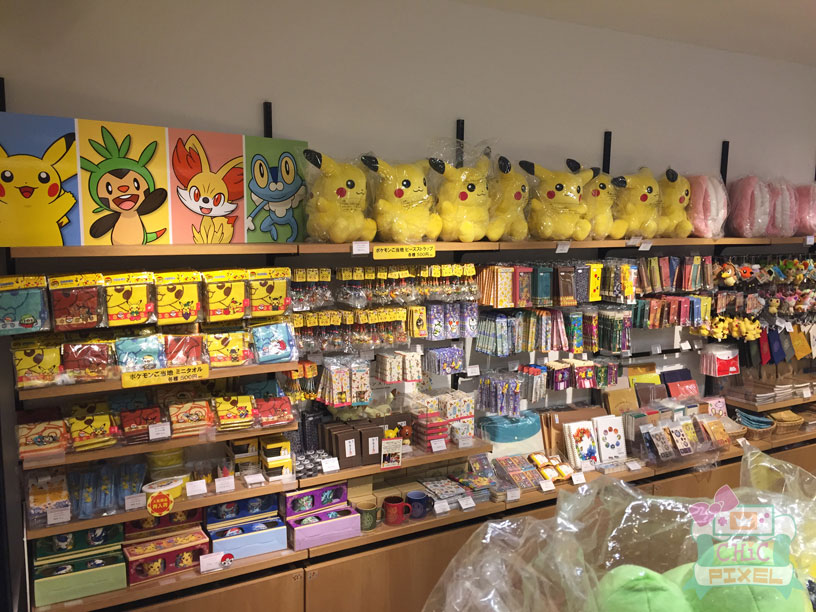 After we ate, we headed towards the joint goods shop to get some souvenirs. There was a lot of pining after items we didn't have any use for, so we did the next best thing: take pictures.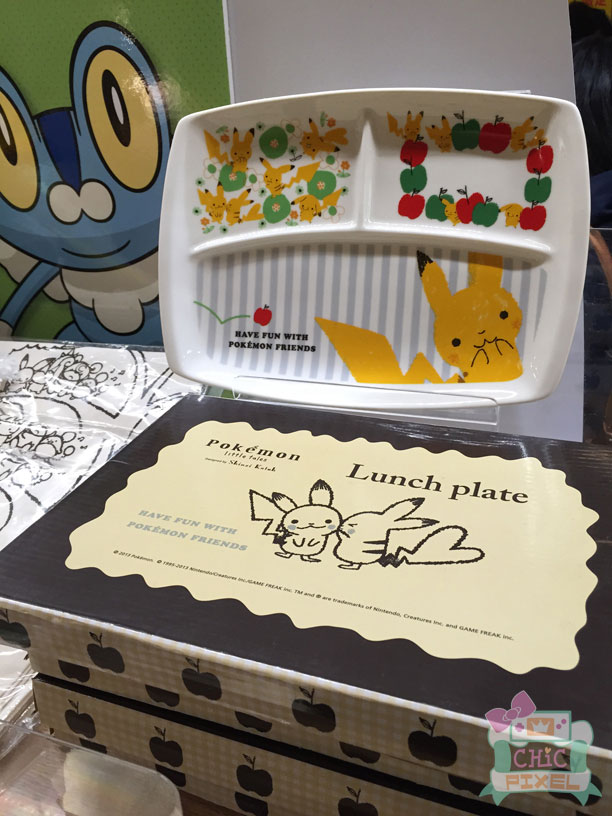 12 year old me needs this.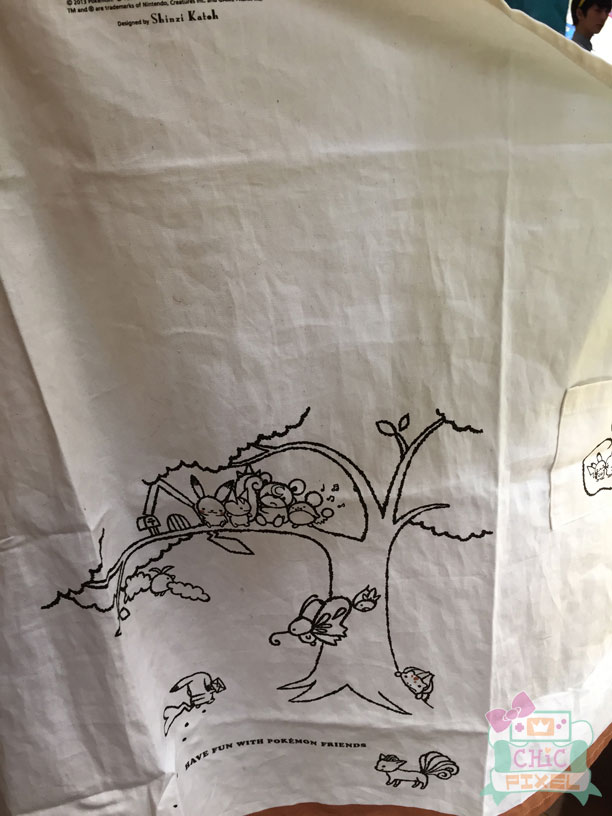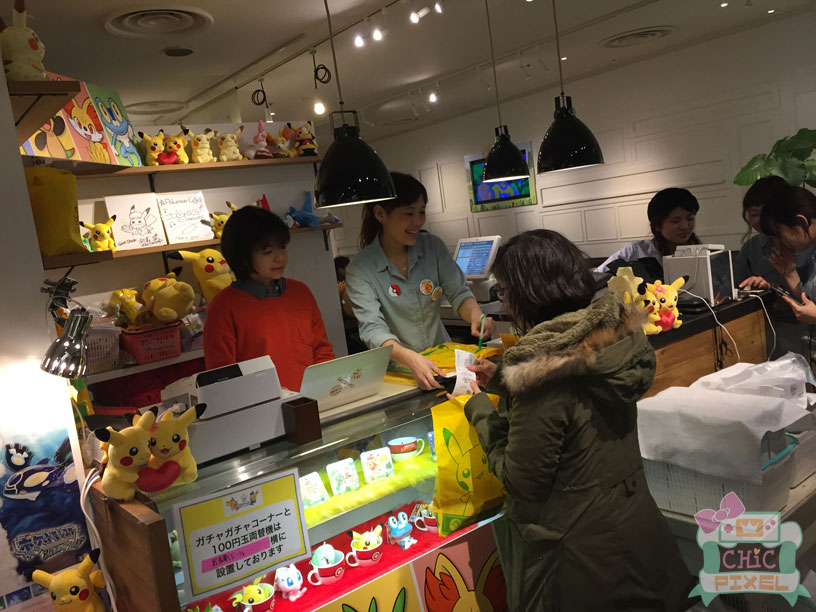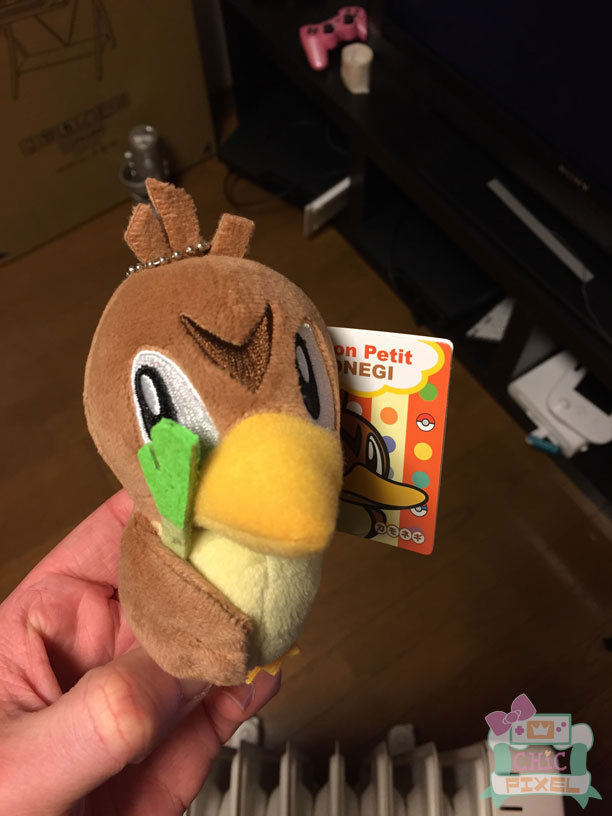 Roy's purchase: a miniature Farfetch'd doll (sorry – "Duck Onion")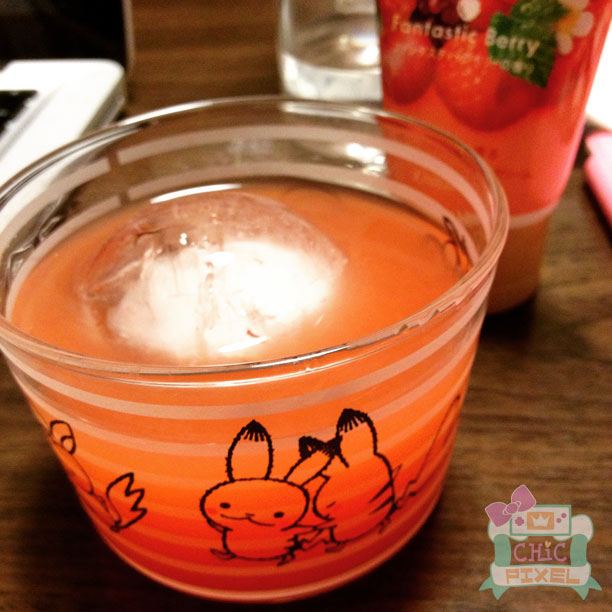 I wasn't planning on getting anything, but broke down at this small glass with Shinzi Katoh's Pokémon designs. No regrets.
Special Café Pikachu
Whether you were waiting in line to get in the café or just walking by, you could download a special café themed pikachu as an in-game gift simply by hanging around. This was a nice incentive for people to hang around and create buzz for the event.
Final Thoughts
So was it worth the arduous wait? I'd say so just for the experience alone! The food, while nothing extraordinary, was still surprisingly good, and the atmosphere was a lot of fun to be in. I will definitely keep an eye out for more Pokémon Café announcements in the future (most likely via this very blog!).
Wow, thanks so much to Sarah and Roy for the amazing coverage of the Pokémon Omega Ruby and Alpha Sapphire Café at Shibuya Parco! I was sad I wasn't able to go, but these photos made me feel like I was right there with them! And what's this? They even sent me a little souvenir!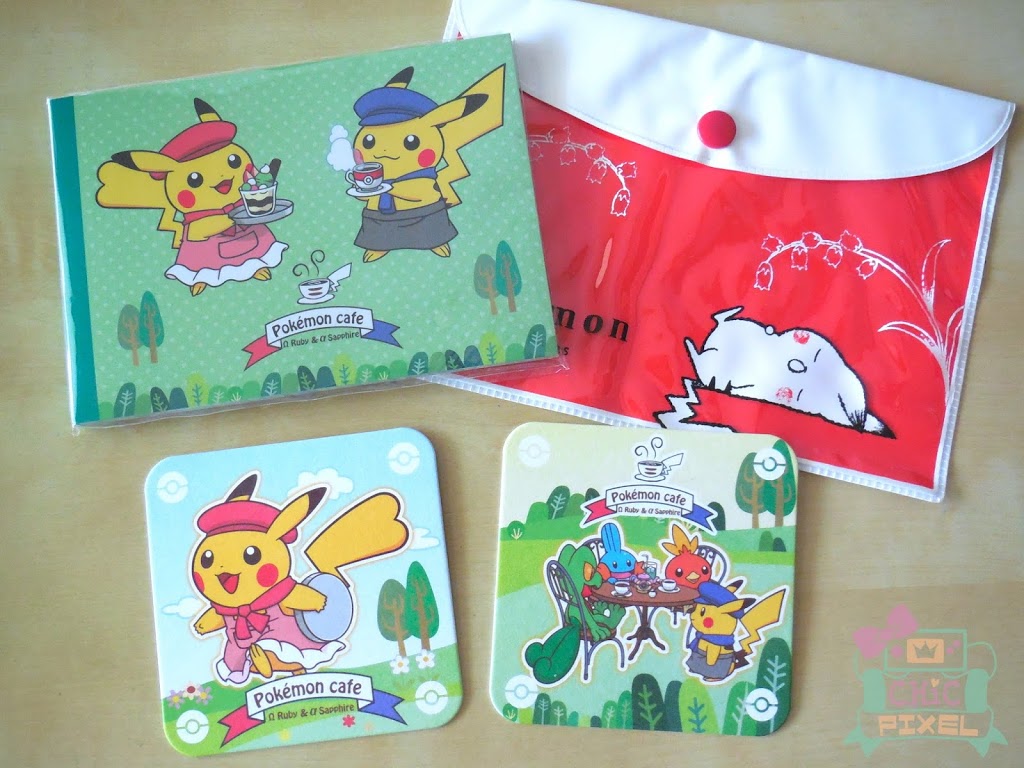 Not only did they send me the exclusive Pokémon Café notepad I asked for, but an adorable Shinzi Katoh vinyl pouch and the two coasters they got with their drinks! I'm certainly one happy Pokéfan!
I hope you liked this guest post, and if you do, let Sarah know in the comments or by
contacting her on Twitter
! You may even recognize her as the designer of Chic Pixel's logo, which I'm now going to be use to watermark my images going forward. Let's hope to see more Tokyo coverage from Sarah in the future!