In a surprise announcement from Viz Media, acclaimed manga artist Yoko Kamio is returning to her seminal Boys Over Flowers manga with a sequel titled Boys Over Flowers Season 2 that will debut in North America this Valentine's Day!
The original Boys Over Flowers, or Hana Yori Dango, was published over 10 years and finished with a whopping 37 volumes, making this sequel announcement even more of a shocker. Twelve years after the final volume was published, the series is back with a new set of faces at Eitoku Academy, two years after the F4 have graduated.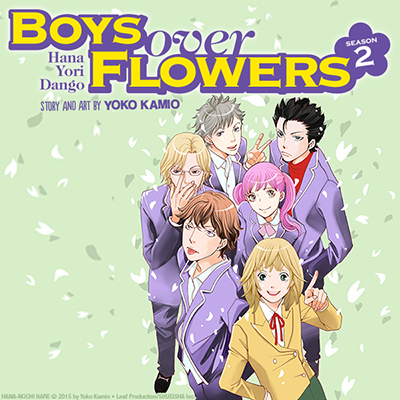 What's particularly exciting about this announcement is the fact that the series will be released bi-weekly simultaneously in Japan and North America, and on top of that, Viz Media is offering current chapters for free on VIZManga and the Viz iOS and Android apps. The first three chapters will also be featured in Weekly Shonen Jump as part of the Jump Start Initiative, so if you're already subscribed, you'll be able to read them on February 16th (or you can subscribe online for only $19.99 for 12 months!).
I'm one of the many who is more familiar with the Boys Over Flowers drama than the actual manga, but since Boys Over Flowers Season 2 debuts with a whole new cast, I don't believe you need to have much knowledge of the original series to enjoy it. I know I'm excited to see how Yoko Kamio will update the 90's classic for a modern audience!