Happy New Year, everyone! As you probably saw in my previous post, the monthly Community Game-Alongs are continuing into 2015, and we're ringing in the new year with rhythm games! Even if you don't have a rhythmic bone in your body, it's hard not to enjoy the likes of Dance Dance Revolution, Samba de Amigo, Rhythm Heaven, Just Dance, or Groove Coaster. And no matter what kind of music you enjoy, there's a rhythm game for nearly everyone!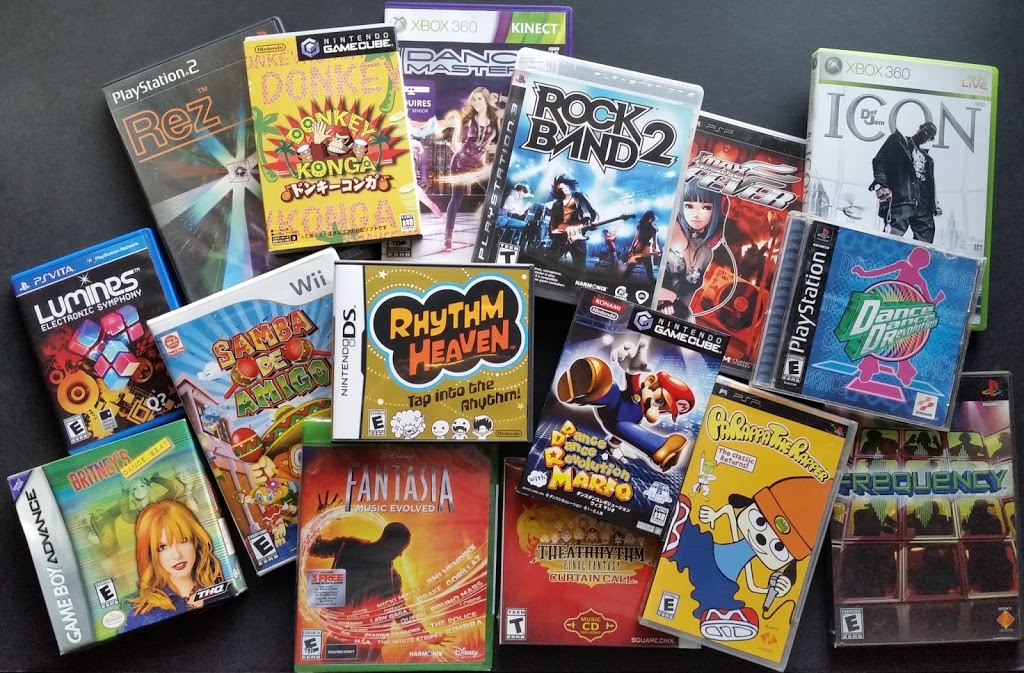 Thanks to Marcus of Pixel Pacas for the lovely photo of some of the rhythm games
in his collection!
To participate in the rhythm game Community Game-Along, all you have to do is a pick up a rhythm game, play it, and share your experiences! I love to see long-form reviews or impressions either in written, podcast, or video form, but as always, you can also use #RhythmMonth to share your rhythm game playthroughs with other participants on social media. Whether it's a rhythm game you're going back to for the first time in years, or a new one you've only just picked up, I want to hear your impressions!
There are so many different kinds of rhythm games out there that it's hard to even know where to go with recommendations, but here are a few titles to get you started:
Vib Ribbon (PSone, PSN) – Who would have thought that in 2014 we would finally see cult PSone hit Vib Ribbon release in North America? After unintentionally teasing the game at E3 (apparently someone forgot it was only released in Europe!), Sony actually responded to fan demand and released the game on PSN for Vita and PS3 in October.
With its deceptively simple gameplay and unique music and art direction, Vib Ribbon is definitely a must-play if you're one of the many North Americans who never had a chance to experience it before now. You can even use the CD reader function on the PS3 version to create unique levels out of your own tunes!
Rhythm Heaven series (GBA, DS, Wii) – I will never stop championing the Rhythm Heaven series, which consists of three amazing rhythm games that never quite got the attention they deserved. While Rhythm Tengoku for GBA was never released in English, rhythm games are one of the few game genres that are extremely easy to import, making it a great title to pick up if you're looking to try out a game in Japanese.
Some folks ultimately prefer the simple one button gameplay of Rhythm Heaven Fever on the Wii, but the portability of the DS version makes it another great pick, even with the tap-flick mechanic. Which version you like best is ultimately up to personal preference, though, as each game has its strengths, making any one of them a great place to start.
DJ Max Technika Tune (Vita) – DJ Max Technika Tune is one Vita rhythm game that I think has been sorely overlooked, and the fact that physical copies are extremely difficult to find doesn't help matters (though it's also available on PSN). If you're a DJ Max fan, picking this one up should be a no-brainer, but for those unfamiliar with the series, the touch controls on the Vita make it a hectic and fun twist on the rhythm formula. Unlike many rhythm games that originate in Japan and thus feature Japanese music, the DJ Max series showcases mostly Korean tracks, making it a great pick for K-pop fans.
[An honorable overlooked Vita rhythm game mention goes to Magical Beat, an awesome, bite-sized rhythm puzzle game by the folks who do Guilty Gear and BlazBlue!]
Love Live! School Idol Festival (iOS, Android) – I'll admit, I'm not even exactly sure what Love Live! is. I know it's an anime and multiple games about an idol group comprised of high school girls, but that's about the extent of my knowledge. Regardless of my feelings on the franchise, it's massively popular in Japan, and is gaining even more popularity abroad with the launch of the smartphone game. And apparently, it has a pretty decent rhythm component! So, since I know probably 80% of the people reading this already play it daily, this is your reminder that it totally qualifies for Rhythm Month. If you haven't checked it out already, the game is completely free to play, so it wouldn't hurt to give it a whirl.
This month I'll be dividing my time between the aforementioned Love Live! (I need to know why everyone on Twitter is playing it!), Hatsune Miku: Project Diva F 2nd, and some Japanese PSP games such as Pop'n Music Portable 2 and Uta no Prince-sama Music 2. Hopefully I'll be able to churn out at least one or two write-ups this month, since I was very negligent on that front towards the end of last year! What will you be playing?