I hope you'll forgive two Final Fantasy XIV posts in a row, but Square Enix just dropped the winter seasonal event, "The Starlight Celebration," today and I couldn't pass up the chance to write something about it! I don't know about you, but I'm all about seasonal events!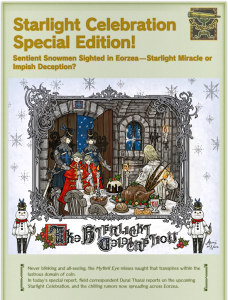 First, I implore you to take a moment to gaze upon the gorgeous promotional illustration that went up on the Lodestone to promote the event. Just like the Lodestone artwork in the
collector's edition artbook
, it doesn't disappoint!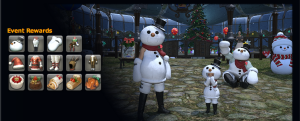 Here's a quick look at all the obtainable items during the Starlight Celebration event, courtesy of the
official Lodestone page
. Interestingly, the Roast Dodo food item has been readily available in FFXIV before this event, but I suppose they included it to go along with the theme.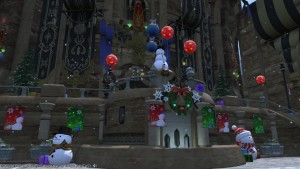 The first thing you'll notice when entering any one of the three cities is that they're all decked out in festive Christmas decorations. It's even snowing! All of the screenshots I'll be posting were taken in Ul'dah – I would've gone to Limsa Limonsa and Gridania, but then this post would be twice as long!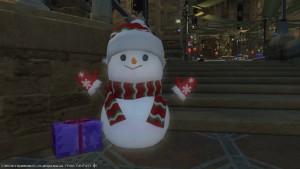 I just love all the little details in the decorations! Look closely and you'll see that there are many types of snowmen.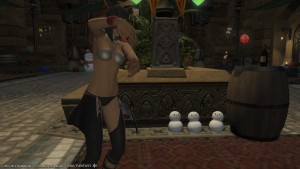 Anyway, enough gawking at the scenery! For this event, you actually don't need to accept a quest from an NPC. Instead, you'll need to head outside the cities to find a FATE called "Stay Frosty." There is an NPC that will tell you about the event, though, as well as another NPC that has all the items we want. Their locations are: Ul'dah, Steps of Nald: X:10, Y:9, Old Gridania: X:10, Y:9, and Limsa Lominsa Upper Decks: X:11, Y:13.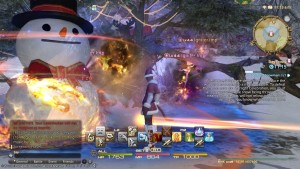 The FATE itself spawns every 30 minutes at a number of locations and varying levels: Central Thanalan (X:25, Y:30, level 5), Central Shroud (X:25, Y:29, level 11), Lower La Noscea (X:19, Y:35, level 13), and Coerthas Central Highlands (X:10, Y:28, level 47). There may be other spawn points, but these are the ones I'm aware of at the time of this post.
In order to do damage to the Igniter Imps, you'll need to let yourself get with the festive Treant's AoE attack. His is the only AoE attack in the FATE, so when you see the red circle appear (as shown above), book it to that spot and wait for him to do his attack. If you've been hit by the attack, you'll get pushed back and damaged slightly, but the result will be the handy "snowman" buff! It lasts 30 seconds, so you may need to get hit more than once before clearing the FATE.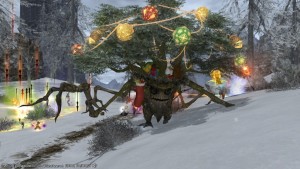 Completing the FATE with a gold medal will net you 30 Eternal Ice (20 for silver and a lowly 2 for bronze), which can then be traded in at the city of your choice for the items shown at the beginning of the post. You'll need 76 Eternal Ice to get all of the costume items, plus additional ice if you want any of the food, so I'd recommend completing the FATE three times.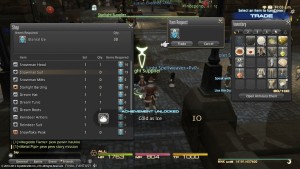 Now it's time to head back to those coordinates I mentioned earlier and talk with the Starlight Supplier! Be sure to grab at least one item from the Snowman clothing set to unlock the "Cold as Ice" achievement. I imagine if you're anything like me, though, you're going to want everything!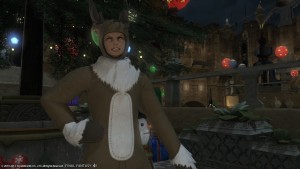 I can't get over this reindeer suit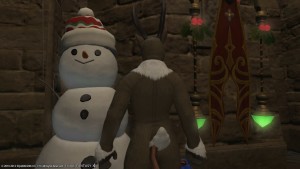 Dual tails!
And there you have it! Unlike previous seasonal events, there's no actual quest to complete. So once you get all your items, have fun taking screenshots, and don't forget to do the quest to unlock the new snowball throwing emoticon. The event runs until December 31st, so be sure to collect all the items and get your fill of the festive decorations by then!
Now please bear with me as I proceed to share a few favorites from my excessive photo shoot: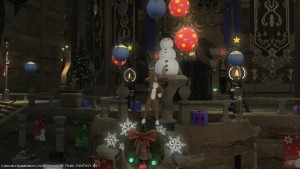 Yoo hoo! Over here!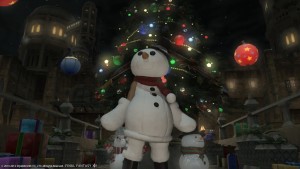 Looking fabulous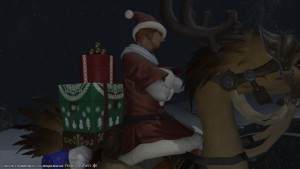 Santa Chive nodding off at his post!
I have to say, the Chocobo barding (basically Chocobo armor, for those who aren't playing the game), is probably my favorite thing about this event! I'm really happy Square Enix shook up the formula for the FATE a bit and provided so many fun goodies to collect, as well. It's definitely been my favorite event so far!
Now, this won't be my last post before Christmas, but I just wanted to say…