The time has finally come… to show off my haul of video games from my recent trip to Japan! I was originally going to throw everything together in one massive post, but it turned out to be far too unwieldy (apparently I like to write a lot… who knew?), so I've broken it up into two: the PlayStation edition, which you're viewing now, and a Nintendo edition, which will come later this week. Sorry for all the "hey look what I got!" posts, but what's a Japanese entertainment blog without excessive Japanese entertainment purchases, right?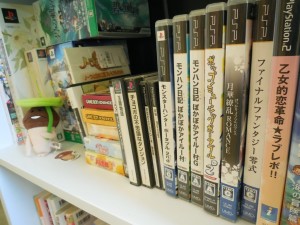 I bought a new bookshelf specifically to hold everything I bought in Japan.
Feel free to judge
But before I begin, I'll briefly detail my "criteria" for game purchases during my trip. I spoke briefly about my wishlist on episode 3 of Chic Pixel Plus, but I was most looking forward picking up a few GBA games to beef up my collection and a handful of random titles that are harder to find/more expensive outside of Japan. Ultimately, I was a little disappointed by the GBA game selection in Osaka (more on that in the Nintendo post), but I ended up with eight PSP games, five PS2 games, five GBA games, four PSone games, and two DS games. That's 24 games total! Since I needed an easy way to break this up into two posts, I'll just be going over the games I bought for PlayStation systems today.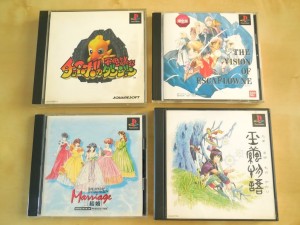 First up are the four PlayStation one titles I picked up during my trip: Chocobo no Fushigi na Dungeon (Chocobo's Mystery Dungeon), The Vision of Escaflowne, Marriage, and Tamamayu Monogatari, better known as Jade Cocoon: Story of Tamamayu. Chocobo's Mystery Dungeon and Marriage were my two whim purchases – Chocobo's Mystery Dungeon was only $1 and I've been amassing a bit of a Chocobo game collection lately, whereas Marriage caught my eye because of the oh-so-descriptive title and the fact that the back of the box touts that it's a dating sim that takes place after the protagonist has already married the girl of his dreams. Sure, sign me up!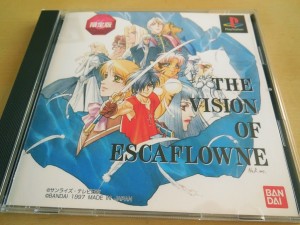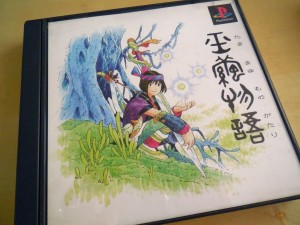 The Vision of Escaflowne and Tamamayu Monogatari, however, are two titles that I've been wanting to add to my collection for quite a while. In particular, The Vision of Escaflowne is a game I've been pining for for a number of years now, so finding a copy in great condition was a real highlight of my many game store visits. And, while I've always wanted to play Jade Cocoon, I've been holding out for Tamamayu Monogatari due to its awesome cover art illustrated by none other than Katsuya Kondō of Kiki's Delivery Service fame, so it's great to finally have that, as well!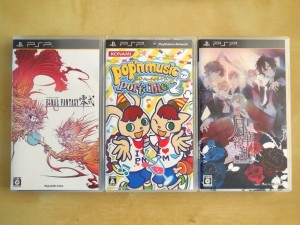 Next we have the first half of my PSP game haul. Final Fantasy Type-0, Pop'n Music Portable 2, and Gekka Ryōran Romance were all on my list, so no big surprises here. Actually, these three games were probably the ones that cost me the most, as none of them have really gone down in price. I looked for a used copy of Gekka Ryōran Romance (an otome game) for ages and finally settled on a new copy for around $50, only to find a used limited edition for about the same price the very next day!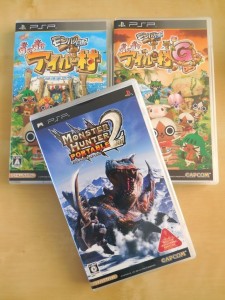 Now for what I like to call the "Monster Hunter Haul"… Funnily enough, I had only planned on picking up one of the Airu Mura titles, which feature Monster Hunter's adorable Felyne characters in an Animal Crossing-like world, but soon after I found G I stumbled on a store that was selling the original title for only $1 new! They also had Monster Hunter Portable 2 for only $1, so against my better judgement I went ahead and bought both.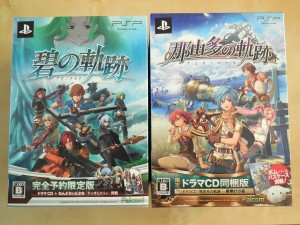 Ao no Kiseki and Nayuta no Kiseki, however, were, without a doubt, my biggest random splurges of the trip. For those unfamiliar, they're both part of what's known as the The Legend of Heroes series by developer Nihon Falcom, with The Legend of Heroes: Trails in the Sky for the PSP probably being one of the most well-known titles available in English. Well, I know next to nothing about the series aside from the fact that many of my good friends say it's one of the best JPRG series out there, so when I saw both of these collector's editions available for relatively cheap, I figured I'd bite. From what I understand, Nayuta no Kiseki is actually more of a spinoff that doesn't need any prior knowledge of the series to play. Ao no Kiseki, on the other hand, is the second part of the seventh entry in the series and is preceded by Zero no Kiseki, meaning I really need to play that before diving into this one.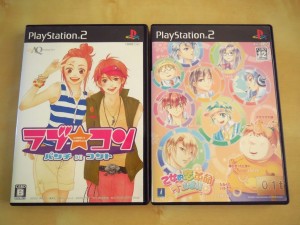 Above you can see two PS2 gems I grabbed – the one on the left, Love Com, is the game adaptation of one of my favorite shojo manga series. It seems like it might have some otome game elements, and for less than $5, I couldn't pass up!

Otometeki Koi Kakumei Love Revo!!, on the other hand, is a title I've had my eye on for ages but never picked up. As you can probably guess from the cover, it's an otome game, but with a twist – Love Revo puts players in the shoes of an overweight girl who wants to return to her thinner "glory days" and win the guy of her dreams. If you think that sounds rather horrible ("Lose weight and you too can get a boyfriend!"), don't worry, I'm mainly interested in it because I'd like to see how the game handles the weight loss/relationship aspect. I don't have high hopes, but it could prove to be an amusing train wreck. Again, at $5, I won't consider it a major loss even if it is awful.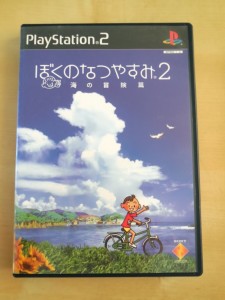 Next up is a little title I've been meaning to get my hands on for ages, Boku no Natsuyasumi 2! Well, not this title specifically, but I've always wanted to try a Boku no Natsuyasumi game and this is the one I ended up with. I can't wait to give it a go!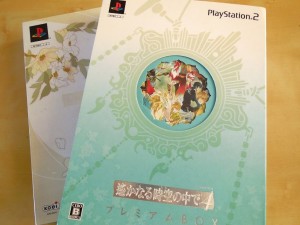 Now these were a great deal – I managed to grab the premium boxes of both Harukanaru Toki no Naka de 3: Unmei no Labyrinth and Harukanaru Toki no Naka de 4 for only $10 total! As you can probably tell, they are entries in the same series, which is well known for being one of the few otome games that incorporates RPG elements. While I originally just wanted to pick up 4 due to it having more appealing character designs (to me), when I saw the HaruToki 3 premium box for only $5, I had to snag it, as well.
The unfortunate part of this story is that Unmei no Labyrinth is actually what's usually referred to as a "gaiden" game, meaning it's a side story (I believe in this case it takes the characters out of their fantasy world and puts them in a high school setting). I can't very well play it if I haven't played the original HaruToki 3! I guess that's another game to add to my list…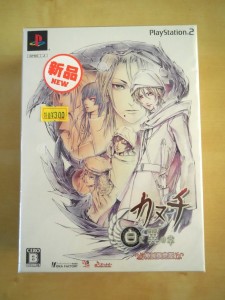 Now here's a game I wasn't thinking would pick up at all, but I couldn't pass it up when I saw a brand new copy of the limited edition on sale for only $3! So into the basket it went. Kanuchi Shiroki Tsubasa no Shou is, as you've probably guessed, another otome game. I don't know much about it aside from the fact that it takes place in a fantasy setting and is broken into two games, with "white" being the first part and "black" being the second part. Since there are a lot of neat goodies in all these limited edition boxes, I'll do a more in-depth posts on them in the future.
If it isn't obvious by now, PS2 otome games are extremely cheap and in great abundance! Many of these titles also have PSP versions that generally go for $40 or more and are often only ports or have minor additional content. As such, I highly recommend folks interested in checking out otome games to look for PS2 titles… but be wary of eBay! Otome game prices seem to be hugely inflated there, so I'd suggest going through a friend who can buy second-hand titles from Japan and mail them to you or an import service that will help you buy from sellers on Amazon.co.jp or Yahoo Japan and ship internationally.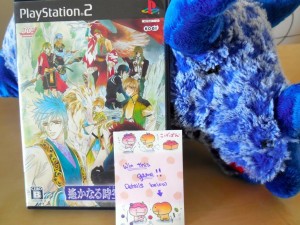 fuzzy stegosaurus not included
But guess what? I have one extra copy of the PS2 version of
Harukanaru Toki no Naka de 4
to give away to a lucky reader! All you have to do is comment on this post with "I wanna live an otome life!" for an entry into the drawing. If you'd like an additional chance to win, please share this article on Facebook or Twitter and leave me a comment linking to your post! Giveaway runs until Saturday, September 28th at 9 pm EST. Please note you'll need either a modded PS2 or a Japanese PS2 in order to play the game, but you're still welcome to enter even you don't currently the have means to play it.
Well, that's it for the PlayStation side of my game purchases in Japan… Stay tuned for the significantly smaller Nintendo side of things later this week!
Update: The giveaway is now closed! Congratulations to Chalgyr for winning the random drawing! I'll be getting in contact with you shortly. And a big thanks to everyone who entered! Keep checking back for more giveaways in the future.