Nearly every popular character in Japan gets its own themed train at some point, so it doesn't come as a surprise that Rilakkuma is finally getting his turn on the tracks. While this may not officially be the first time Rilakkuma's adorable mug has appeared on the side of a Japanese train, I did do some extensive research (aka Googling in Japanese) and couldn't come up with any previous examples, so I'm going to go ahead and call this Rilakkuma's big train debut! It's as wonderful as you'd expect:
Not only is the outside covered in cute (just look at the windows!), but the inside is covered in special Rilakkuma posters, as well!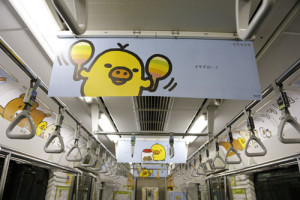 Maracas?
Rilakkuma himself even came out for the train's debut! Look closely and you can see the Rilakkuma head silhouette on his hat and the buttons of his jacket. Too cute!
The Rilakkuma train will only be running until August 16th, so if you happen to be in Tokyo, make sure to hop on before it disappears!
Of course, there's always merchandise for those of us who can't make it or want a special souvenir of the event…
I'm particularly fond of the train design itself, so I'd kill for one of the file folders or the plush train cell phone strap. Or how about that "train enthusiast" Rilakkuma plush on shown on top left? He's even carrying a little camera!
So, even though it's only been less than two months since my trip to Japan, the land of the rising sun continues to give me reasons why I have to go back! I think it's safe to say these Japan Envy posts won't be going away anytime soon…
Got a craving for more Rilakkuma after reading this post? Support Chic Pixel by purchasing Rilakkuma products through my affiliate link so I can talk about even more crazy and cute stuff from Japan!