Without a doubt, one of the places I was looking forward to visiting most during my trip to Japan was the none other than the ultimate Pokémon fan's paradise, the Pokémon Center. The Pokémon Center in Osaka changed locations since I was last in Japan in 2009, and luckily for me its new locale happened to be less than 10 minutes from my hotel! With it so close by, I had to make sure I stopped by a few times to make sure I didn't miss any awesome merchandise (and fill up on StreetPasses, of course!).
Each Pokémon Center has its own two mascot Pokémon in addition to Pikachu. As you can see above, Osaka's mascots are Meowth and Tepig, which makes for a pretty good trio, don't you think?
See how there's absolutely no one in the store, aside from the poor employee who got caught in my photo? That's because I took these on a weekday morning. All of the employees were wearing these awesome 15th anniversary t-shirts (here's a closeup of the logo)… I liked the design so much that I asked if I could purchase one, but apparently they're uniforms and not for sale. Bummer!
Right near the main entrance was a great display of a number of limited-run Pokémon Center items, which I assume was there for the 15th anniversary celebration (though it could be a permanent fixture, someone please correct me if you know). Why hasn't someone made a Pokémon museum yet?
A closer look at the counter revealed quite the array of Pikachu plushies from various years!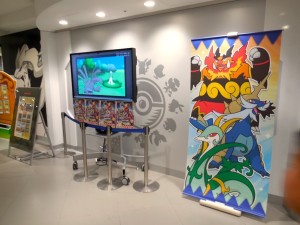 The TV was constantly showing commercials for Pokémon X/Y
Part of the 15th anniversary celebration included special Pokémon distributions at Pokémon Centers around the country. The Osaka store had a level 100 Emboar for download, but unfortunately I only brought my Japanese 3DS and an English copy of Pokémon Black 2 with me, so due to region-locking restrictions I wasn't able to connect to the wifi to download an Emboar. Bad planning on my part!
These memorial coin machines had the most adorable designs!
As you can see, the store was practically empty! It was completely packed with children and their parents on the weekend, though.
Of course, there was also a big display for the latest Pokémon movie. I've never been a fan of the movies myself, but something here caught my eye…
… the display for the Pikachu short that will play before the film! Talk about cute! I'd probably go just to see that…
The announcement of the new Eevee evolution Sylveon brought an onslaught of merchandise focused on all the different Eevee forms. I'm pretty sure an Eevee fan would be in heaven here!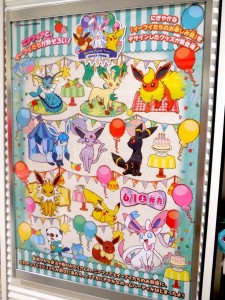 A poster for one of the current Eevee collections
Remember the Pokémomo and regional Pokémon goods I wrote about back in April? They had their own displays, too!
It's hard not to be overwhelmed by all the cute! These Pokémon dolls were adorable, but I couldn't decide which one I wanted, so in the end I didn't buy any. Looking back, I wish I grabbed one of the Bulbasaurs!
While there were a lot of the usual Pokémon favorites on display, I must say I was quite surprised to see so many Rotom goods.
Speaking of unusual Pokémon, what's with the fascination with Miltank? While we're at it, why not release some Luvdisc merchandise, too? Well, okay, I get a kick out of Miltank, but Luvdisc is pushing it a little, even for me.
But would you believe that the only merchandise I was able to find for my current favorite Pokémon, Swadloon, was this keychain set? I guess I'm the only one who understands the true appeal of Swadloon…
I hope you enjoyed this little tour of the Pokémon Center in Osaka! Since I took so many photos, I've decided to save my haul for an upcoming post. Keep your eyes peeled for it later this week!