In honor of the recent announcement that Touch Detective 3 will be coming to Nintendo 3DS sometime this year, I thought now would be as good a time as any to talk about more Funghi merchandise. Honestly, I never thought I'd say I'm a fan of Funghi, but I do think the phallic little mushroom is warming on me! There's something charming about his lack of cuteness, I suppose, or perhaps I'm just morbidly fascinated by the fact that he's so darn popular in Japan right now. Just like Hello Kitty or Rilakkuma, Funghi, or Nameko, as he's known in Japan, has spawned numerous lines of stationary and other goods, mobile games, and even a puzzle game for the 3DS!
The official Funghi portal site also features some adorable comic strips, among other things:
Funghi planting rice
Anyway, the latest Funghi-related goodness comes from the convenience store chain Lawson, which will be stocking special Funghi food products from the 6th to the 17th of June. The campaign just happens to occur when I'm in Japan, so you can bet your cartridges that I'll be seeking out a Lawson shop to try them out!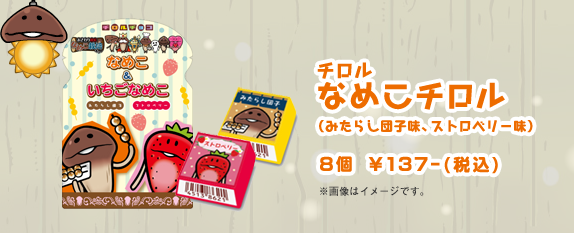 The first tasty treat in the series is Funghi-branded Tirol candies. I don't believe I've actually had a Tirol chocolate square before, but I can tell you I'm already getting hungry looking at some of the delicious flavors shown on their website! The two Funghi flavors are mitarashi dango (a traditional Japanese desert that consists of three glutenous rice balls on a skewer, covered in sweet soy sauce) and strawberry. I think it's safe to say I'll go the mitarashi dango route, though the strawberry Funghi is pretty adorable!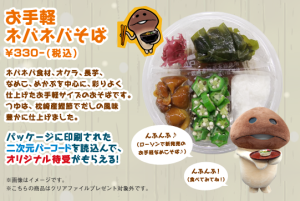 Next up is the "neba neba" Funghi soba, which of course consists of a number of toppings including okra, seaweed, and some of Funghi's nameko mushroom brethren. Try not to imagine you're eating poor little Funghis when you dig in! "Neba neba," by the way, means "sticky," or "gooey," which probably is an accurate description of what eating the above soba dish would be like. For a great writeup on "neba neba," go here!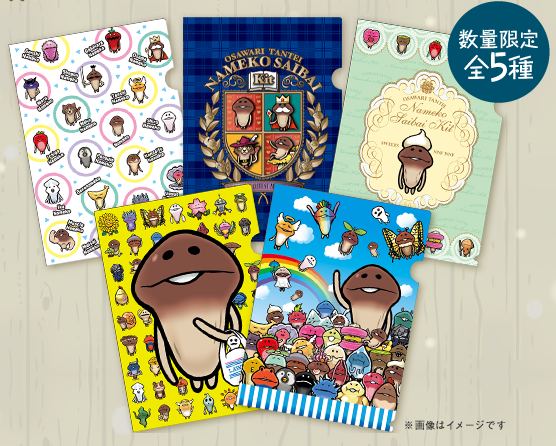 Finally, anyone who purchases two of the Funghi food products at once (you could get two Funghi neba neba sobas, but should you?) will get one of five exclusive Funghi x Lawson clear file folders. I have to admit, I'd probably make all sorts of weird food purchases if it meant obtaining limited-edition goods. I'm particularly partial to the yellow folder on the bottom left – I love all the different Funghi characters in the background and the fact that the Funghi in the foreground is carrying a Lawson bag!
Well, I know what I'm adding to my list of things to do in Japan!