I don't know why, but I haven't seen a single piece in English on the upcoming BL game No, Thank You!!! since I first wrote about it back in February. Now, I'll readily admit that its title makes it rather difficult to search for information that actually pertains to the game, but I'm inclined to think that this game may be going under the radar of BL fans in general.
As I wrote in my last post, the game is a PC-only 18+ BL (boys' love) visual novel that has an interesting twist – it appears to be attempting to tap into the bara, or gay male, audience, as well. My thesis research is actually centered around BL manga that shake up traditional notions of what constitues "BL," so naturally the idea of mixing BL and bara piqued my interest. When I heard the March 2013 issue of Cool-B, a Japanese magazine for BL games, would feature some new information and illustrations from No, Thank You!!!, I jumped on the chance to learn more!
Please forgive the separate images! The above pictures are of a two-page spread, but I couldn't bring myself to tear apart the magazine so I could get scans that matched up to make one seamless image. The first half at least looks pretty okay on its own, though, don't you think?
The second page features some text that describes a little narrative surrounding this Valentine's Day-inspired scene.
Next is a two-page spread later on in the magazine that details the game further, including a message from developer parade asking fans to be patient and that the game will come out sometime in 2013 (they've been advertising No, Thank You!!! since 2011 at least, which is quite a long time for a BL game, I think).
My favorite part of this page has to be the new CG in the bottom-right corner. Seems like there's quite a food theme going in this game! I can definitely get behind that.
This issue also features the opening scenario of the game, which is that big wall of text you see above. If anyone desperately wants it (or any other pages I have scanned) translated, do let me know! I'd be happy to do so, but I'd much rather know that people want to read it than go to all the trouble to translate it only to find out that no one really cares!
Anyway, the basic premise of the game is that 22-year-old Haru saves a man from being hit by a car, but wakes up with no memories of who he is or what happened. The man, Kouichi Inui (the dark brown-haired older man pictured with Haru in the aforementioned CG), takes Haru back to the bar he owns and offers him a job. Of course, romance ensues! Well, that's what I imagine, but Haru's defining feature is that he wants to have sex with any man or woman he finds attractive… I guess amnesia doesn't effect one's libido?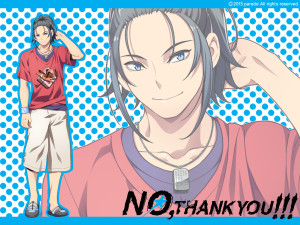 No, Thank You!!!'s cheeky amnesiac protagonist Haru
Finally, the magazine also comes with DVD featuring a number of exclusive items such as wallpapers and videos, including some for No, Thank You!!!. I double-checked the No, Thank You!!! website and they haven't released these wallpapers yet, so I thought I'd share them with everyone. Follow this link for wallpapers of each main character, available in three sizes each. Hope you like them!