I'm going to go out on a limb and say this recent influx of "Japan Envy" posts is somehow correlated to my upcoming trip to Japan in mid-June. Perhaps that's because every time I see something to be envious about, I actually get to say to myself "Don't worry, Anne, you'll be able to buy/eat/do that in June!"… I'm not sure how healthy this mentality will be for my wallet or my suitcase! Well, I hope you all don't mind a few more "Japan Envy" posts than normal while I've got Japan on the brain.
Today I was browsing Roy Blakely's blog Kotowari (go check it out!), and I came across his recent post about the newly-announced Uniqlo Monster Hunter 4 shirts and boxer briefs. As a recently-converted Monster Hunter aficionado, there's no way I could pass up the chance to get one (or more) of these fashionable designs: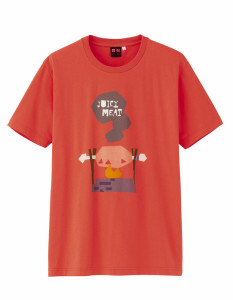 I would kill for this shirt.
These are just a few of my favorite designs – there are a whopping 19 different shirts in total along with a bunch of different boxer brief designs, so definitely go check them out for yourself! Also, if you buy two or more shirts and/or briefs, you'll get one of these t-shirt wearing Felyne keychains:
Adorable! The "MonQlo" series will be available at Uniqlo stores worldwide from May 31st. I hope they aren't sold out by the time I go to Japan!