It's only the first week of April, but already things are busy with a capital B! In fact, there are not one, but two awesome game jams happening this weekend, and they're both very much up my alley, so I thought I'd take the opportunity to spread the word.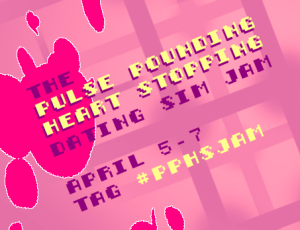 First up is the Pulse Pounding, Heart Stopping Dating Sim Jam, which not only has one of the best game jam names I've ever heard, but it's centered around one of my favorite game genres, as well. The full details are here, but basically anyone and everyone is encouraged to take part using simple, free programs such as Twine and Ren'Py and to post their work online using the tag #PPHSJam on Twitter and Tumblr.
My favorite part of the jam is that the curator Madam Luna (a very talented lady, I might add!) has decided to leave what constitutes a dating sim open-ended, so the sky's the limit! The term "dating sim" is actually a little problematic, as I find it implies some kind of stat management, or at least more involved gameplay than your usual Choose Your Adventure-style visual novel, but by not defining the term, Madam Luna has enabled virtually anyone to participate.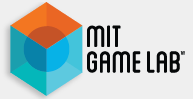 Next we have MIT Game Lab's QUILTBAG Jam, which will take place on the 6th and features a very special guest… Christine Love of Analogue: A Hate Story fame! The theme will be "gay planet," which sounds very fun indeed. More information can be found on the MIT page, which also assures potential participants that you don't have to be local to attend in spirit! There's a lot of crossover between the two jams, so hopefully we'll see some dating sim games that explore queer themes early next week.
And now, I have a little announcement to make: I'm going to be participating in the PPHS Dating Sim Jam! I've never made a game in my life, but I've done some research on Twine over the course of the week and think I'm ready to take the plunge. I'm certain whatever I come up with will be a dinky little text adventure that may or may not even really qualify as a "dating sim," but that's what jams like these are for, right? I hope to tweet about my progress throughout the weekend, and Shaun has agreed to offer moral support, so be sure to follow me on Twitter if you want to stay up to date with my dating sim antics. Basically, I'm hoping that putting my intentions in writing will actually push me to finish something! Expect a follow-up post sometime next week where I'll (hopefully) share the final product and talk about the experience!
Is anyone else going to be joining in the fun? Even if you're not, do you have any rad ideas for dating sim games or something that could fall under the "gay planet" theme? Share them in the comments, and I promise not to steal!