If you thought I'd given up on my Animal Crossing: New Leaf town Mamemura, well, you thought wrong! I decided to take a little break from the internet over the holidays (for the most part, anyway), but that doesn't mean I stopped playing Animal Crossing: New Leaf. Weeks 5-9 certainly saw me playing less than previous weeks, but I made sure to stop by for my birthday, Christmas, New Years, village upkeep, and occasional villager schmoozing. But some drama certainly went down while I was "away" –– in fact, I've had not one, but two villagers move out over the past month. I think that's a cue that I need to play more often!
Since this post is going to be quite image-heavy, I'm going to try to keep the descriptions relatively short for the sake of brevity. And don't worry, I'll be going back to a weekly posting schedule starting next week!
The first snow of the year!
One of my favorite things about Animal Crossing is watching the seasons change and enjoying all of the seasonal events. Since I can't enjoy winter in Australia, it's nice to be able to get a taste of it in the game!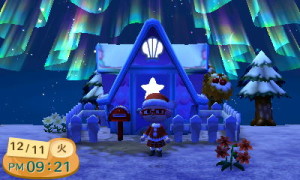 The northern lights look surprisingly nice behind my Mermaid house!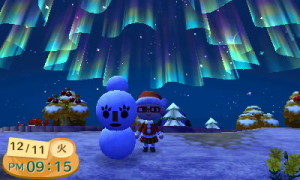 My first snow woman of the year. I couldn't resist getting another shot of the northern lights! The night sky always looks amazing in 3D, but it looks even better with all the colors shimmering in the sky.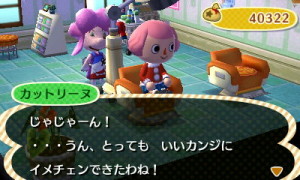 The salon (Shampoodle) finally opened! Of course, I couldn't resist the chance to dye my character's hair pink.
December 13th was my birthday, so I got to celebrate with my friends in Animal Crossing. Would you believe everyone who showed up at my party were villagers new to New Leaf? Chuuko the mouse held the party at her house, and Author the lion and Frill the sheep tagged along to sing and throw confetti. The above image was right before I blew out the candles, when the lights were still dimmed (yes, you have to blow into the mic to blow out the candles).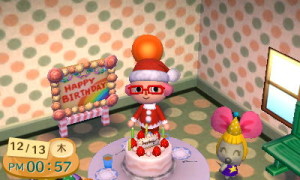 I love the feature that allows you to zoom/rotate when inside houses. I got a great shot of Chuuko there on the right!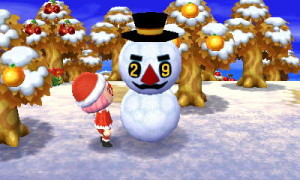 Playing bingo with a snowman. Look how dapper he is!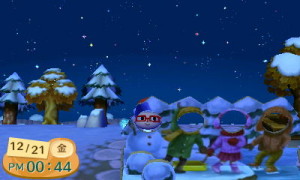 Winter Solstice festivities! As you can see, it's only 12:44 pm, but it's already dark. That photo would've been so much nicer if I had invited three people over to take it with me…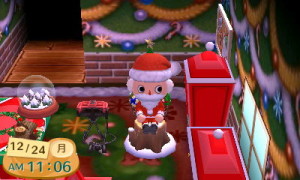 Soon…
Of course my December birthday was soon overshadowed by pre-Christmas festivities. Here I am sitting on the DLC stump Nintendo sent out for the occasion, along with various Christmas furniture (these are bought from Nook's this time around) … and a Virtual Boy. It's a Virtual Boy Christmas!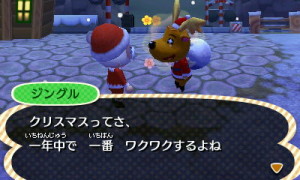 In Animal Crossing: New Leaf you can dress up in a Santa outfit and trick everyone into thinking you're Santa himself, including Jingle the reindeer, come Christmas Eve. Talk to him and he'll ask you to hand out presents to the villagers! The catch is that during the month of December the townspeople have been dropping hints as to what they want for Christmas… and you have to fulfill their wishes. I even took notes as to what everyone wanted, but I obviously wasn't careful enough, as I delivered more than one present that was less-than-enthusiastically received. I can't say I didn't feel a little bummed when Doremi looked at the shirt I handed her and replied "Uh, this is okay, I guess…"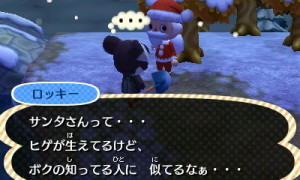 "Santa, you may have a beard, but you sure look like someone I know…"
Once you're finished delivering the presents, you can return to Jingle to receive a Christmas wreath. Apparently he'll mail you his photograph if you hand out the presents correctly, but, as I said, I screwed up big time with more than one of my deliveries!
Not all's sunshine and roses in Mamemura! Sumi (left) and Chuuko (right) got in some kind of row.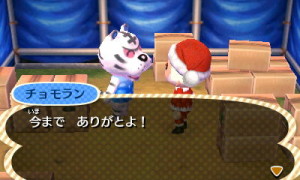 The New Year was preceded by a sad occasion… That's right, my first villager moved out! I'll remember you fondly, Chomoran.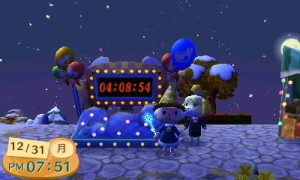 Well, not like I'm going to waste my tears on him! Time to count down to 2013! There was quite the assortment of different colored glow sticks and hats to collect. My favorite combo was the blue glow stick and the yellow hat, pictured above.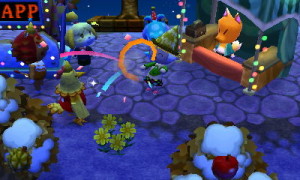 Happy New Year!
What fun! Would you believe this was my first time ringing in the New Year with Animal Crossing? I did so as I was watching the ball drop on TV with my family, so I got my fair share of weird comments from them.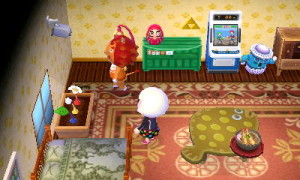 Not long into 2013, Author invited himself over to check out my digs. He stood in this corner a good minute… Maybe he caught on to the surveillance camera I had installed?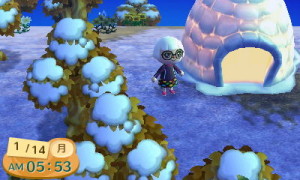 I love how the camp site turns into an igloo when it's snowy! I wonder who's inside…?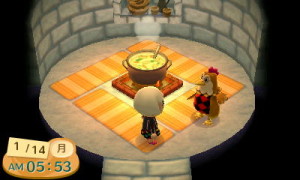 A chicken and a pot of soup! Unfortunately she (he?) didn't decide to move to Mamemura to fill the hole that Chomoran left.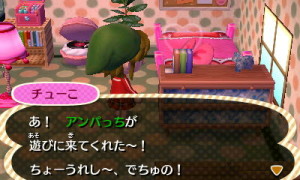 Let's play "Where's Chuuko?"
To round off my month in Mamemura, I have some more sad news…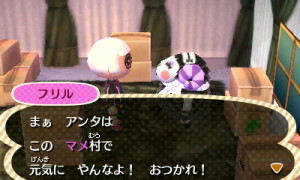 Frill, my absolute favorite villager, is moving away! I'm shocked! I guess that's what I get for not playing every day. I'll miss her purple striped horns and fluffy black fur… And now I'm down two villagers! I need to step up my game in order to restore Mamemura to its former glory!
If you got this far, congratulations! Thanks for reading and I hope you'll come back for more next week now that I'm back to my regular posting. Remember, if you have any questions about the game, feel free to shoot them my way in the comments!