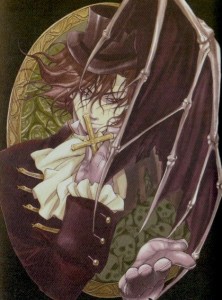 Ghosts, ghouls, witches on brooms, and children of the night… Halloween is one of my favorite holidays, and I'm extremely excited to announce that this month I'll be hosting a vampire Manga Movable Feast in its honor! Each month, manga bloggers hold a week-long community event devoted to the discussion of a specific series, artist, or genre, and with this month's theme open to anything and everything vampire-related, there's certainly a lot of ground to cover!
Even though Japan has no native vampire folklore outside of an odd little tale featuring a vampire-like cat, the increasing influence of western culture after WWII has ensured that the iconic blood-sucker has had more than its share of media appearances. Of course, manga has been no exception! Vampires appear in everything from shōjo romances such as Vampire Knight to dramatic horror titles like Hellsing, meaning there's certain to be something for everyone.
The vampire MMF will run from October 21st – 27th, and during that time participants are encouraged to submit essays, reviews, podcasts, etc. on any titles featuring vampires that are currently available in English (titles that have not been published in English or are currently out of print should be labeled as such). Below you will find a brief list of manga featuring vampires (please note that some out-of-print titles have been included). I've provided links to official product pages where available for easy searching.
Vampire Knight (14 volumes, ongoing)*
Blood+ (5 volumes; see also Blood+: Adagio, 2 vol., and Blood+:Kowloon Nights)*
Descendants of Darkness (11 volumes)
Hellsing (10 volumes)*
Chibi Vampire (14 volumes, out of print)
Rosario + Vampire (10 volumes)
Bloody Kiss (2 volumes, out of print)
Dance in the Vampire Bund (12 volumes, ongoing)*
Trinity Blood (12 volumes, ongoing, out of print)
COWA! (1 volume)
The Record of a Fallen Vampire (9 volumes)
Lament of the Lamb (7 volumes, out of print)
NEW: Princess Resurrection has been re-released by JManga. All 7 volumes can be purchased digitally here
*Titles with this mark have free online previews available at the links provided
If you have already written something on vampire manga that you would like to have included in the archive, please send it to me via
email
. Those who do not have a blog but want to participate can also email me submissions to be hosted here on Chic Pixel. Be sure to check out
the archive of past Manga Movable Feasts
for some ideas of what is acceptable to submit!
During the week, participants are encouraged to email me links to their submissions as they are posted so that I may include them in my daily roundup posts. If you have a Twitter account, be sure to spread the word by tagging any related content with the #vampiremmf hashtag and my user name,
@apricotsushi
.
Be sure to keep an eye out for my shōjo-centric introduction to vampire manga (what can I say, shōjo is my specialty!) and call for localization posts during the week. I look forward to reading your submissions! And to get the ball rolling, sound off on your favorite vampire manga in the comments!