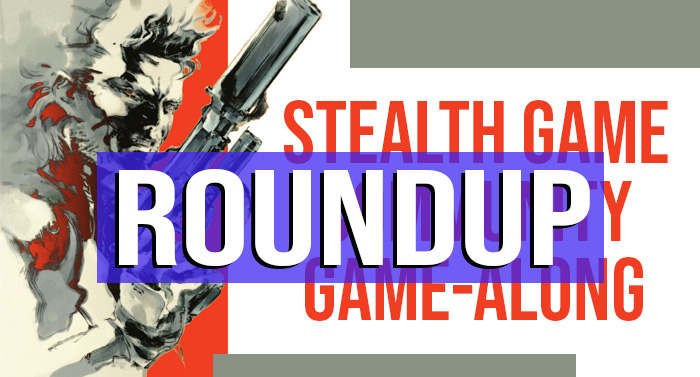 Last month was the Stealth Game Community Game-Along, and that means it's time for a roundup! After ever Community Game-Along, I round up the submissions from as many participants as possible so everyone can see what people played and maybe get some ideas for games to play in the future! You can also check out #StealthSeptember on Twitter to see everyone's thoughts and submissions.
For September, @Westraid played Metal Gear Solid V: Phantom Pain,  @Captain_N64 played Metal Gear Solid 3(D): Snake Eater, @kanonending played Thief, @Corvak played Mark of the Ninja, @SuperDarkMimeIV played Metal Gear Solid, @NikholaiChan played Metal Gear Survive. There was a lot of Metal Gear representation, which was especially timely since it was the 20th anniversary of Metal Gear Solid!
15th #FinishedGame of 2018 is #MetalGearSolidSnakeEater3D on #3DS and for #StealthSeptember on September 16th pic.twitter.com/1aK9SM8etm

— キャプテンN (@Captain_N64) September 19, 2018
Over at M Disk Playlist, the M Disk Gauntlet was back with Bonanza Bros. The footage for this month includes both commentary and non-commentary versions, so you can take your pick!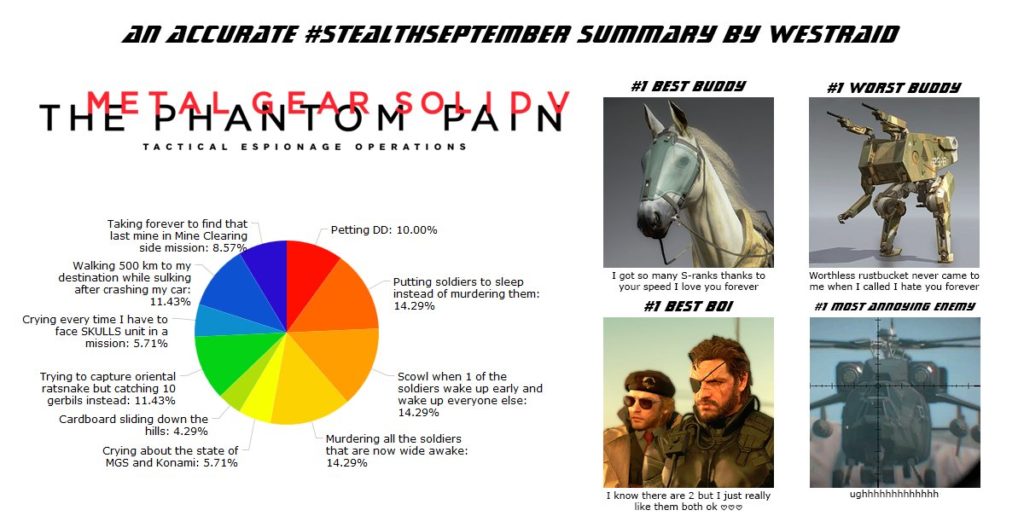 Let's take a moment to admire this amazing infographic @Westraid made to summarize her time with Metal Gear Solid V: Phantom Pain! I'm glad to see "petting DD" made up a solid 10% of Westraid's playthrough.
Thanks to everyone who participated in the Stealth Game Community Game-Along! For October, Chic Pixel is celebrating horror games (they can be actually scary or just spooky/Halloween-themed games), so be sure to join in before the end of the month! There are still 2 more months left of 2018 after that, so check the Game-Along schedule if you'd like to plan your game picks ahead of time.