After picking up a Nintendo Switch last July, I've been eagerly awaiting the right Japanese game to be my first import purchase for the system. Since the Switch is region free, that means it's much easier (and cheaper!) than importing things for the Nintendo 3DS. When I heard San-X's adorable Sumikko Gurashi characters would be getting a Switch game, titled Sumikko Gurashi: Sumikko Park e Youkoso, I knew that I'd have to pick it up!
Sumikko Gurashi: Sumikko Park e Youkoso isn't the first Sumikko Gurashi game for a Nintendo system. There have been numerous games for the 3DS, but the fact that the system was region locked made them difficult to recommend for importers. Luckily, the Switch is region free, and Sumikko Park e Youkoso is easy to play even if you're studying Japanese or don't know any Japanese at all!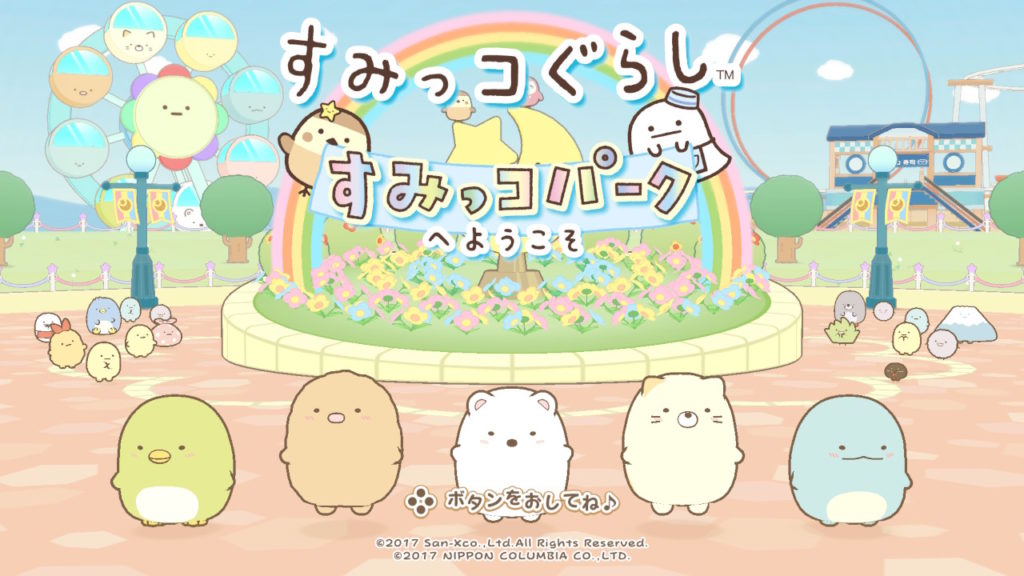 Sumikko Park e Youkoso is a board game-style multiplayer party game similar to Nintendo's own Mario Party series. You roll dice to advance on the board, and depending on what space you land on, you will be awarded coins, play a minigame, or trigger other kinds of events (both good and bad). Unlike Mario Party, however, Sumikko Park e Youkoso captures the very laid-back style of the sumikko characters, so even the most hectic mini-games are pretty calm in comparison!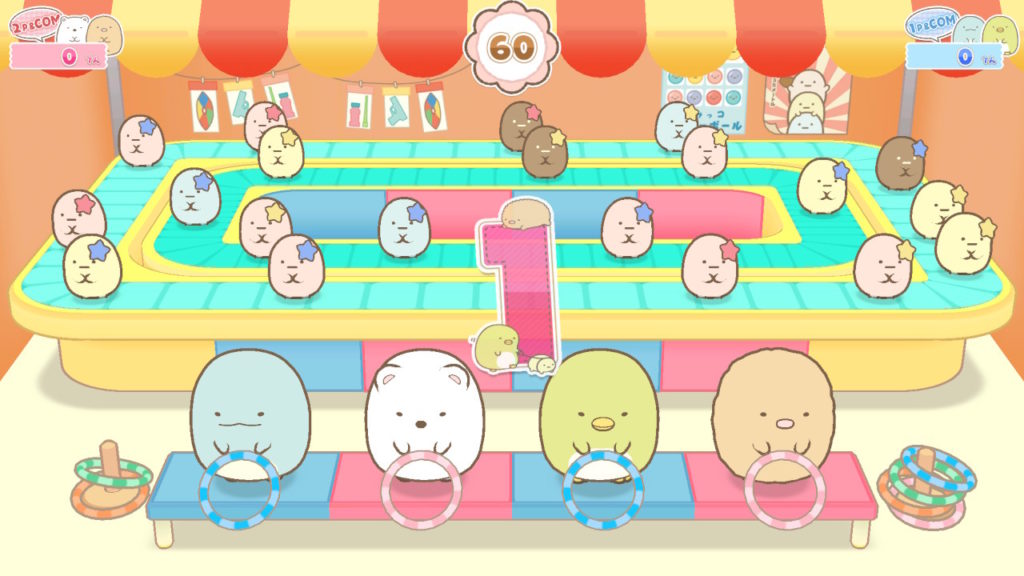 The game allows you to play with up to 4 people, or CPU characters. I was surprised by how ruthless the CPU was for a game that's aimed at children! Unfortunately, you can't change the difficulty setting, so be prepared to lose a few mini-games to the CPU until you get the hang of things. The board game also doesn't let you play with less than 4 players, so if you and a friend want to play together, you'll be accompanied by 2 CPUs.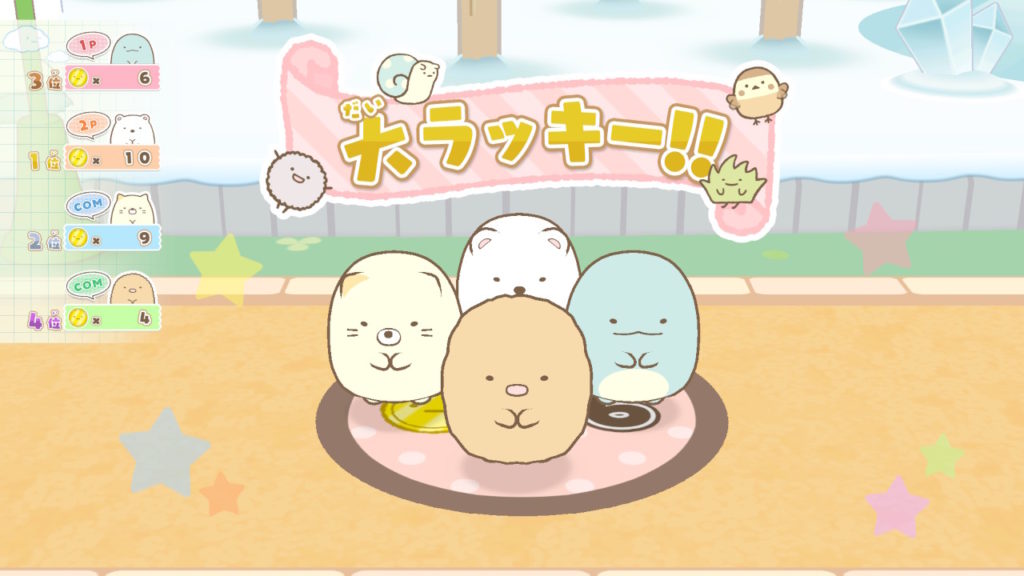 I don't have an extensive history with the Mario Party games, but with only 4 boards and a couple dozen mini-games, Sumikko Park e Youkoso feels a little lacking. There's not a lot to the different boards, so after playing them just two times each, I already felt like I'd seen everything they had to offer. It can get repetitive to replay them to see all of the mini-games, so it would've been nice if the boards were either a little more complicated, or there were one or two more boards to choose from.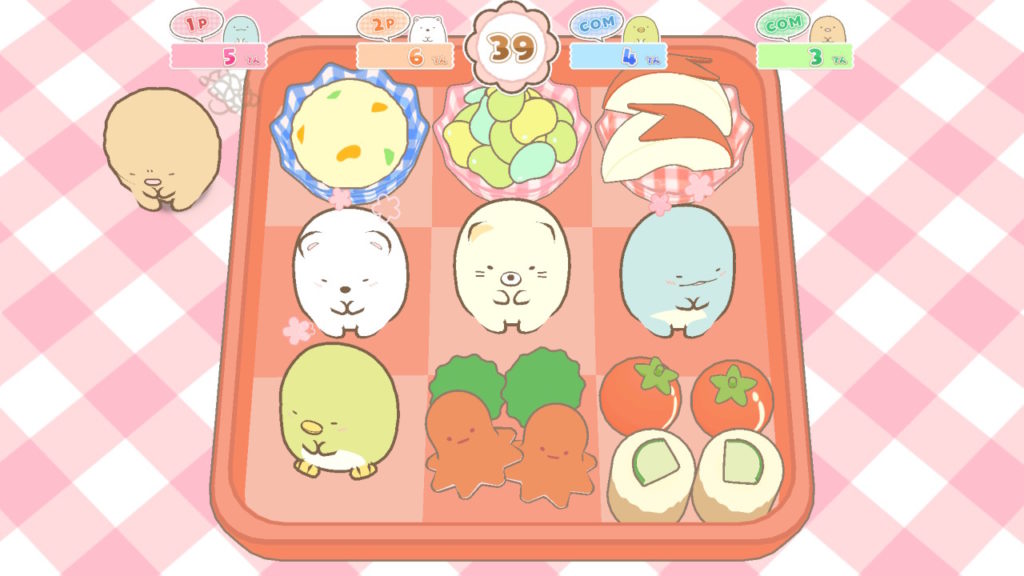 The mini-games are pretty straightforward, and range from simplistic "follow the button prompt" challenges to more difficult offerings such as motion-controlled ring toss and basketball shooting games. When you finish a game, you'll keep all of the coins from all 4 players to use in the shop to purchase outfits for your sumikko and decor for their room. There's also a little roulette that will reward you with board-specific room items that can't be purchased in the store.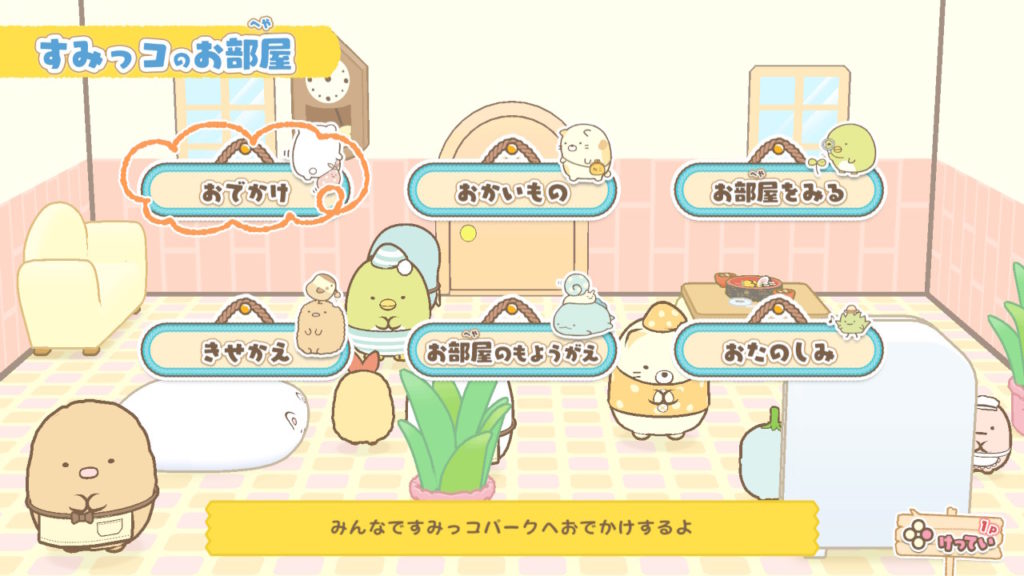 The sumikko room is another key feature of the game, and where I spent nearly as much time as playing the board game itself. It serves as a backdrop for the main menu, and as you progress through the game, more sumikko friends will come to visit the room. Of course, there's also a photo mode! Once you decorate the room to your heart's content, you can spend hours taking adorable pictures of your sumikko friends. What's not to love?!
There's also an option to play the mini-games you've unlocked outside of the board game, and a Sumikko Gurashi quiz that will tell you what sumikko you are after a series of sometimes disturbing questions (I got neko/cat, for the curious).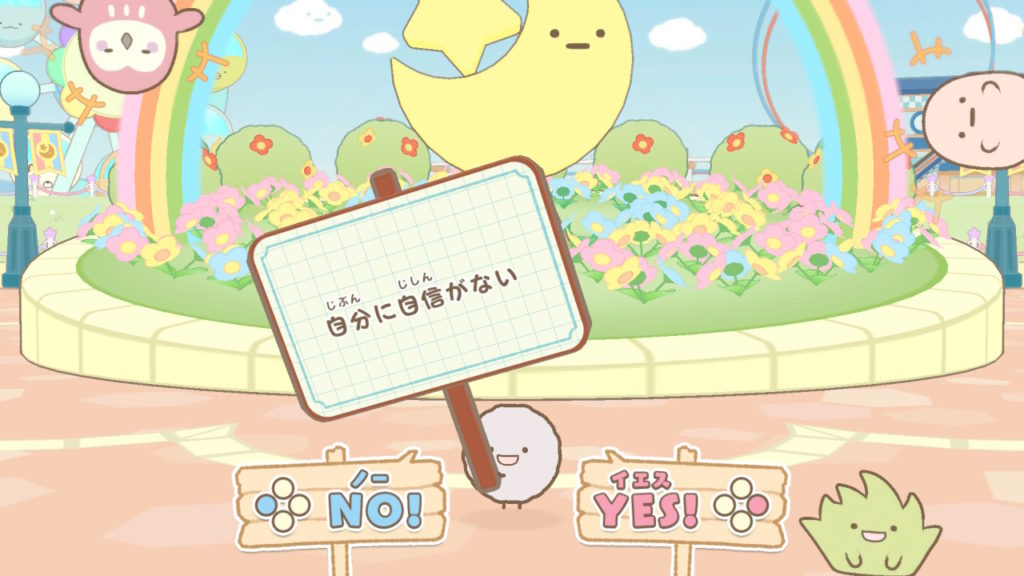 My main frustration with the game, outside of the limited number of game boards, is the fact that you have to play it in the single joycon mode. This is by far my least favorite way to use the Switch, because a single joycon is very tiny and awkward to hold. Since the game switches between motion-controlled mini-games and more traditional control methods, you're constantly switching between holding the joycon horizontally and vertically. It's unnecessarily confusing and tedious for a game that should be easy to pick up and play with friends!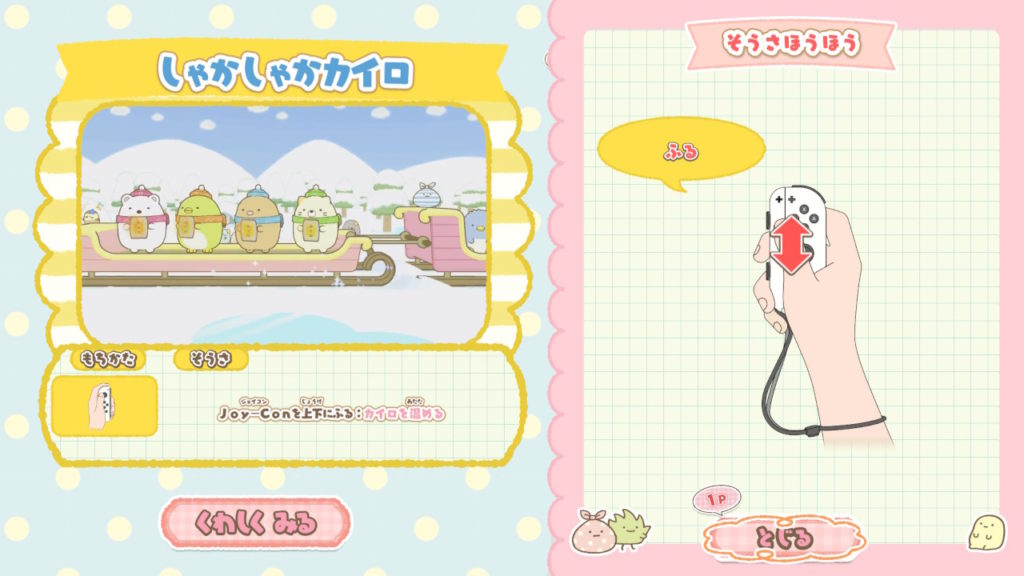 Another small nitpick is the fact that the game doesn't really indicate how many unlockable items there are in the shop – I've played about 5 hours total (which feels like a lot for a primarily multiplayer party game) and I haven't unlocked any new outfits for my sumikko outside of the first four. I know there are more outfits out there somewhere because I've seen promotional material of the sumikko wearing them, but the game gives no indication of how much you need to play to have them unlock in the store. (note: it's possible there are more board and shop unlocks I haven't seen yet, but again, there's no indication in the game of whether or not more unlockable content is available) Also, your sumikko don't wear the outfit you've equipped during the board game portion of the game, which is a major missed opportunity for lots of cute screenshots!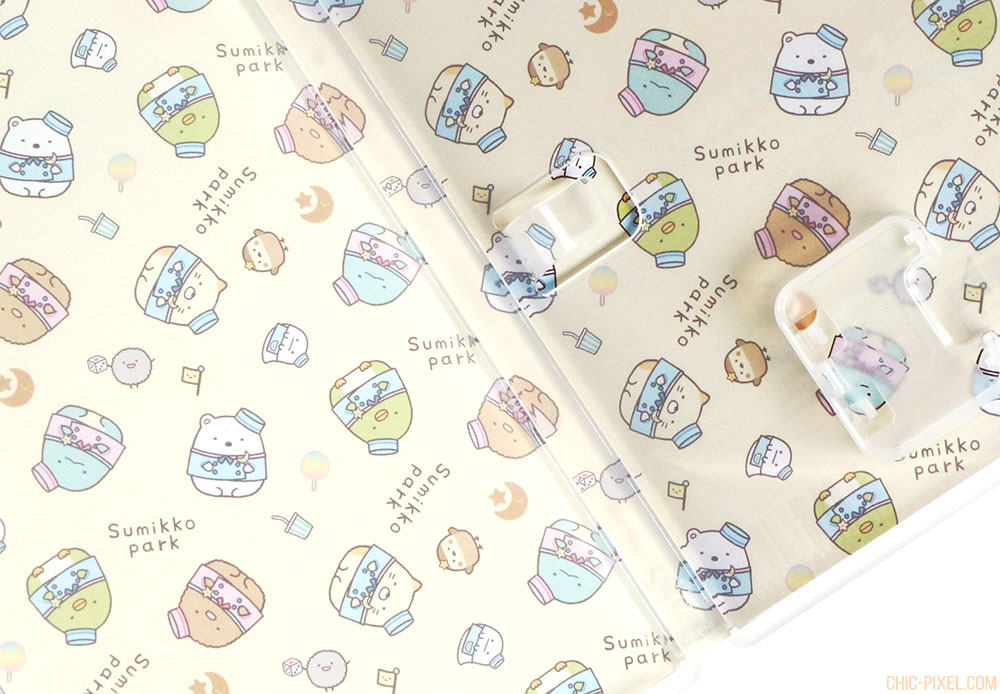 But the main appeal of Sumikko Park e Youkoso for me is that it's super adorable and perfect for taking tons of screenshots. The slow pace of the board game makes it surprisingly relaxing, and it's a great game to play with friends that won't make you want to strangle each other (how can you when the sumikko you're playing as are so chill?). The mini-games themselves are so quaint and fun, you'll find yourself delighted every time you discover a new one.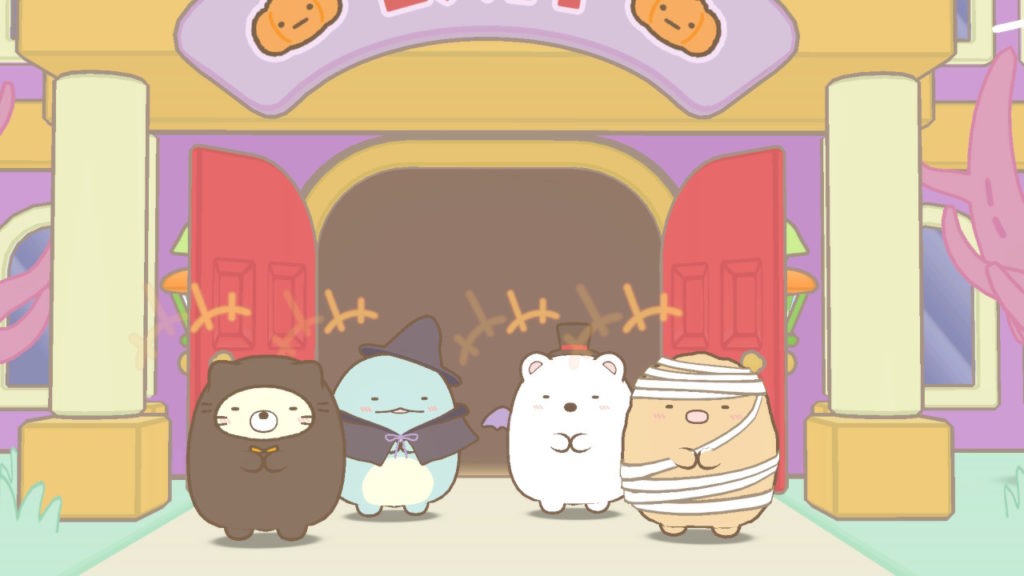 Due to the repetitive gameplay and limited number of unlockables, I ultimately found myself getting bored of playing the game by myself or with my husband and CPUs. Still, I can see myself bringing to parties to introduce to different circles of friends for a long time to come. If you want a cute import game that requires little to no Japanese knowledge to play, you can't go wrong with Sumikko Gurashi: Sumikko Park e Youkoso!
Order Sumikko Gurashi: Sumikko Park e Youkoso using my CDJapan affiliate link to help support Chic Pixel!