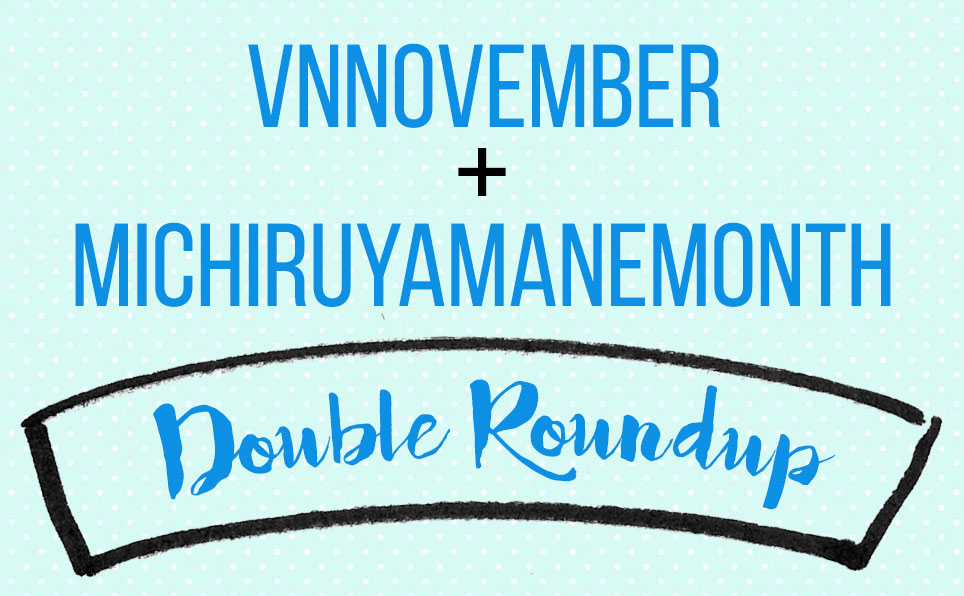 Late last year, I decided to bring back the monthly Community Game-Along roundup posts after a suggestion from a reader. But with my trip to Japan at the end of November and the hectic holiday season, I completely dropped the ball on posting roundups for November and December's themes! I'd still like to highlight some of the great contributions and game selections from folks who participated, so I've decided to combine both months for today's post. I'll do my best to make sure I'm not this late again!
It was great so see a lot of people play otome games for November's visual novel theme! Otome games spotted throughout the month included Code: Realize ~Guardian of Rebirth~, Norn9: Var Commons, Collar X Malice, Amnesia: Memories, Bad Apple Wars, and Hatoful Boyfriend. Some non-otome game visual novels played included Umineko no Naku Koro ni Episode 3 and Blackberry Honey. 
Over at Tales from the Backlog, @capsulejay reviewed two free visual novels: Narcissu and Doki Doki Literature Club. The Doki Doki Literature Club review is completely spoiler free, so you can read it without fear of learning too much about the game before you go in! (which I hear is particularly important for this one)
Many folks played titles that combine visual novel elements with other types of gameplay, such as Hotel Dusk, Danganronpa: Trigger Happy Havoc, and VA-11 HALL-A. @Patricklous played through Ace Attorney: Spirit of Justice and shared a bunch of thoughts after completing the game in this thread on Twitter.
Reviews of games that have many visual novel elements along with other kinds of gameplay included @fuzzypickles_'s review of VA-11 HALL-A and my review of Danganronpa V3: Killing Harmony. Be sure to check them out!
December's Michiru Yamane theme was much less busy, probably due to the holidays and the fact that Michiru Yamane is a little obscure to begin with. When you have time, try playing a game featuring one of her amazing soundtracks! And let's give @Westraid some kudos for her participation with Castlevania: Order of Ecclesia this month!
Thank you to everyone who participated in November and December's Community Game-Alongs, and here's to lots more gaming in 2018! Be sure to check out the full 2018 Game-Along schedule so you can plan your months in advance!