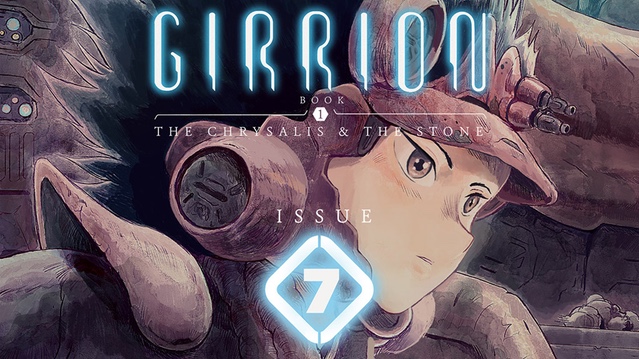 Author Tom Lintern has a unique way of approaching his Kickstarter campaigns: instead of looking to fund an entire book in one go, he's been publishing his sci-fi fantasy epic Girrion Book 1: The Chrysalis and the Stone graphic novel issue by issue. Last year, I covered Girrion's issue 4 and 5 Kickstarter. Now, Tom is up to issue 7, and it's fully funded with 5 days to go!
Girrion tells the story of Jarra, a factory worker who dreams of bigger things. When his city is attacked, he's thrust in the middle of a war… which is probably not the best way to get out of your boring day job! If you like sweeping sci-fi adventures, check out the first 12 pages of Girrion issue 1 over at the official website!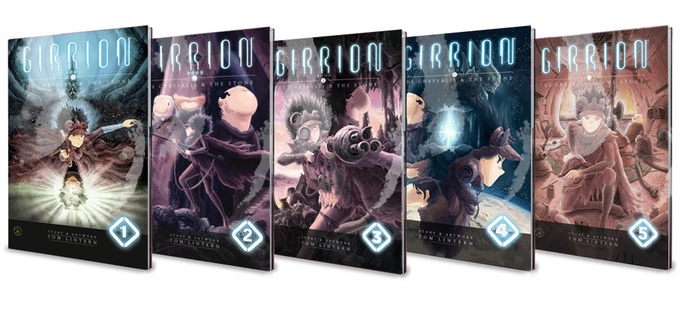 If you're interested in contributing to the Kickstarter but are worried about how you'll catch up to issue 7, never fear! For $14, you can grab PDFs of all 7 issues, or $58 for printed versions (the print bundle also includes PDFs, pencil work PDFs for issues 4-7, and a desktop wallpaper). Or, if you'd like to show your support and just get a taste of what Girrion has to offer, you can get a PDF of the first issue for only $2! For more backer reward options, be sure to check out the Kickstarter page.
Since Tom has extensive experience publishing Girrion with the help of Kickstarter, you can rest easy knowing rewards will be delivered promptly and professionally. At the time of this post, there are only 5 days left to back the Kickstarter, so don't delay!