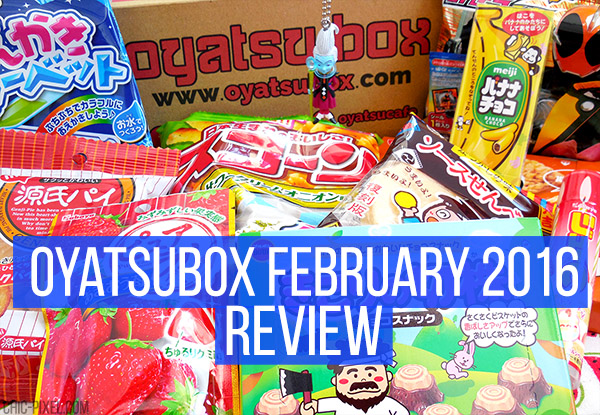 Ever since I first review the OyatsuBox Japanese snack subscription service back in March 2014, it has remained one of my favorite services on the market. That's why I'm extra excited to announce that I'm partnering with the folks at OyatsuBox to offer you monthly reviews, starting with the February 2016 premium box!
I was surprised to see that a lot has changed since I first reviewed their service back in 2014. But I don't want to spoil the surprise, so first, let's take a peek at what's inside…
At $30/month, the Premium OyatsuBox is slightly more expensive than its competitors. But with the amount of goodies included, it's definitely worth the extra few bucks! They also offer $11.99/month and $25/month options (all include worldwide shipping), but for this review I'll be focusing on the Premium box.
Note the branded box and color pamphlet in my unboxing video – both of these are new additions since I last reviewed their service! I think it goes a long way to making the boxes look more professional. OyatsuBox also now includes a gachapon in all Original and Premium boxes, as well as a guaranteed DIY kit in all Premium boxes.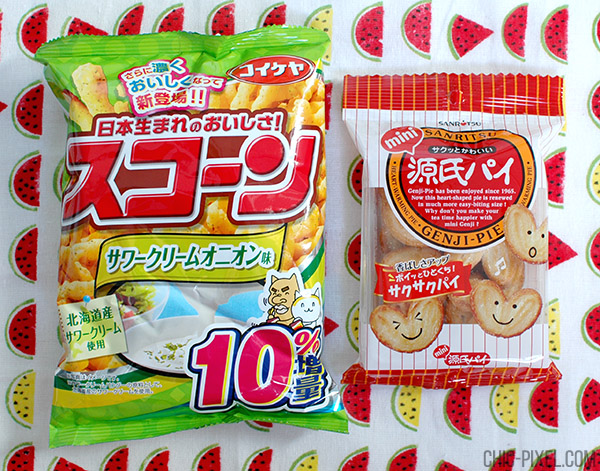 First up in the box are these sour cream Koikeya Scon corn puffs. I love the silly characters at bottom right of the package! I gave these a try and I have to say, they look and taste a lot like sour cream Cheetos. Not bad!
The Genji Pies on the right have been around in Japan since 1965. Funnily enough, I've never tried them! These are more like cookies than pies, but they do kind of resemble pie crust.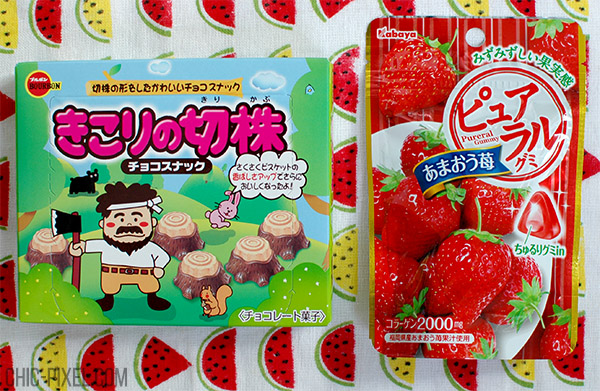 Who wouldn't love chocolate covered tree stumps? Okay, Kikori no Kirikabu aren't actual tree stumps, but rather cookies shaped like tree stumps that are coated in chocolate. If you've ever had Takenoko no Sato, these are very similar, but Takenoko no Sato loses points for not featuring a jolly lumberjack on the box.
I haven't tried the Kabaya Pureral strawberry gummies yet, but if they're anything like the other Japanese gummies I've had, they're going to be amazing! These are Amaou strawberry flavored, which is a famous type of strawberry from Fukuoka.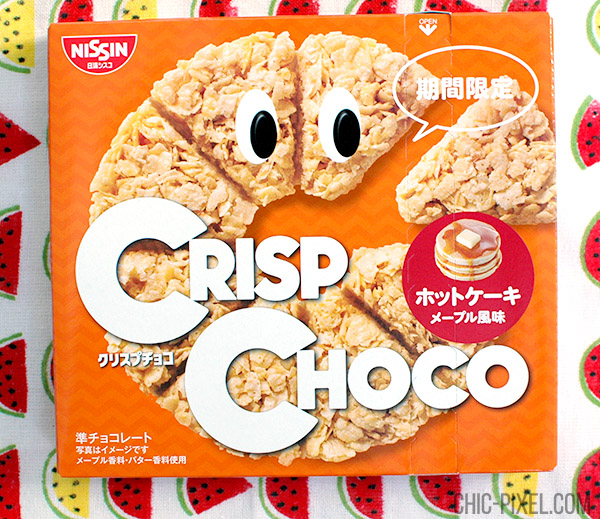 Now here's something I've never even seen before! When I opened up this Crisp Choco (which, contrary to its name, did not actually have chocolate in it), I was immediately hit with the sweet smell of maple syrup. Well, since they're pancake flavored, that only makes sense! I really enjoyed the light, fluffy texture of these.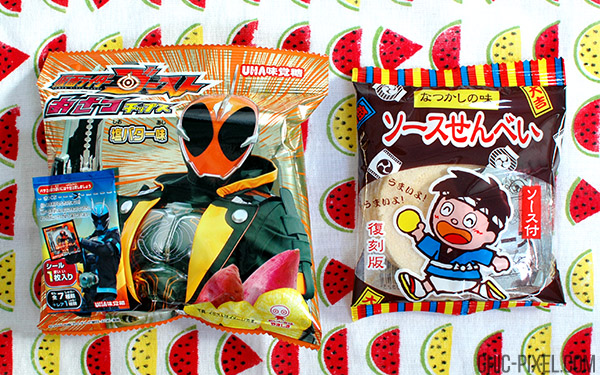 I always enjoy snacks with characters on them, so it was fun to find Kamen Raider Ghost chips in this OyatsuBox, even though I don't really know anything about sentai! The super buttery sweet potato chips came with a random sticker, too.
The item on the right is a Dagashi Sauce Senbei, which is actually a re-release of a snack popular decades ago in Japan. I've never had senbei where you put sauce on them, so it was quite a novel experience! Dagashi Kashi fans in particular would enjoy this one.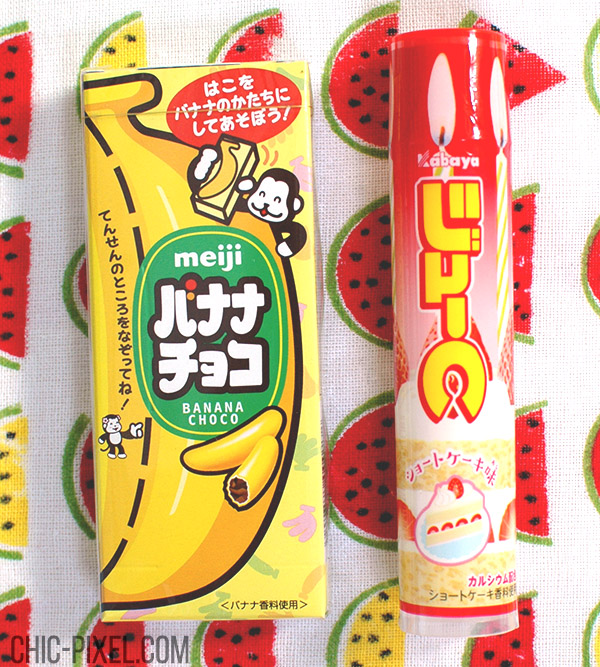 I put these two items together because they both have such fun packaging! The Banana Choco candies are exactly what they sound like, and though the package and chocolates themselves are super adorable, I'm not a huge fan of that flavor combination… Meanwhile, the strawberry shortcake-favored Juu-C tablets were definitely somethin'! They're super sweet and sugary, and I definitely could taste a strong strawberry cake flavor.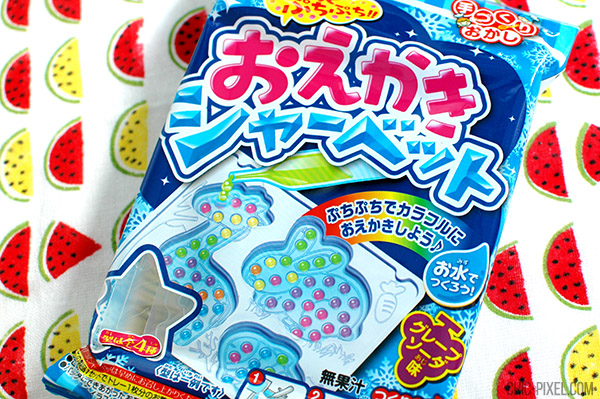 The final snack item in the February 2016 Premium OyatsuBox was this Oekaki Sherbert DIY kit! It looks like a ton of fun to do, so I can't wait to try it out. Let me know if you'd like to see a video of it!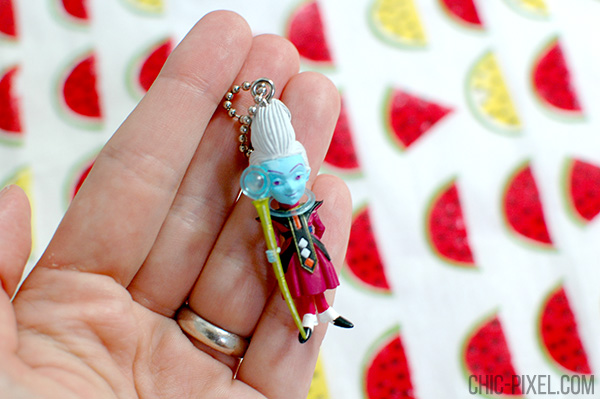 But let's not forget the gachapon! I was pretty happy to get Whis from Dragon Ball Z, since he's such a fun character. I'm not up on Dragon Ball these days, but I did see the Resurrection F film he was in!
What I love about OyatsuBox is that they always include items you don't see in many other snack subscription boxes. In fact, there wasn't a single thing I'd had before in this month's box! Even if I don't always love every item, it's a lot of fun to try things I wouldn't normally purchase for myself. I can't wait to see what comes in March!
Chic Pixel is a monthly OyatsuBox reviewer. While this post was sponsored, all opinions are my own.