I'm sure I wasn't the only person who was floored when otome game publisher Otomate announced they would be making a game adaptation of the popular Osomatsu-san anime. Whether or not the actual game will be a full-fledged otome game that lets you date each of the brothers, it's undeniable that the series has amassed a huge female fanbase!
In acknowledgement of this, the latest issue of Dengeki Girl's Style, a magazine dedicated to otome games and related media, has a whole four page article dedicated to the Osomatsu-san anime. In it is an amazing Matsu flowchart reminiscent of teen magazines that I thought was too fun not to share:
Surprised Otomate is making an Osomatsu-san game? Dengeki Girl's Style has a quiz to find your Matsu match XD pic.twitter.com/BSnK6hoZnJ

— Anne Fujosushi Lee (@apricotsushi) January 26, 2016
Since some folks were interested to know what the chart says, I've gone ahead and made a translated version! So, who's your Matsu love match?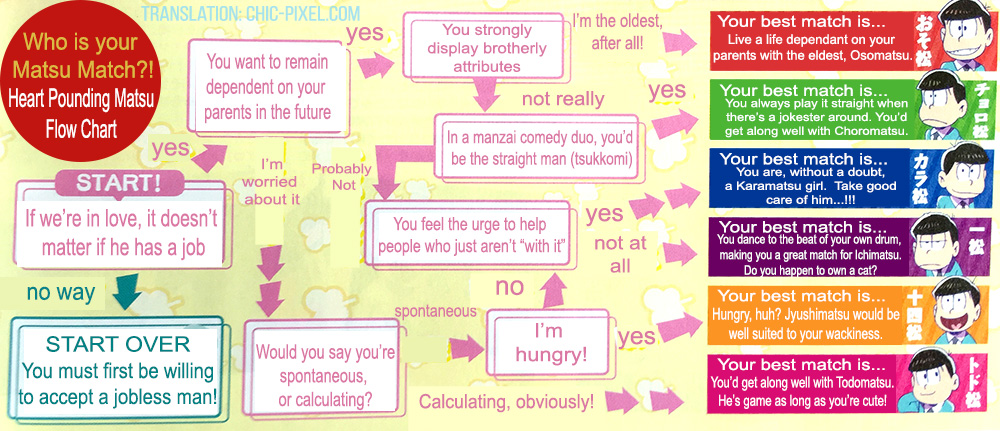 Feel free to share, but please make sure to credit Chic Pixel! If you haven't yet watched Osomatsu-san, be sure to check out the hilarious anime at Crunchyroll. If you enjoyed this translation, support Chic Pixel by purchasing your favorite Osomatsu-san merchandise at CDJapan!