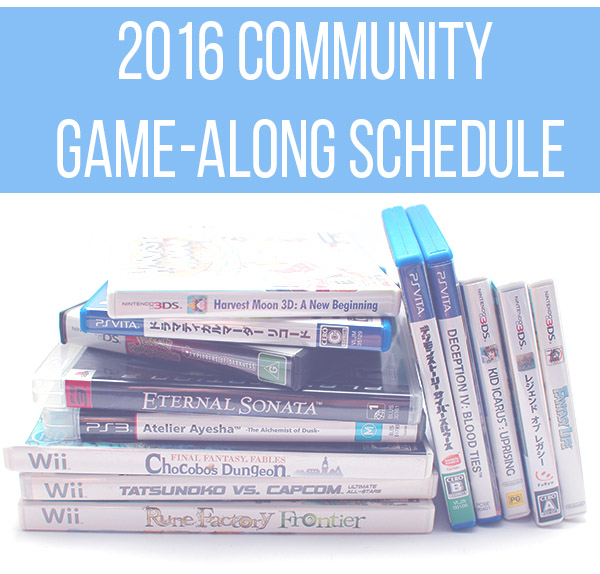 Can you believe it's been two years since I started doing Community Game-Alongs here at Chic Pixel? I certainly can't! What began as a month dedicated to celebrating Nihon Falcom games has evolved into a fun event where every month of the year is designated a new video game-related theme, and I'm so excited to continue it into 2016.
If you're new to the Community Game-Along, fundamentally it's very simple: all you have to do is play at least one game that fits the theme of the month. Try a title you've never played before, revisit an old favorite, or share your experiences with others… As long as it fits the theme, how you choose to join in is up to you! For those that like to plan ahead, I've compiled a full list of the themes for 2016:
January – Dating Sims
February – Fishing games (suggested by @_Kimimi!)
March – Monster Hunter-likes
April – Yuzo Koshiro (composer)
May – Metroidvania
June – Media tie-in games (suggested by @BadoorSNK!)
July – JRPGs
August – PlatinumGames
September – Strategy games
October – Horror games
November – Erotic (R18+/adult content) games
December – Hudson Soft games
I hope to see lots of you participating over the course of the year!