Anyone with a Nintendo 3DS, or any handheld gaming console, knows that to keep your expensive purchase looking good as new, protection is a must. But who wants to look at at a boring, plain, store bought case? Flea Circus Designs offers a wide range of handmade handheld cases based on adorable video game characters from Pokémon to Animal Crossing, as well as custom designs, proving that handheld cases can be both adorable and functional. Be sure to read to the end for details on how you can receive $5 off your purchase!
Ash of Flea Circus Designs was kind enough to send me a custom, handmade 3DS XL case of my choosing for review. With Monster Hunter X's Japanese release just around the corner, I knew I had to pick one of my favorite monsters! I thought Yian Kut-Ku would make a great case because of the colors in his design, so after showing me a mock-up sketch of how the finished product would look, Ash got straight to work.
Just a couple of weeks later, my Yian Kut-Ku 3DS case arrived on my doorstep. I am blown away by how fast Ash was able to take Yian Kut-Ku's design, transform it into her signature blocky style, make the case, and ship it to me in Australia from the US! Though you might think the quality would suffer from such a fast turnaround, that is one area where Flea Circus Designs definitely does not disappoint.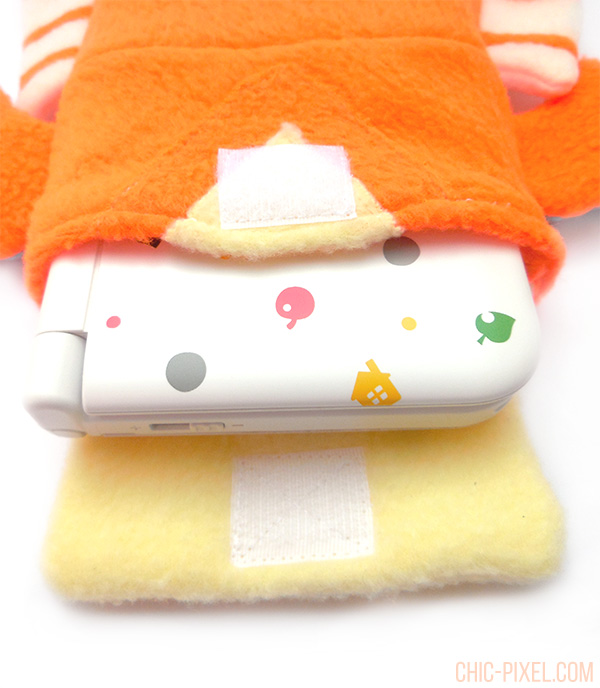 The case is made from a soft fleece that is great for protection (though I still wouldn't recommend dropping your system!), and is sewn together with a very professional finish. The velcro closure means that I can safely carry my 3DS around without fear of it falling out of the case, too! I will note that Ash does not line her cases, but that didn't bother me due to the very soft nature of the material.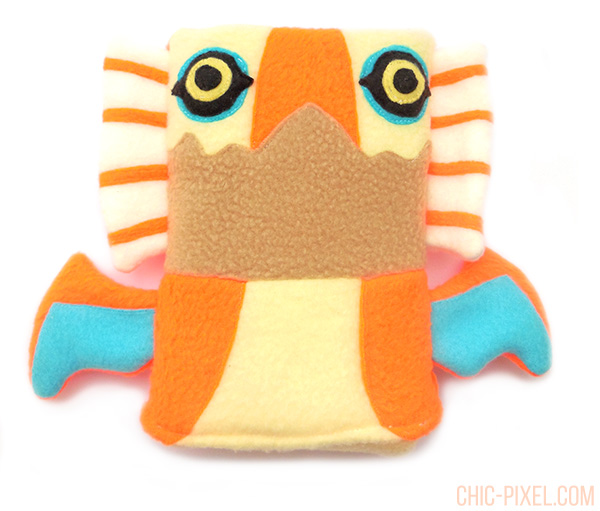 Taking a close look at the Yian Kut-Ku 3DS case design, I am extremely impressed by how Ash was able to convert the character in to an adorable, stylized 3DS case! I love how the head frills and wings give the case even more visual interest in addition to making it a very authentic rendition of the iconic Monster Hunter monster.
To be completely honest, I'm already considering what case I'd like to purchase from Flea Circus Designs next! If you follow my Twitter, you'll know that the Animal Crossing 3DS XL featured in this post recently met an untimely demise, and since I'll be replacing it with a new 3DS, I could definitely use a new case for it. If you're interested in purchasing a case for yourself, Ash is able to modify existing designs or create customs of virtually anything imaginable, and can accommodate to any handheld or even smartphone size! Prices generally range from $25 to $30 depending on the complexity of design. If you're looking for some ideas, I personally love the open mouth Magikarp case, while this Reese case would be perfect for any Animal Crossing fan.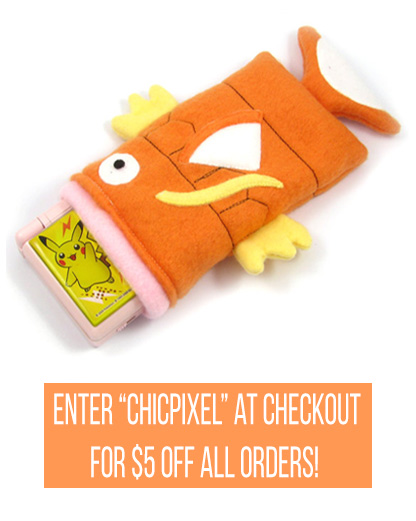 Finally, as a Chic Pixel reader, you can use the code CHICPIXEL at checkout to get $5 off the total price of your purchase from now until December 4th! A Flea Circus Design case would make an awesome, unique gift this holiday season, but just make sure to place your order before December 1st (international) or December 15th (US) if you want to ensure it arrives in time for Christmas.
Thanks again to Ash for giving me the opportunity to review a Flea Circus Design 3DS case! It will brighten my handheld gaming sessions for many days to come.