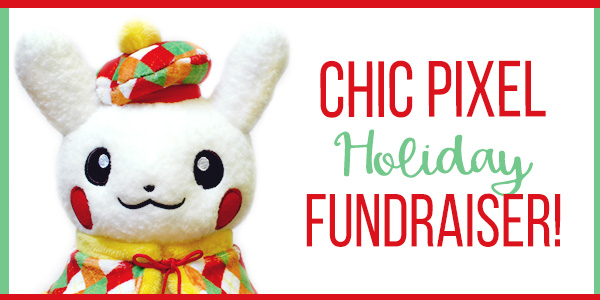 It's the time of year when everyone reflects on what they're grateful for, and maybe gives a little something forward to a special friend or loved one. I am always so thankful for each and every one of you that reads Chic Pixel, whether you comment regularly, chat with me on Twitter, shoot me an email, or quietly enjoy my posts.
As you may know, a lot of time, effort, and money goes into keeping Chic Pixel running. Many of you help support the site by purchasing your video games or figures using my affiliate links, or sending me a few dollars via my Paypal donation link. Not only that, but every tweet, Facebook share, or word-of-mouth recommendation reminds me that the work I do is appreciated, and it means the world to me. So thank you all, from the bottom of my heart!
Now, I know it may be a lot to ask, but if you can spare a few extra dollars this holiday season it would go a long way to supporting the costs to maintain the site and purchase items from Japan to cover in reviews and news posts (such as the Kyoukai no Shirayuki magazine translations). But, I'd like to give you something back in return, so every person who donates $5 or more before December 8th will receive a personalized holiday card full of Japanese stationery from my collection!
Of course, you're more than welcome to donate more or less if you wish, but that's the minimum I need to be able to afford to send a letter overseas. You can donate using the button below:

The cards will be Christmas-themed, so if you would prefer a regular letter, please leave a note when you make your donation. Also, be sure to leave your address in the notes section if you pay by credit card or would like the card sent to a different address than the one linked to your account.
If you miss the deadline, don't worry! I'll always send a letter to anyone who donates $5 or more, but December 8th is the cutoff for those who would like a holiday card.
Once again, thank you so much for reading Chic Pixel. It means more to me than you'll ever know!