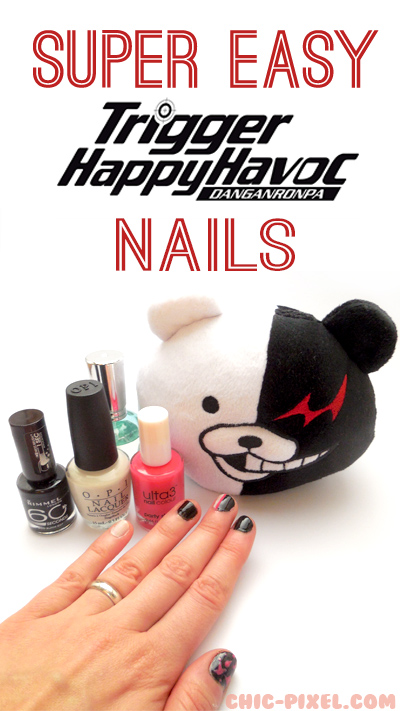 After the success of my Splatoon nail tutorial, I thought I'd try my hand at another! Themed nails to celebrate the release of Danganronpa Another Episode: Ultra Despair Girls earlier this month seemed only appropriate. I modeled this design after Monokuma and the stylized hot pink blood prominently featured in the Danganronpa games. This can also double as a great look for Halloween!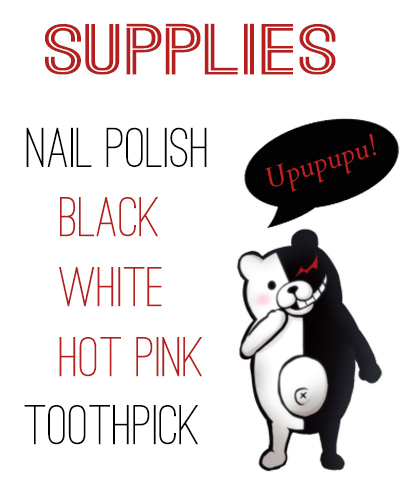 Aside from the usual base and top coat, you'll need three colors of nail polish: black, white, and hot pink. For the fine details, grab a toothpick! That's all you need to do this super easy nail design. Let's get started!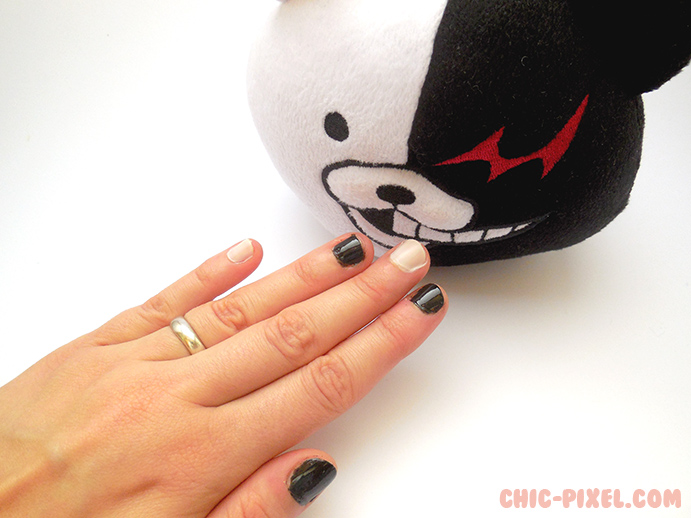 After applying your base coat, paint white and black polish on alternating fingers. You don't have to follow my exact pattern, but I wanted to showcase the pink blood splatter on my thumb nail, so I made sure to paint that black.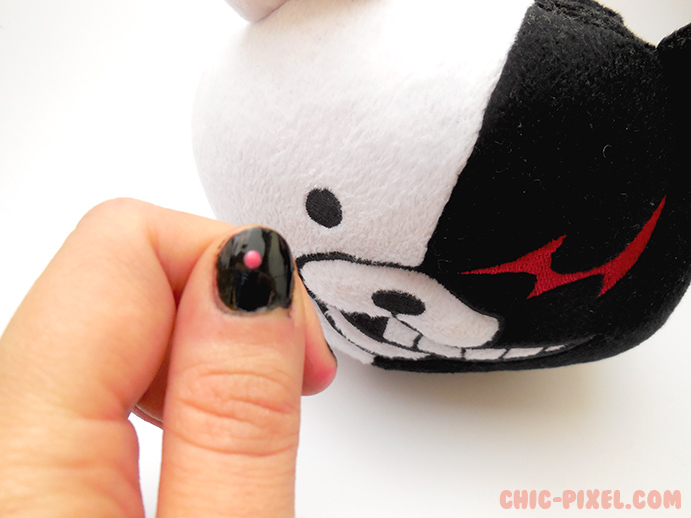 For the splatter, dip your tooth pick in your hot pink polish, leaving an ample amount of polish on the tip. Lightly touch it to the nail to form a small blob of polish like the photo above. Before it dries, use the toothpick to drag the polish out away from the blob to get the paint splatter effect! I added a couple of splatters using different amounts of polish, as well as a couple of small pink dots using my tooth pick to make it look like a real Danganronpa crime scene.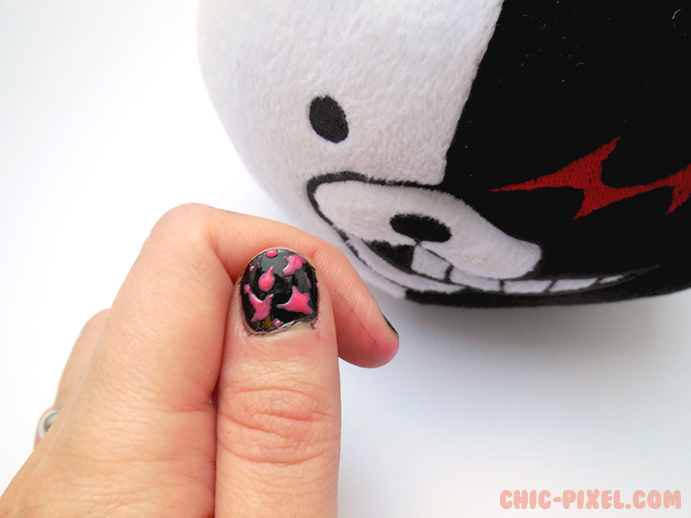 I originally intended to do a more "traditional" nail splatter tutorial, but after trying splattering nail polish with both a tooth brush and a straw, I found it to be far too tricky. Plus, it was super messy! I think this is a great way to get the same effect without too much fuss.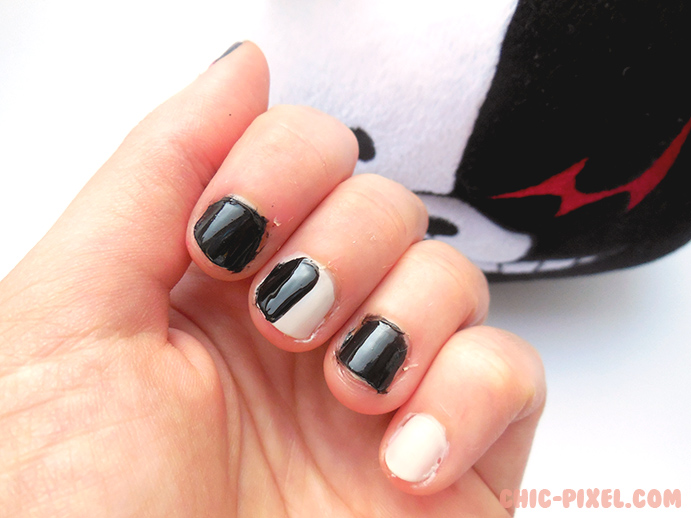 For the Monokuma-inspired nail, paint a white nail half black. I highly suggest doing black over white rather than white over black, as depending on the type of white polish you have, the contrast may not be very good. My white polish was not very opaque, so I don't think it would have worked as well on top of the black.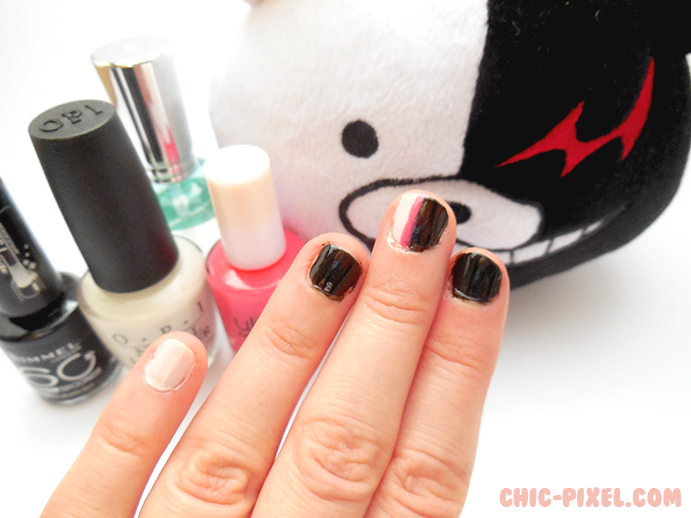 After that's dry, take your toothpick and draw a pink line down the center of the nail. That's it! Once you're sure all of your nails have dried, go ahead and finish with a top coat.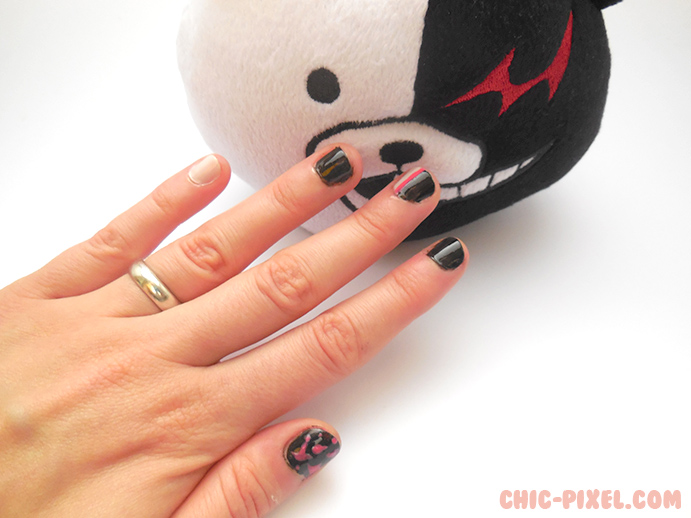 Ta-dah! Here's the finished Danganronpa nail design. I swear I can hear Monokuma's sinister laugh whenever I look down at my hands!
If you give this Danganronpa nail tutorial a try, be sure to share it with me on Instagram or Twitter! Now to start brainstorming what nerdy nail design to do next…