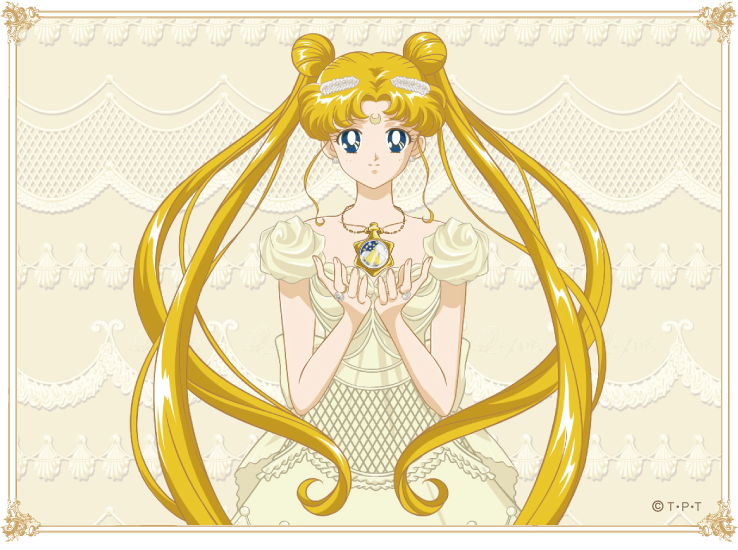 I'm not usually very savvy when it comes to things like high-end jewelry and cosmetics, but Q-Pot has always been on my radar for their amazing sweets-inspired collections. But since the vast majority of their items carry a hefty price tag, I've been able to stay away… until now. Their upcoming Sailor Moon collection, due to launch June 30th (Usagi's birthday), contains some of the most gorgeous pieces of jewelry I've ever seen!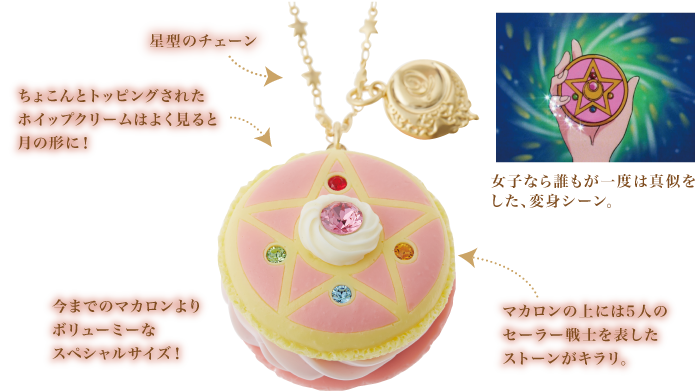 Crystal Star Macaron – Featuring Sailor Moon's iconic brooch design, this adorable macaron is available as either a necklace (¥15,000) or a keychain (¥13,000).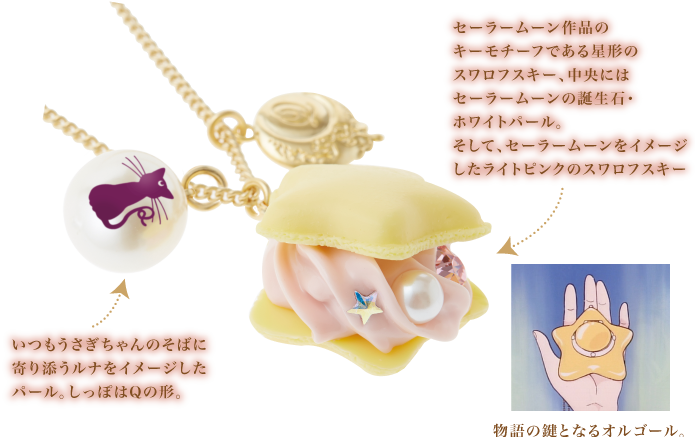 Starry Night Macaron – Also available as a necklace (¥11,000) or a keychain (¥8,000), this design features an additional charm with Luna's silhouette! Her tail is even shaped in a "Q"!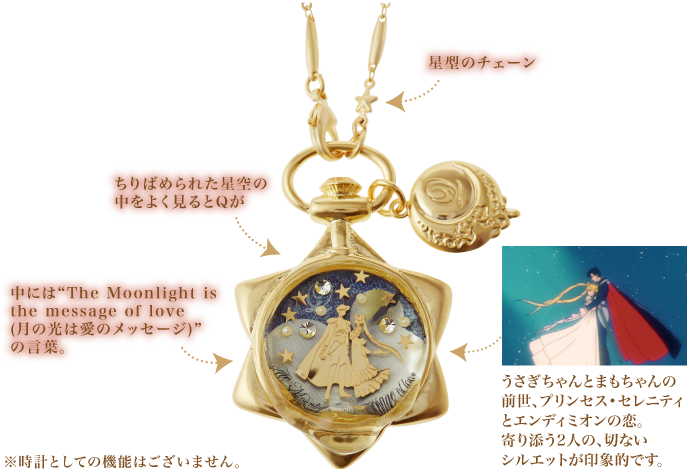 Moon Phase Pocket Watch – This is the most pricey item in the collection at ¥28,000, but all the little details in this pocket watch look like they'd be amazing in person.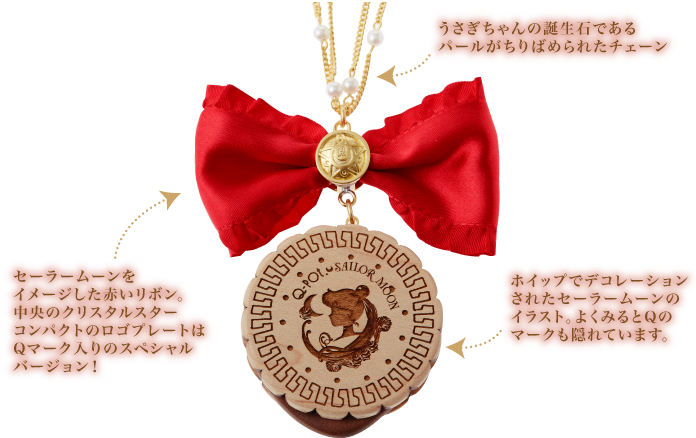 Sailor Moon Biscuit – I love the engraved design on this, but it's not nearly as flashy as some of the other items in the collection! The little details are still quite amazing, though. This necklace would set you back ¥21,000.
Sailor Jewel Candy Ring
– One candy ring based on each of the inner scouts (¥17,000). If you look closely, you can even see their symbol! Head to the
official site
to see the full set.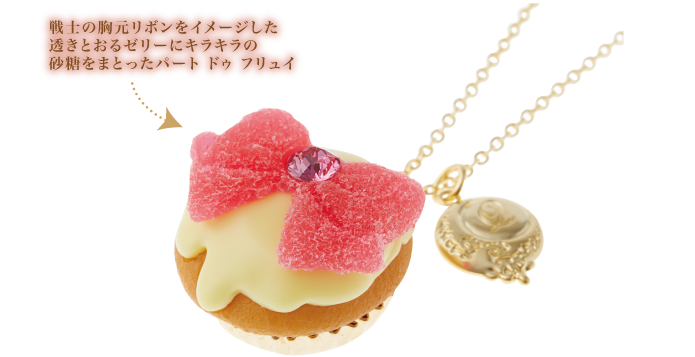 Sailor Ribbon Cup Cake Necklace – Doesn't the jelly bow on that cupcake look real? Like the rings, there is one for each of the inner scouts. These necklaces would set you back ¥11,000 a pop.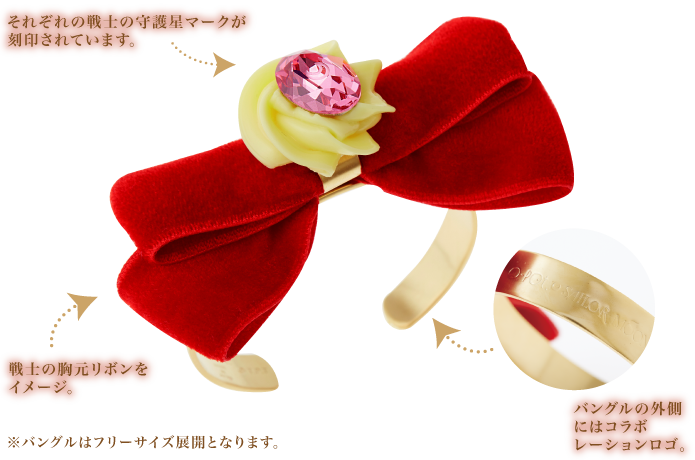 Sailor Jewel Whip Bangle – This is probably the least impressive item in the series to me, but still very cute! There's also one bangle for each of the inner scouts (¥12,500).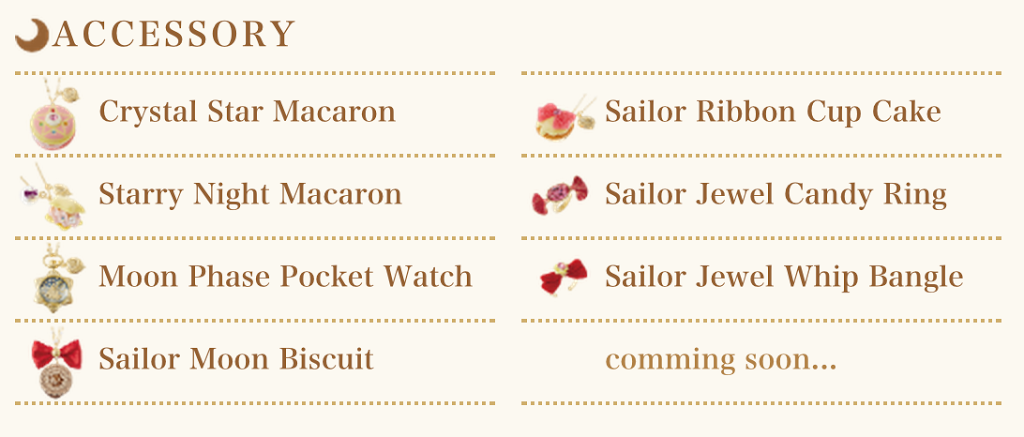 As detailed on the official site, each item comes with a logo plate that denotes the Q-Pot x Sailor Moon collaboration series, as well as a special box featuring the art at the beginning of the post. I think my wallet spontaneously combusted…
And if that wasn't enough, Q-Pot will also be hosting a
Sailor Moon café
in Tokyo from June 15th to July 31st!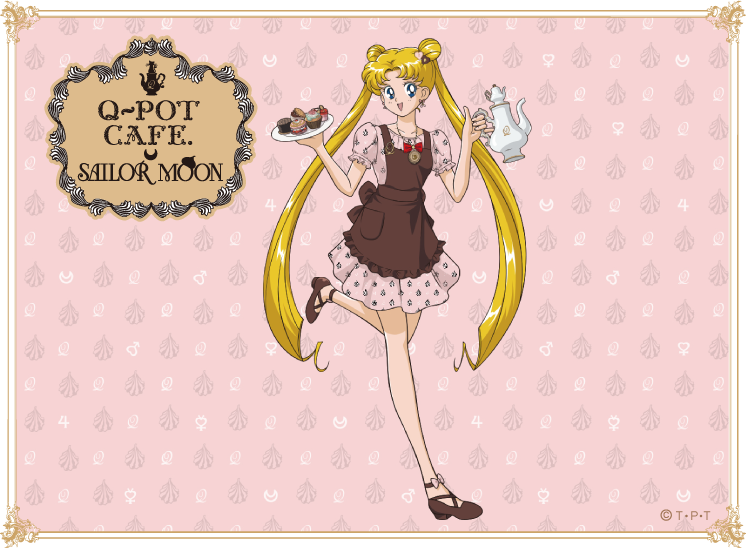 That illustration is so amazing, I almost don't even need to see the food. But who am I kidding! Of course we have to check out the food: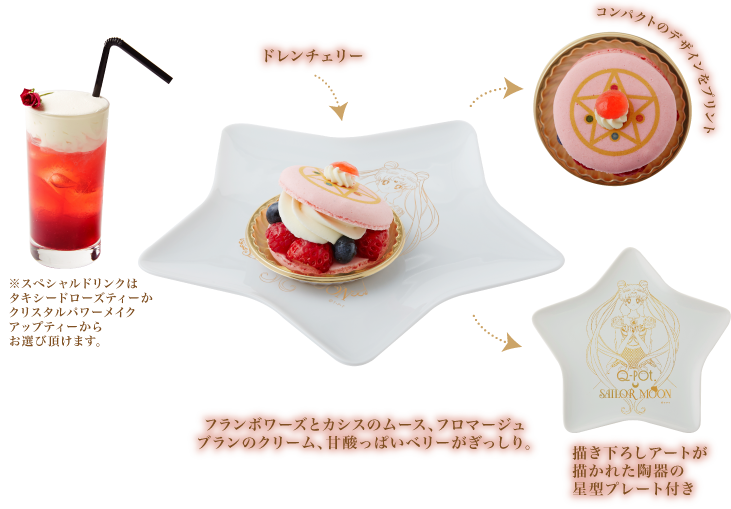 Crystal Star Macaron Plate – This dessert may seem a little pricey at ¥3,900, but you get an amazing macaron shaped like Sailor Moon's transformation brooch as well as a drink of your choice. Plus, you get to take home the amazing plate the dish comes on!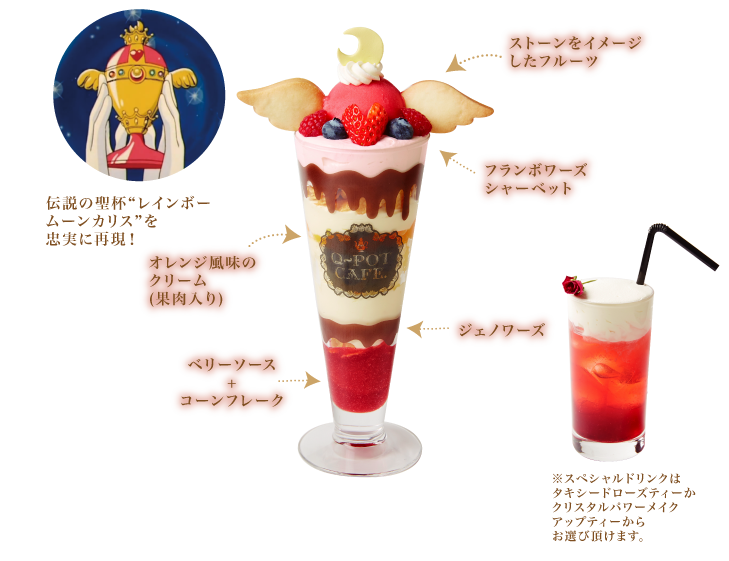 Sweet Rainbow Moon Chalice Parfait – Compared with the Macaron Plate, this may not seem as exciting, but look at the execution! At ¥2,500, this also comes with a drink of your choice.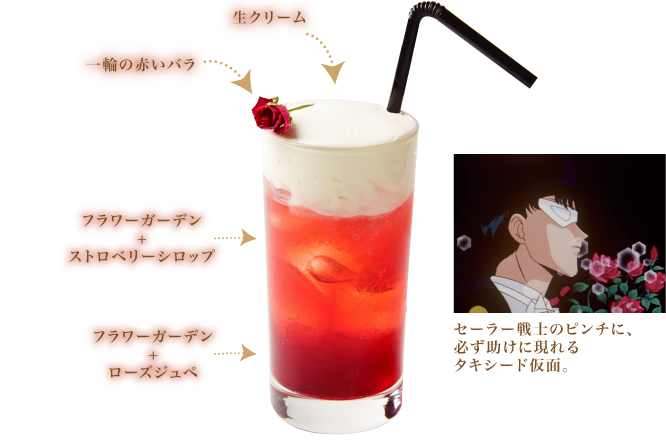 Tuxedo Rose Tea – The name speaks for itself, and at ¥850, you might as well grab one of the desserts and get the drink that comes with the set! The iced tea features a mixture of rose and strawberry that sounds downright delicious…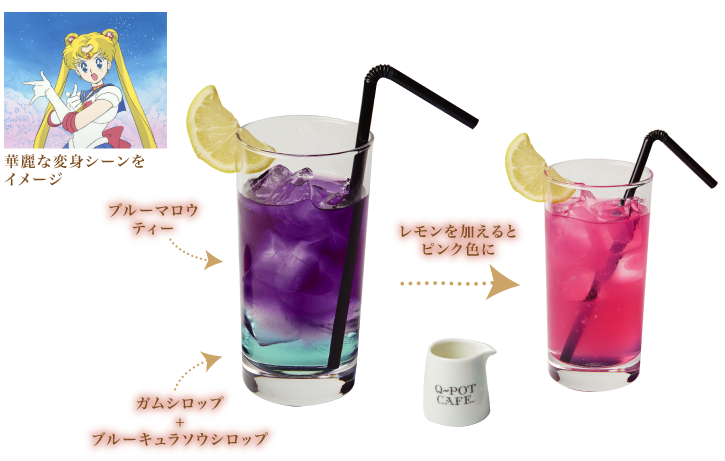 Crystal Power Makeup Tea – Last but not least, this tea changes color when you add the lemon, emulating Sailor Moon's transformation sequence! This drink is also ¥850 and has a blue mallow tea base.
I'm throwing all my money at the screen, but nothing's happening! Hopefully the jewelry will be available on their international store, but considering it's a special collaboration, I wouldn't count on it. As for the café, unfortunately you'll need to be in Japan in June or July to be able to attend… Maybe if we're lucky, some lovely folks will blog about their experiences when they go!