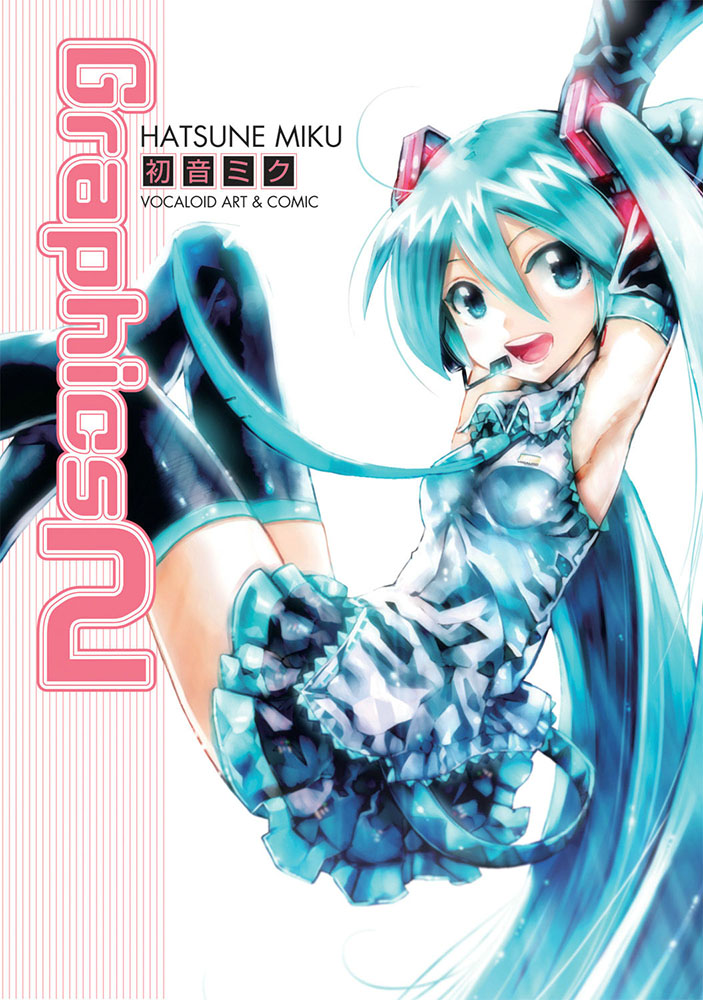 One of my favorite aspects of the Vocaloid phenomenon is how it's powered by the fan community, with people all over the globe coming together to celebrate the digital idols through music, art, and more. Hatsune Miku Graphics: Vocaloid Comics & Art Volume 2 showcases a wide variety of Vocaloid illustrations from both professional and up-and-coming artists, making it the perfect way to see first-hand just how much talent Hatsune Miku and her friends attract.
The last Vocaloid art book from Udon Entertainment I reviewed focused on official Vocaloid artist Kei's soft watercolor-like illustrations such as the one on the cover above, but the Hatsune Miku Graphics series is great for those who like Vocaloids but would prefer to see art from a variety of artists. While the quality of illustrations varies from artist to artist, with 128 pages total, there is bound to be an art style that appeals to nearly everyone.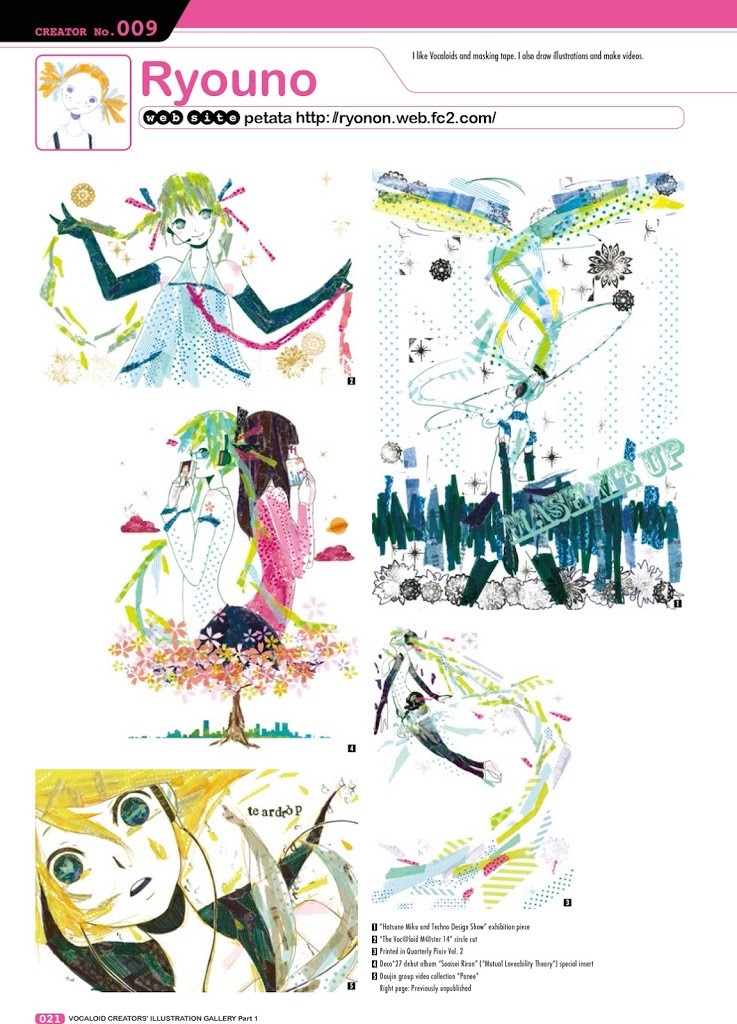 The majority of the book focuses on a number of Vocaloid artists, with a sampling of illustrations from each. I love the inclusion of the artist's website when available – in the case of Ryouno, I was so enamoured with his work that I immediately went to browse his site. His masking tape collages are so unique, and not at all what I expected from Vocaloid art!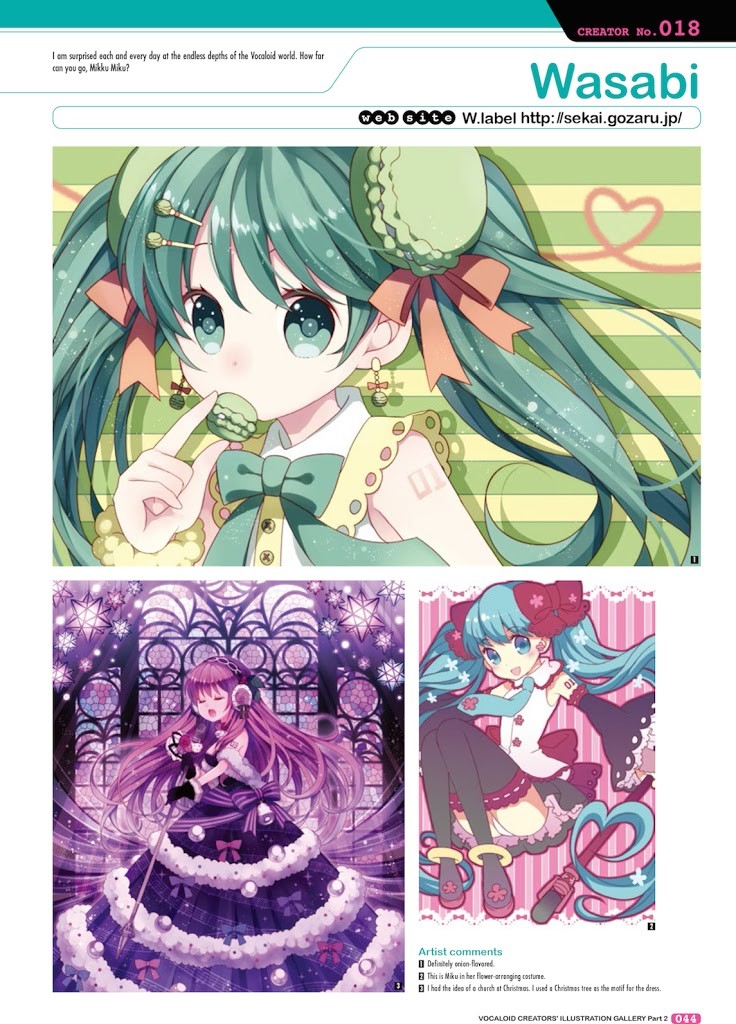 Wasabi's work is sugary-sweet, and was definitely one of the standout artists for me. I love the mint illustration of Miku with macaron hair ties! For every illustration, there are artist comments detailing where the image first appeared, which can help you track down your favorite piece.
The book also includes three short manga, one drawn by Wasabi featuring Luka. I really enjoyed seeing other Vocaloids represented besides the ever-popular Hatsune Miku.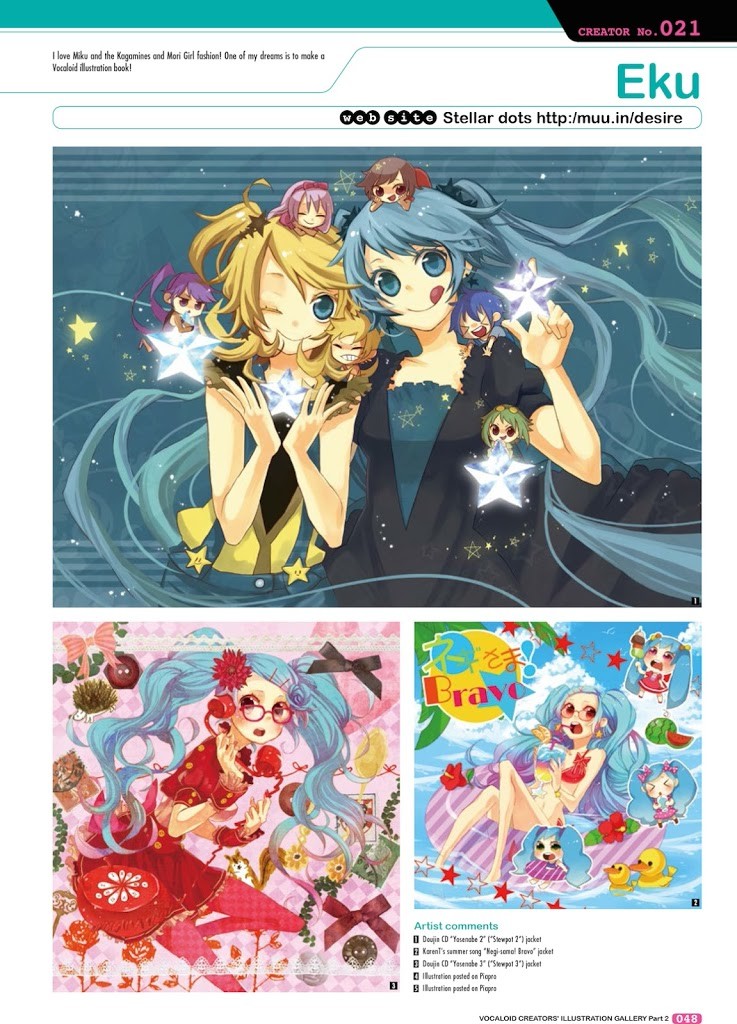 In addition to the creator galleries, there are also a number of Vocaloid tribute illustrations by famous Japanese artists. Unlike the creator galleries, these illustrations each get a single page, and while I personally found more art I liked in the galleries, fans of artists such as Nanzaki Iku (Queen's Blade) and Homare (Phantasy Star Portable 2) will undoubtedly be pleased.
Finally, there is a section dedicated to Vocaloid collaborations and other products that, while very interesting for a Vocaloid fan, felt a little out of place in an art book. There are a number of pages on the clothing modules in the Project DIVA series of rhythm games, a small section on a Lucky Star collaboration, as well as a blurb on the Racing Miku collaboration with Good Smile Company.
As a fan of the, well, fan community that has made Vocaloids the huge phenomenon that they are, both in Japan and abroad, Hatsune Miku Graphics: Vocaloid Comics & Art Volume 2 was a complete pleasure to flip through. Though it may not feature everyone's favorite artist, it's a great way to find a great new illustrator or introduce a friend to the colorful and varied world of Vocaloids. Even with a couple small sections that might have been better used to spotlight even more artists, Hatsune Miku Graphics: Vocaloid Comics & Art Volume 2 would make a great addition to any Vocaloid fan's library.
Note: A digital copy of the book was provided by the publisher for the purpose of this review. 
Hatsune Miku Graphics: Vocaloid Comic & Art Volume 2
Hatsune Miku fans, REJOICE! UDON's sixth translated artbook featuring Superstar Japanese idol Hatsune Miku is now available! UDON Entertainment is proud to present Hatsune Miku Graphics: Vocaloid Comic & Art Volume 2, a new collection of illustrations, behind the scenes material, and comics(!) featuring Miku, Rin & Len, Luka, and friends!
In this latest collection, explore the world and phenomenon of Miku and the Vocaloids through illustration, short articles, and comics. Containing official Miku artwork from Kei, tribute artwork from well-known artists and illustrators, as well as album covers, short comic strips, and three exciting manga short stores featuring Miku and friends!
Release date: September 24th, 2014
Price (U.S.): $39.99
ISBN: 1-926778-83-9
ISBN-13: 978-1-926778-83-9
Format: Softcover
Page Count: 128, Partial Color (96 pages)
Size: 8.25″ x 11.75″
Buy it at a Comic Book Store Near You | Buy at Barnes & Noble | Buy at Amazon.com