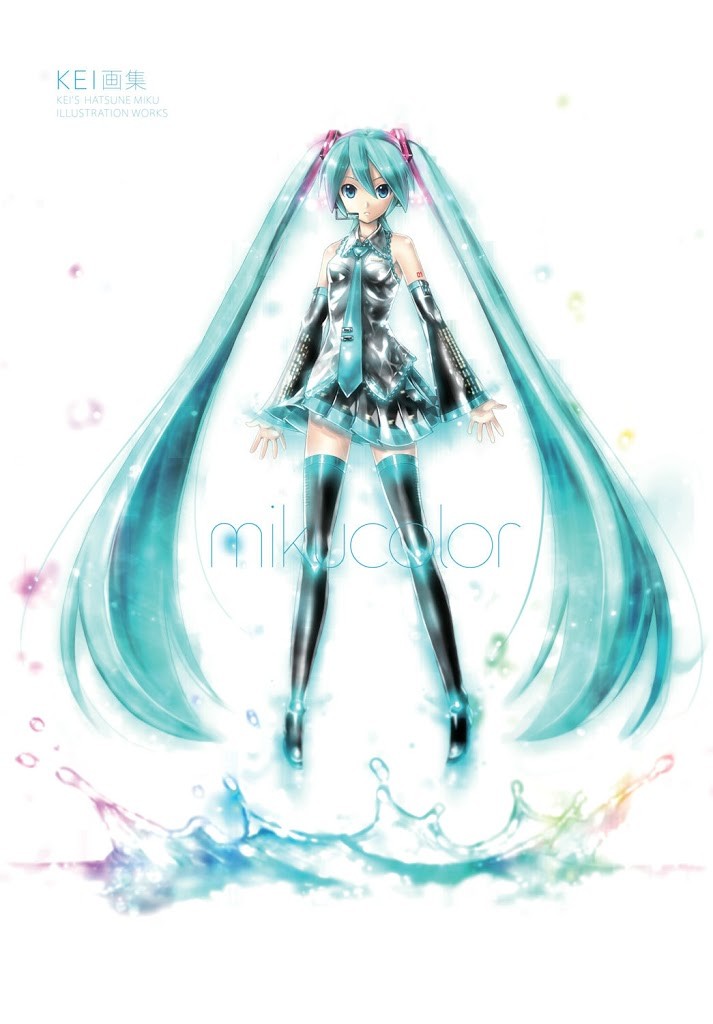 I may be new to the world of Hatsune Miku art books, but Udon Entertainment certainly isn't. In fact,
MIKUCOLOR: Kei's Hatsune Miku Illustration Works
is the fifth release in the company's Hatsune Miku art book series! What sets it apart from previews volumes, however, is the fact that MIKUCOLOR is exclusively dedicated to the works of official Vocaloid artist Kei, covering his illustration work for DVD jackets to magazine covers. It's a great opportunity to see so much of Kei's work all in one place, especially considering how difficult it is to source many of the products his work appears on outside of Japan!
While I personally don't follow Kei very closely, I always recognize his etherial, watercolor-like style when I see it in Vocaloid promotional materials. What I didn't realize, however, is that he doesn't always limit himself to his usual blue palette…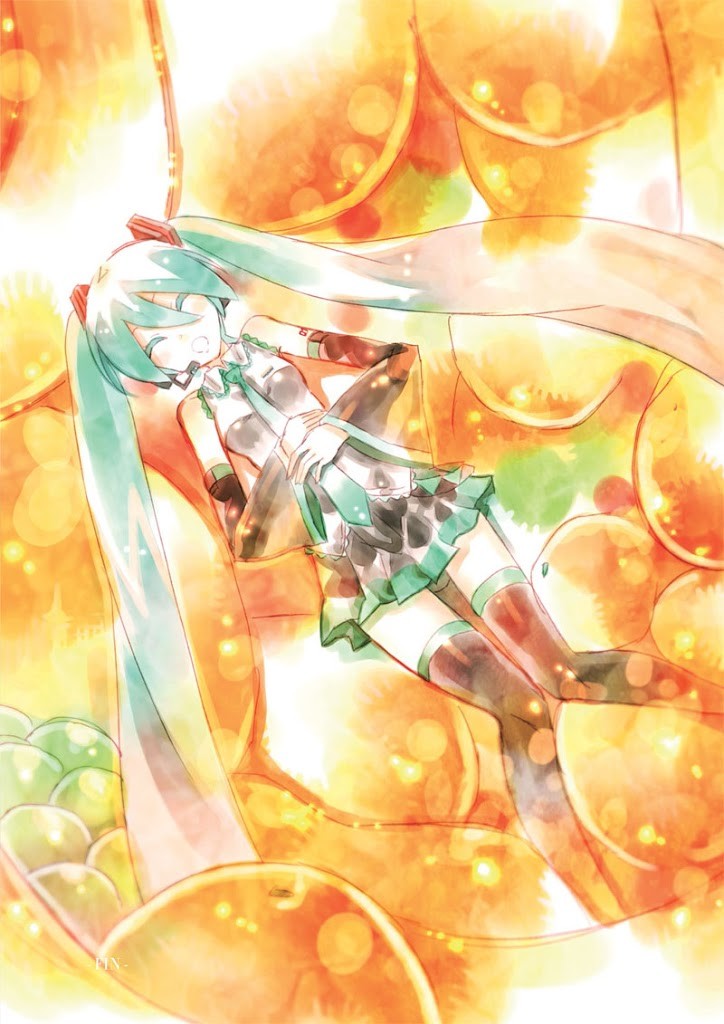 The image above is from my favorite series in the book, the Comptiq fruits illustrations. Though I certainly can't knock Kei for depicting Miku in her usual blue glory, it was great to see an illustration that had a warmer palette. I particularly like how her hair fades into orange, as well.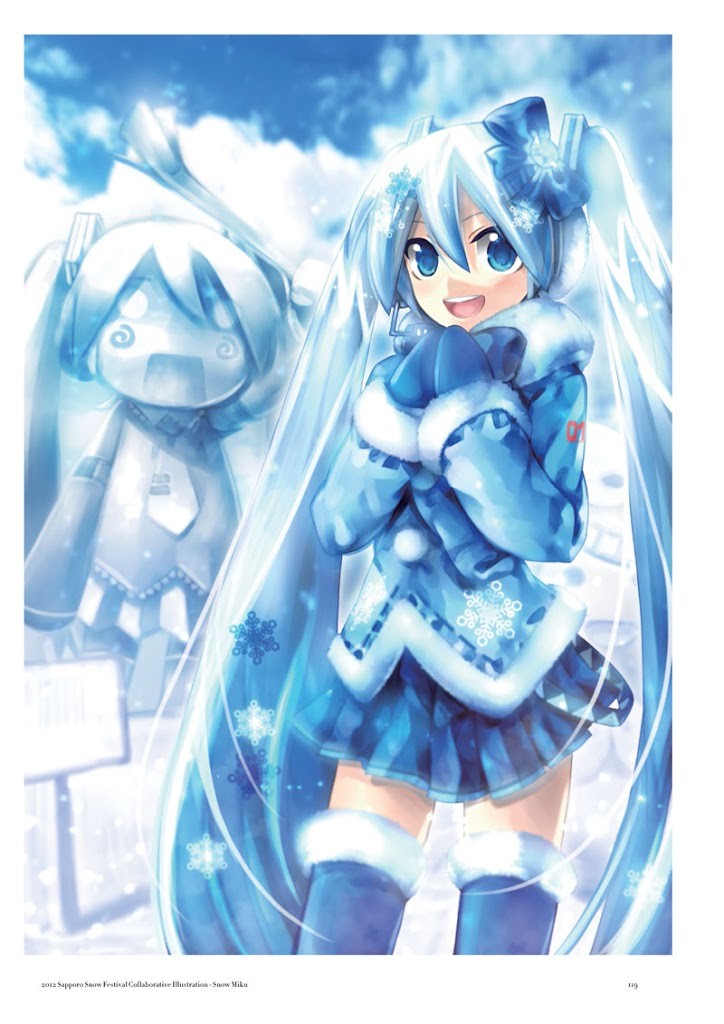 Even when using a blue-centric palette, Kei's work always manages to be cheerful and vibrant. I also really enjoyed the Snow Miku illustration series, as it's nice to see her in something different than her traditional grey and teal outfit.
MIKUCOLOR is a whopping 128 full color pages, grouped into sections based generally around the media that the illustrations originally appear in. Of particular note are the four exclusive illustrations featured at the front of the book – two of Miku, one of Rin and Len, and one of Luka!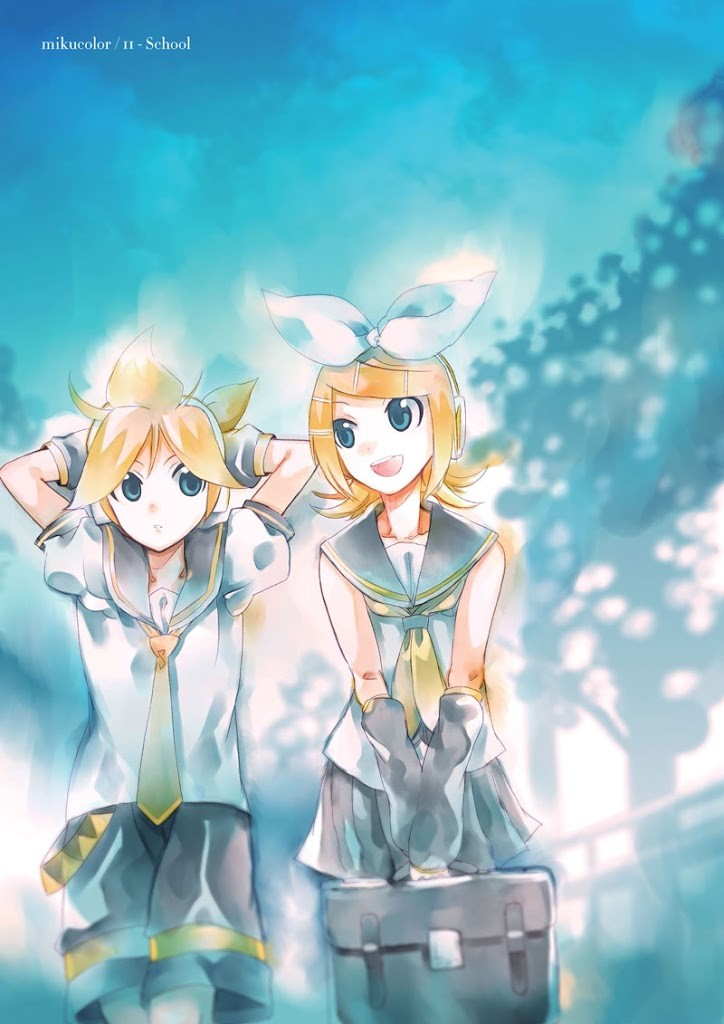 So, while the book most definitely centers on Miku, there are a handful of illustrations of the other Crypton Vocaloids. Rin, Len, and Luka get the most appearances, however, with Kaito and Meiko showing up only very briefly, which is a shame for those who consider the latter two among their favorites. That said, while the other Vocaloid illustrations are certainly appreciated, the book is clearly aimed at covering mostly Kei's Miku works.
The folks at Udon Entertainment were sent me a PDF version of the book to review, so though I can't comment on the physical quality of the book, I'm confident that MIKUCOLOR will delight Hatsune Miku and Kei fans alike. For more information on the book and where you can purchase a copy yourself, here's the official rundown from Udon Entertainment:
MIKUCOLOR: Kei's Hatsune Miku Illustration Works
Collecting the artwork of official Vocaloid character illustrator, KEI! Mikucolor collects KEI's dazzling illustrations of your favorite Vocaloids like Luka, Rin & Len, and of course the supreme musical idol herself – Hatsune Miku! Included are magazine & book illustrations, DVD covers, rare pinups, exclusive new artwork, and much more!
Price (U.S.): $39.99
ISBN: 1-927925-08-8
ISBN-13: 978-1-927925-08-9
Format: Softcover
Page Count: 128, Color
Size: 8.25″ x 11.75″