There is an amazing abundance of shops online that sell Japanese merchandise, and they're a great option for those of us who don't live in Japan but are desperate to get our hands on the latest cute Rilakkuma goods or weird Japanese candy. Unfortunately, there are so many that it's often difficult to decide where to spend one's hard-earned cash, and there's always the question of whether the site in question is reputable or charges outrages prices for shipping, which are often sprung on shoppers after they've been lured in by seemingly cheap prices.
Recently, I stumbled upon the self-proclaimed "Japan & Kawaii Shop" Blippo, and they were kind enough to offer me a few products from their shop to review. They have a great selection of Japanese items from character goods such as Hello Kitty and Rilakkuma to Japanese snacks and candy, as well as stationery and all kinds of smartphone straps and accessories, so they really have the potential to be a one-stop shop for all your Japanese merchandise needs!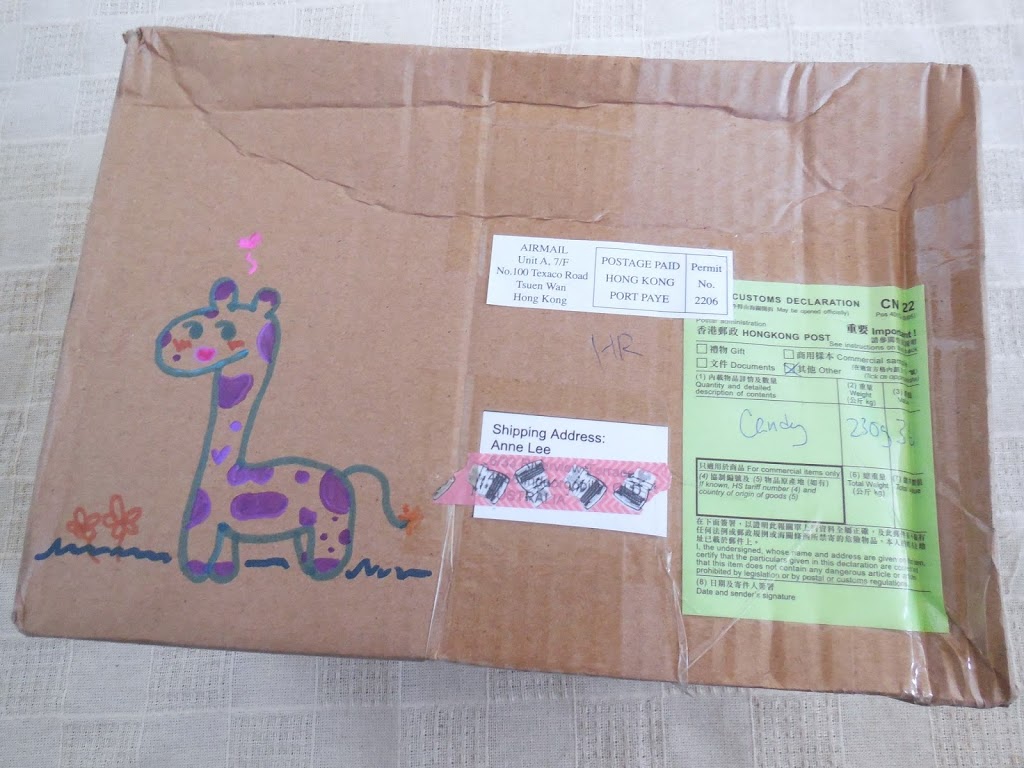 Blippo doodled a little giraffe on my box!
The other major draw of Blippo is the offer free worldwide shipping, so you won't be hit with a massive shipping fee when checking out! This means that everything will take about 1-3 weeks to arrive according to their site, but they shipped my package from their base in Hong Kong to my home in Australia surprisingly fast, and it arrive in almost exactly two weeks. You can also spend a few extra bucks on shipping upgrades, but I was very happy with how fast mine arrived.
Here's a quick overview of what I received! I picked out all of the items myself, but the order came with the free plastic Blippo keychain in the middle. I don't think I'd put it on anything, but it's cute that they included it, none the less.
Is this not the cutest packaging? I'll readily admit that the adorable little ghost wearing a witch's hat is the whole reason why I opted for this Moko Awa DIY shake drink. I haven't tried it yet, as I think it will make for a great Apricotsushi Samples video, but I can't wait to give this foaming grape drink a go. Apparently all you need to do is mix the powder with water and stir!
I don't even care if the shake doesn't taste good, I'm happy to just be in the presence of these little ghost illustrations. For only about $3 AUD (with free shipping), it's a steal!
Next are these great Rilakkuma honey stickers, which I had to get since I absolutely love anything Rilakkuma-themed! I really like the honey/bee/pancake motif, though I think I'd much prefer maple syrup to honey on my pancakes…
The stickers are raised hard plastic, which gives them a bit of a 3D effect, and some also feature little jewel embellishments. I'm pretty happy with them, but unfortunately some of them have minor discolorations/color smearing, which is particularly noticeable in the stickers with text and the ones with gold stripes in the bottom row of the above photo. I'm not sure if this is due to the type of sticker or heat exposure, but considering the usually high standard of Japanese merchandise, it's a shame they weren't all perfect.
Finally, I picked out these rad little donut earrings, because I'm really into miniature food these days and I love the idea of tasty little (fake) donuts hanging from my ears. They're nothing super fancy, but they're sturdy and look just as cute in person as they do on the website.
It's not a particularly nice photo, but here's what the look like on! They're not so large that they draw attention from my beautiful face (ha), but they're really fun and I can smile to myself knowing I'm wearing donuts on my ears, even if no one else notices.
For a package of three unique items from Japan that totals under $10 including shipping, I'm really happy with it. A lot of the products on Blippo are competitively priced, even factoring the free shipping, and as long as you don't mind waiting a little longer for your purchase to get to you, most of their products are a great deal. I can definitely see myself buying from Blippo in the future and definitely recommend them to anyone looking for some cute Japanese goods or snacks!