It's often said that one can either be a fan of Tokyo or Osaka, but not both. Well, I'm a certified Osaka girl, so while I've been to Japan numerous times, I've only actually been to Tokyo once for two days nearly 12 years ago. Blasphemy, I know! Luckily, I have the very unique opportunity to attend a popular Japanese media workshop at the University of Tokyo for two weeks in July, so I'll finally get the Tokyo fix I never knew I needed.
I say "never knew I needed" because after hearing the wonderful news that I had been accepted into said program, I promptly hit up Google to see exactly what sights I'd been missing out on in the pop culture mecca of Japan. As expected, there are a lot of exciting things to see and do in Tokyo, and my planner is quickly filling up with places to go and things to eat!
Since a lot of folks were asking what exactly was making my "must see" list for Tokyo, I thought it'd be fun to compile a top 10 list of places I'm going to make sure I hit up this July. Hopefully this way I can hold myself accountable and report back in two months with how each place actually stacked up! I'm not going to include vague general destinations like Harajuku or Akihabara that are on every "must see in Tokyo" list, though, but rather very specific things that folks like me who enjoy all things nerdy and cute will probably appreciate…
Kit Kat Chocolatory 
Everyone knows that Japan is a haven for all kinds of amazing Kit Kat flavors, from the innocuous matcha to stranger oddities such as wasabi. In fact, Kit Kats are so popular in Japan that Nestle opted to erect the world's first dedicated Kit Kat store, known as the Kit Kat Chocolatory, in the Seibu department store in Ikebukuro, Tokyo! The Ikebukuro store opened this past January and has teamed up with patissier Yasumasa Takagi to sell three exclusive flavors: sublime bitter, special sakura green tea, and special chilli.*
While it's a little disappointing that the store doesn't sell all of the various regional Japanese Kit Kat flavors (as far as I can tell), there is no way I'm going to turn down the chance to visit the world's only Kit Kat shop! And buy a pack of each exclusive flavor, of course.
*Side note: Apparently Yasumasa Takagi made some kind of deal with Nestle, as he also appears in this bakable Kit Kat promotional video.
Animate cafés
I'm cheating a little by not specifying a single store here, but hear me out. Animate is a chain of anime merchandise stores located Japan-wide, but certain branches have cafés that frequently feature anime tie-in menus and special decor. There are two located in Tokyo, one in Ikebukuro that caters to a female audience, and another in Akihabara that has recently teamed up with Good Smile Company (it only just opened on April 25th!) to offer some extra goodies for the figure-loving crowd.
While I'd definitely love to visit both, I'll probably prioritize going to the one that is doing a tie-in with a series I'm more interested in. Since the Good Smile x Animate cafe is doing a Love Live! collaboration until July 30th, I'll probably go with the Ikebukuro branch. However, I hear there may be some Good Smile figures that can only be purchased at the Akihabara store, so I may have to visit that one as well. Oh, decisions!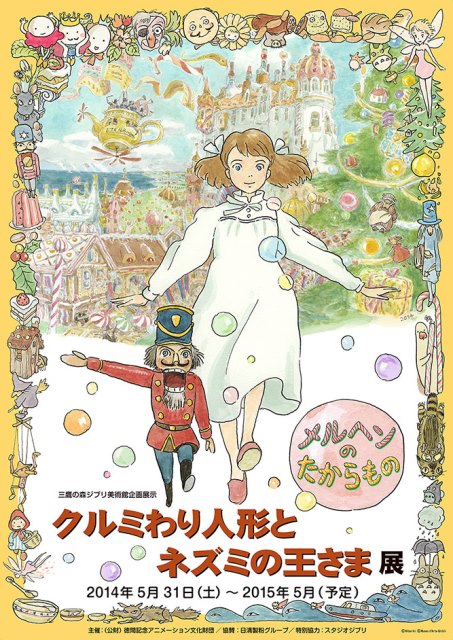 Ghibli Museum

The Ghibli Museum, designed by visionary Hayao Miyazaki himself, is the ultimate mecca for fans of Ghibli films and Japanese animation, so of course it would be high on my "must see" list! Not only do you get to see exclusive animation shorts that are only shown at the museum, but there is also a yearly rotating exhibit that can't be seen anywhere else. This year's exhibit has just been revealed (flier pictured above), and the theme is The Nutcracker! As someone who attended The Nutcracker ballet every year at Christmas as a kid, I can't wait to see Ghibli's interpretation of the children's ballet classic. You can purchase tickets to the Ghibli Museum in English through Voyagin!
Of course, another highlight of the Ghibli Museum is the Straw Hat Café! Not only is the decor to die for, all of the food is served on gorgeous Ghibli-themed plates, and if you order a coffee drink you'll be treated with an adorable Ghibli design drawn in the foam. I've heard the wait can be an hour long, so it's important to get there early!
Related: I also have to try these Totoro cream puffs I wrote about two years ago! I couldn't bring myself to allow two Ghibli-related stops positions on this list, but you can bet your puffs I'll be making my way to this adorable (Ghibli-supported!) patisserie come July.
Usagi no Ehon
There are two things I love very much in life – rabbits and books. Combine the two and you've got pretty much a winning combination for me! That's why Usagi no Ehon, or Rabbit Picture Book, immediately caught my eye. I've always been a fan of cat cafés, but I've yet to visit a rabbit café, and one that combines adorable rabbit-themed decor with quiet atmosphere and all kinds of picture books crowding the cafe shelves sounds too good to be true! While I might end up swapping out Usagi no Ehon for another rabbit café if it happens to be more convenient, I may just opt to make a special trip to sit with the bunnies and read some Japanese picture books. Did you know that rabbits are illegal to keep as pets in Queensland? Yeah, it's horrible. I need my rabbit fix!
Otome Road
I'll tell you right now – Otome Road has always been the one major reason why I've been wistful to visit Tokyo. The single street in Ikebukuro is home to shops full of all a fujoshi's favorite things, meaning it very well could the the one-stop destination for all my needs when I'm in Tokyo. So, if you're like me and swoon over cute anime boys romancing each other or games where you play a girl who romances cute anime boys, Otome Road should not be missed! If I'm not mistaken, the Animate café in Ikebukuro is located in or around Otome Road, making them easy to see in the same trip. But knowing me, I'm sure I'll visit Otome Road much more than once during my stay!
Capcom x Pasela Entertainment Bar
While nearly all of the themed eating establishments I've seen call themselves "cafés," I find it interesting that Capcom has opted for the more mature "bar." Virtually all themed cafés sell alcoholic drinks anyway, but I guess Capcom wanted a slightly different angle. Not only can you eat strange Capcom-themed delicacies here such as Resident Evil zombie brains (don't worry, it's a cake), but the staff apparently put on a little skits from the games when they bring out your food. While I'll sadly be missing the special Monster Hunter 10th anniversary menu, I'm sure there will be plenty of interesting food items to try and Felyne goods to buy.
Nakano Broadway

First, I must give a huge thanks to @Richmond_Lee for providing this suggestion. Everyone always says any video game/anime nerd has to hit up Akihabara while you're in Tokyo, but there's just so much to see! Where would you even start? Of course, if you have days to kill, it's fine to wander around and find all of the hidden gems for yourself, but when you're on a tight schedule like me, it's much more helpful to have a few specific destinations in mind.
Well, Nakano Broadway looks to be the perfect place to get my otaku shopping fix – it's a three-story indoor market filled to the brim with rare toys, electronics, anime, manga, figures… and practically anything else a Japanese pop culture nerd could want! I like how Danny Choo describes it as an indoor Akihabara with "a lot less maids, eroge, and computer parts stores." Sounds like my kind of place! I'm definitely going to head here for some toy, manga, and game hunting.
Ganso Shokuhin Sanpuru-ya
You know what's just as awesome as eating amazing-looking food? Looking at amazing-looking food. Ganso Shokuhin is a company that has been making those plastic food samples many Japanese cafés and restaurants put in their front windows for nearly 100 years, and they've opened a shop near Tokyo Skytree where you can look at all of their amazing creations. On top of that, they have a shop for souvenirs and kits to make your own, and demonstrations so you can learn how the pros do it! It's worth mentioning that they have a branch located in the Tokyo Solamachi, a mall beneath the Tokyo Skytree that is the perfect place to shop for souvenirs, so I'll probably have to take a day to visit the Skytree and get my shopping on!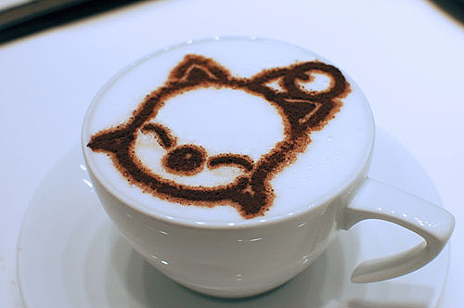 Artnia Square Enix café

It's no secret that I love nerdy themed cafés, so of course the Square Enix cafe, Artnia, would make this list. The café itself features a futuristic layout within a dome-shaped building and sells all manner of Square Enix merchandise (some that can be bought only here, of course!) in addition to the usual cafe fare. While it'd be great if Artnia is having a special menu when I'm there, I'll be happy just to try the adorable Moogle cappuccino pictured above along with a tasty pancake set.
Kiddy Land Harajuku 

Kiddy Land's flagship store is five floors of so-sweet-you'll-get-a-cavity cuteness, so of course I have to go there! I've been to Kiddy Land in Osaka before, but I'm sure everything else pales in comparison to the official Harajuku store. If you're a fan of Hello Kitty, Rilakkuma, Disney, or virtually anything else sparkly and kawaii, this is a dangerous stop for your wallet! I think I'm going to need a shopping list and a strict budget for this one, or else I'll end up with a suitcase full of tiny adorable merchandise. It's a given that I'll have a suitcase full of amazing purchases by the end of my trip, but it'll be hard to pace myself with all the cute there is to take in at Kiddy Land Harajuku! If you're interested in being overwhelmed by all the cute, I definitely recommend checking out Japan Lover and Danny Choo's great photos of Kiddy Land.

There you have it – 10 wonderful destinations in Tokyo hand-picked by yours truly! Of course there are many more things I want to see and do while I'm there, but this is just a tiny slice of what I hope to experience. If you're planning a trip to Tokyo, check out Voyagin for help buying tickets for all kinds of amazing experiences that normally require Japanese knowledge to access! If you have any suggestions/things you'd like to see me cover during my trip, let me know in the comments!