There's nothing like an out-of-blue announcement to really get the blood pumping, eh? I'd say that's exactly what happened when Nintendo put up the shocking reveal trailer for the
Pokémon Ruby
and
Sapphire
remakes,
Omega Ruby
and
Alpha Sapphire
for the 3DS just the other day. Following that Pokémon announcement, a
Japanese Twitter user
tweeted a photo of a Pokémon Center poster that is sure to delight all the Nendoroid fans out there: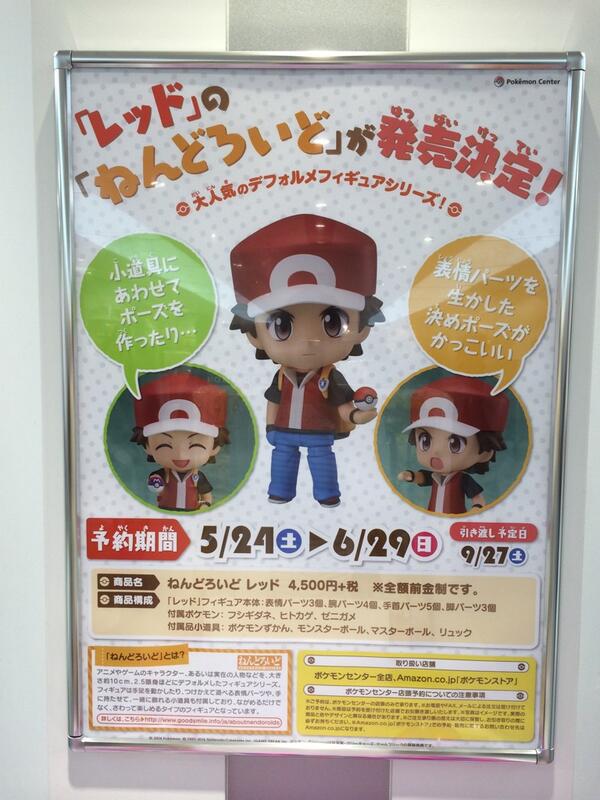 That's right, the original Pokémon trainer Red has been Nendoroid-ified! His design is based on the Pokemon Origins TV special that aired last year, and will be limited to Pokémon Centers and Amazon.jp's Pokémon Center store, meaning it will sadly be rather tough for anyone outside of Japan to purchase him.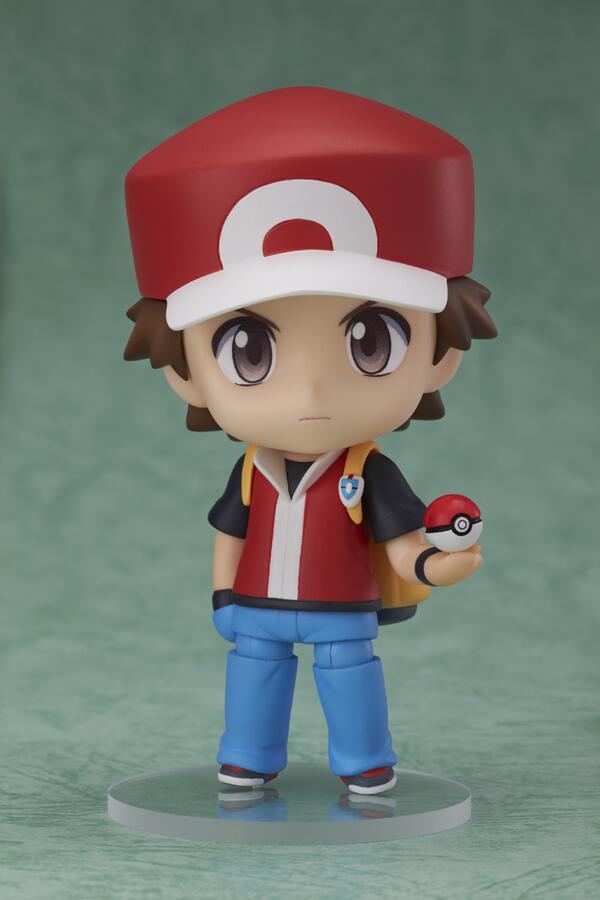 While these are the only pictures of Red released so far, we do know from the poster that he will come with the three facial expressions shown, four different arm parts, five hand parts, and three leg parts. Three is a rather odd number of legs, but I assume that means one might be bent?
Even more exciting, however, is the fact that he comes with all three original starter Pokémon, Bulbasaur, Squirtle, and Charmander, along with a Pokéball, Master Ball, Pokédex, and his backpack. Think of all the posing possibilities!
Preorders open on May 24th and will be available until June 29th, and he will retail for ¥4,500. He releases on September 27th, but only those with preorders will be able to get their hands on one at retail price, and you can bet resellers will attempt to gouge unlucky potential buyers soon after. Overseas fans looking to order him will have to rely on a friend to go to a physical Pokémon Center or using a proxy service to order him from Amazon.jp, as they unfortunately will not ship figures outside of Japan. If you're at a loss of where to look for a proxy service,
White Rabbit Japan
is a great option.
So, how about it? Are you a big enough Pokémon fan to pick this one up, or would you prefer a different trainer? I'm not particularly interested in Red himself, but those starter Pokémon are very tempting…
UPDATE: Good Smile Company has put up a listing for the Red Nendoroid on their website, which includes images of his accessories and the three starters: